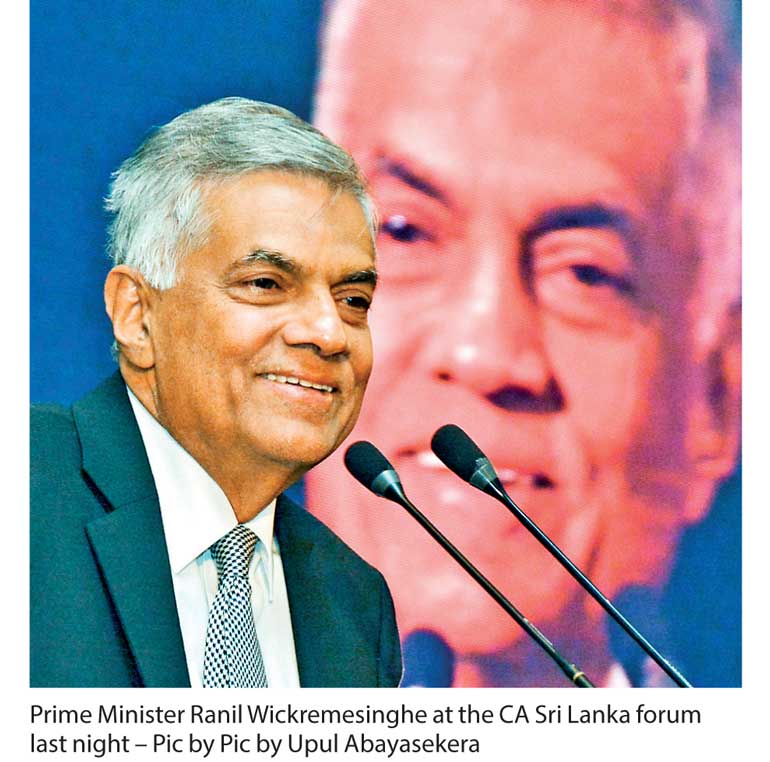 PM says special committee tallying public finance accounts including debt numbers to be presented to Public Finance Committee
Believes P'ment should be restored as the guardian of public finance, $ 21 b in debt repayments over next four years
Private sector investment needed to increase tradable goods, calls on local companies to take lead
Says Rs. 4 trillion in bonds sold between 2008 and 2014 sans authority, but assures bond holders safe
By Uditha Jayasinghe

Taking a break from his campaigning, Prime Minister Ranil Wickremesinghe yesterday underscored the importance of putting Parliament at the centre of public finance, outlining intentions to establish a Parliamentary Debt Office.

Addressing the Institute of Chartered Accountants of Sri Lanka members who had gathered for the induction ceremony of their 24th President Jagath Perera, Prime Minister Wickremesinghe emphasised the changes that had been introduced by him to restore Parliament as the guardian of public finance.

He also noted that a special government committee was tallying up accounts of public finance including debts to aid policymaking.

"Parliament is sovereign and we have to report back to Parliament. The right of Parliament to control public finance was forgotten earlier but now weekly reports are made to Parliament on matters pertaining to finance. It is because we want to maintain transparency that we have always reported to Parliament on any outstanding issue regarding finance. Similarly in this case also we would like to have the report and hand it over to the Public Finance Committee. We will also bring in legislation to have a Parliamentary Debt Office."

The local private sector would also have to take the lead in driving economic growth, the Prime Minister said, insisting that the Government was unable to take on this task due to its hefty debt burden.

"You are meeting at a time that is critical for the Sri Lankan economy. We have to make the transformation so the thrust of growth comes from the private sector. The Government cannot do it anymore. After the war there was a subsequent thrust on public infrastructure but not in agriculture or in industrial infrastructure but in building roads, which resulted in the increase of non-tradable goods but not tradable goods. Now we must move on if we want to have the expansion of our economy, the doubling of GDP, which means we must have the private sector invest in tradable goods."

The Prime Minister also outlined significant debt payments that would pose challenges to continuous growth and macroeconomic stability unless it was managed carefully.

"The last government resorted to high levels of borrowing and we are now called upon to repay the loans. The last two years were spent stabilising the economy so we could increase our revenue but now comes the bunching of our debt servicing of Treasury Bonds, of Sri Lanka Development Bonds, of international Sovereign Bonds is substantial from 2018 to 2022. When these bonds mature we have to pay $ 9 billion for the international Sovereign Bonds and Sri Lanka Development Bonds. The Treasury Bonds come up to about $ 12 billion. It's just $ 21 billion."

"I can tell you one thing, my mother used to say always pay your debts, don't ever leave it too long. My wife shouts at me but now I have learnt it's only $ 21 billion so I can have a good night's sleep," he quipped.

"We have to repay this debt. It is a tremendous amount, which is why we are going back to the State accounts. We have found that over Rs. 4.5 trillion had been raised by the bond market in the years 2008-2014, of this only Rs. 500 billion was raised by auction and Rs. 4 trillion was raised by private placements. Up to date even after two governors searched for it we haven't found the Monetary Board authority for these private placements. We have all spoken in Parliament about our views on private placement and how it operated but that's a different matter. It can be good or bad. But the problem is that there is no authority."

The Prime Minister said he had consulted the Attorney General who had assured sufficient provisions existed in the law where bonds in the hands of bona fide holders were valid. However, the Prime Minister had assured the Attorney General that he would take steps to pass additional legislation if necessary to protect all bond holders. Future borrowings would be done with an eye on how repayments could be made with a smoother process, he added.