---
Says action taken by Govt. since Easter Sunday attacks totally inadequate
Responsibility with President, PM and Cabinet to act
Opposition Leaders role limited to giving views within and outside the P'ment
Opposition Leader Mahinda Rajapaksa yesterday said he remained dissatisfied with the steps taken by the Government following the Easter Sunday attacks, but is ready to support meaningful decisions.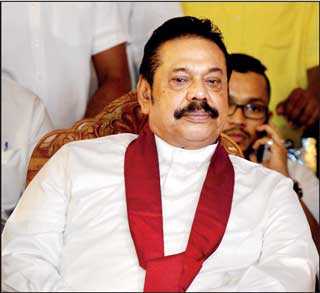 Opposition Leader

Mahinda Rajapaksa


A short statement released by the Opposition Leader's office said the Opposition Leader could do little other than expressing his views to the public both within and outside Parliament. But it was up to the Government to take decisive steps to investigate the Easter Sunday attacks, and assist people affected by the anti-Muslim violence that swept through at least three districts this week.

"Taking decisions relating to the present situation prevailing in the country is the responsibility of the President, the Prime Minister, and the Cabinet of Ministers. The Leader of the Opposition can only perform the task of the Opposition in Parliament. He can move resolutions and express his views in Parliament on matters of national importance, and also if necessary apprise the general public outside Parliament," the statement said.

Rajapaksa, in his capacity as the Opposition Leader, has already taken action to address the people on the prevailing situation through press releases and statements.

"Opposition Leader Mahinda Rajapaksa is not at all satisfied with most of the decisions and actions taken so far by the Government following the Easter Sunday terrorist attacks. However, he is always prepared to support any meaningful decisions taken by the Government in this connection," the statement added.

Since violence erupted in Gampaha, and the North-Western Province, Rajapaksa has called for calm several times.

"I would like to urge all members of any political party, including that of mine, to maintain law and order and not aggravate the already sensitive situation. The responsibility of protecting all citizens and maintaining law and order by us leaders is the need of the hour," he tweeted on Wednesday.