New entity to bring down cost, time
Harin calls on building, electricity, road, railway to share infrastructure for broadband deployment
Hails removal of 10% telecommunication levy imposed on data by Finance Ministry
Mobile penetration up from 8% in 2012 to 126% in 2016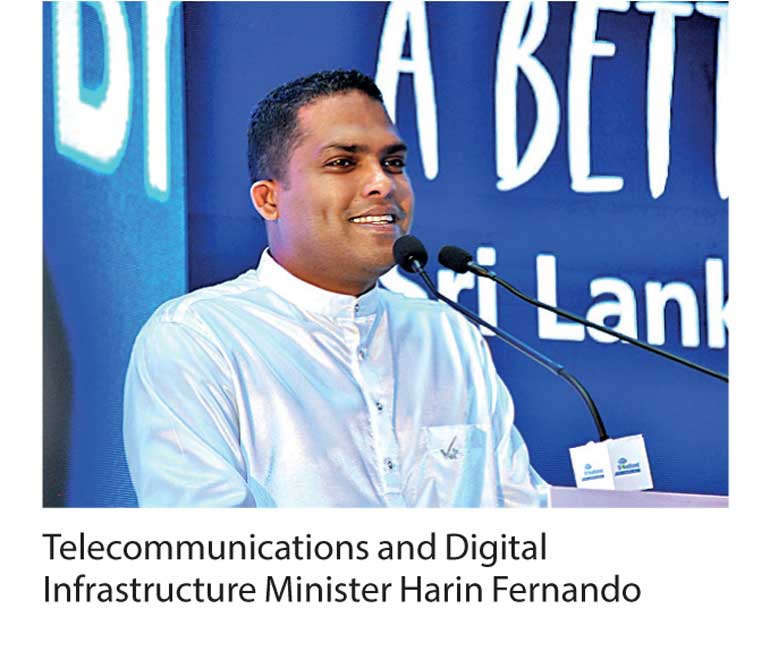 By Charumini de Silva

The Government yesterday confirmed it would set up an infrastructure-sharing entity which will be brought under the purview of the Telecommunication and Digital Infrastructure Ministry to speed up digitisation for envisaged economic growth.

Addressing the 2nd Sri Lanka Broadband Forum, Telecommunication and Digital Infrastructure Minister Harin Fernando said the Government was in the process of setting up an infrastructure-sharing institution to tackle the challenges faced to speed up broadband deployment.

"After a lot practices of fibre deploying, we find that civil work is the key, which takes a long time and costs much. How to bring down civil work cost and time will greatly speed up the pace of development. Hence, we are now in the process of setting up an infrastructure-sharing company under our ministry, which will speed up the economic growth envisaged," he added.
Pointing out that the 2nd Broadband Forum was dedicated to finding a solution to save the cost and time of broadband deployment in Sri Lanka, he stressed that physical infrastructure-sharing from utilities will reduce the civil work of telecom operators and avoid duplication of infrastructures like ducts and poles.

"I am happy to hear that some organisation has taken some steps forward. The Ceylon Electricity Board (CEB), which is an electricity company, lay some dark fibre when they build power lines and work on sharing poles to operators. I encourage all for this kind of industry cooperation and call on more organisations like building, electricity, road, railway to share your infrastructures for broadband deployment," he said.

He highlighted that the ministry published a Road Map 2015-2020 to improve the digital infrastructure for facilitating the enhancement of digital ecosystems that include utilisation of ICT for improving governance, improving ICT policies, legislations and standards, enhancing the use of ICT applications in key sectors, uplifting citizens' engagement/participation in an ICT-enabled society, facilitation of ICT industry development and assisting the trade and business sectors through ICT.

"We are pursuing these priorities on the background of the fourth Industrial Revolution, which is fundamentally changing the way we live, conduct business and how we interact with people. It offers potential great benefits for those who participate in it but widens the divide to the excluded. We are embracing this revolution as a platform to propel us to be globally competitive," the Minister added.

Followed by the successful conclusion of the first Sri Lanka Broadband Forum in 2016, to facilitate the development of broadband, Fernando said, they redefined broadband speed and quality, and reached the conclusion that it was time to develop fast and high-quality fixed broadband.

"Now, one year later, I am happy to see hundreds of thousands of new fixed broadband users. But that's not enough for Sri Lanka's digital vision. Most Sri Lanka people are still unconnected. Hence, the establishment of the infrastructure-sharing firm will help speed up the procedure and reduce the cost at the same time," he pointed.

However, he asserted that there is a significant increase in mobile penetration in Sri Lanka where it has grown from 96% in 2012 to 126% in 2016, while mobile broadband market penetration has increased from 8% in 2012 to 21% in 2016.

The Minister said the Finance Ministry's directive to remove the 10% telecommunication levy imposed on data from 1 September would further boost usage and propel all sectors towards a digitised economy.

"A lot of people were criticising the policy directive to impose a levy on data, while envisaging a digital economy. Thanks to the new Finance Minister we were able to remove it, which will now be reflective on enhancing a digital ecosystem," he opined.

Acknowledging broadband as the foundation of ICT applications and services, he said it is what the Government was focusing on at present to achieve faster economic growth.

Fernando also noted the development of ICT technologies and the increasing spread of broadband infrastructure had become core economic competencies, critical for national competitiveness across the world, which is supported by ITU research that an additional 20% investment in ICT adds 1% to a country's GDP and increasing broadband penetration by 10% drives a 1.38% increase in GDP, also having a positive effect on employment, productivity, innovation and so forth.

He said the telecommunication industry has shown tremendous advances over the past few years and it goes to show how much Sri Lanka as a country has embraced change within a short period of time. "A landmark event like the Sri Lanka Broadband Forum will no doubt help to chart a road ahead towards digital connection in this new era."

The agenda at the forum also highlighted insightful presentations and goals towards digital connection in Sri Lanka including a presentation on the topic Digital Society, eGovernment and broadband while topics such as Sri Lanka's digital life vision for 2020, the effect of broadband on the people's lives, the chances for broadband as a public utility and policy changes to support broadband development were subjects that were discussed.

The event was co-sponsored by Huawei, a Chinese multinational information and communications solutions provider.