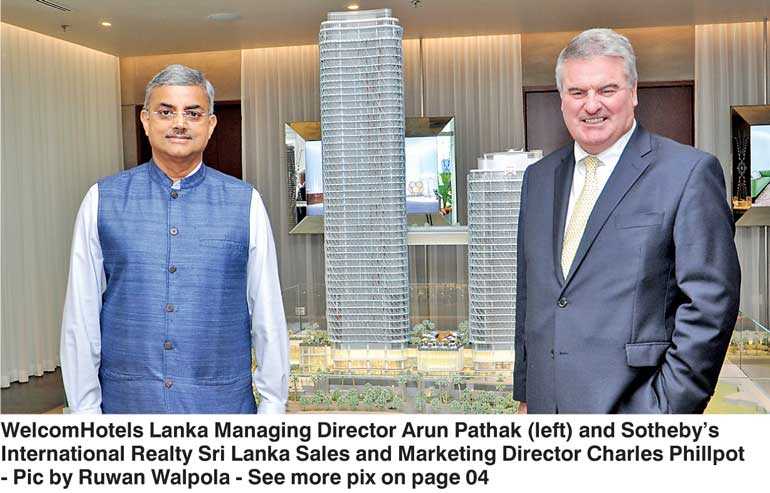 Invests $ 300-400 m in integrated venture comprising 50-floor The Sapphire Residences with 132 luxury private residences and 30-floor five star hotel with 352 rooms opposite Galle Face
Venture to have South Asia's first ever 54-metre sky bridge connecting the two buildings Says Colombo and SL are primed with best growth potential in South Asia
We are bullish on SL despite the negative press; SL a paradise island and modern hub set for growth
Insists best time to invest as real estate still cheap
Average size of each apartment is 5,000 sq.ft plus; 4-bedroom residences priced between $ 2.5 m and $ 3.2 m; 2-bedroom apartments $ 1.4 m upwards
Two master penthouses of 19,000 sq.ft each to cost $ 10 m
India's diversified giant ITC Group on Friday expressed growing optimism on Sri Lanka unveiling its first ever overseas project, the luxurious The Sapphire Residences and the ITC One five star hotel opposite Galle Face Green with an investment of between $ 300 million and $ 400 million.


The Sapphire Residences consists of 132 spacious and luxurious private residences on a 50-floor tower and the ITC One Hotel is housed on a 30-floor tower offering 352 five star luxury rooms.


The towers are designed in an innovative triangular plan to maximise the uninterrupted views from each apartment across the Indian Ocean and the Beira Lake.


Connecting the buildings at the 19th and 21st floors is a 54-metre-long sky bridge, South Asia's first ever and likely to be a real feat of engineering and an iconic monument. The hotel will include a helipad, the only one being built in the vicinity at present. The project, whichis housed on nearly six acres, is scheduled to be completed by 2020.


"Despite what the press says, we are bullish on Sri Lanka. We believe Sri Lanka has one of the best potentials to grow," ITC Group's WelcomeHotels Lanka Managing Director Arun Pathak told journalists. He also dismissed concerns over an apparent flood of luxury apartments in the city.


"We will be offering 132 apartments but there is appetite for more given the pent-up demand post-war and ongoing initiatives to make Colombo a vibrant commercial and logistics hub," he added.


According to an ITC official, it is time to invest in Sri Lanka as real estate is still cheap compared to other cities in the region.


Sotheby's International Realty Sri Lanka Sales and Marketing Director Charles Phillpot echoed the same sentiments.


"To me Sri Lanka is a paradise island that is set to grow by becoming a modern hub connecting the rest of the world," he said, adding that yield on luxury apartments was very attractive with rental yield up 9% and return on investment a high 17%.


The average size of the apartments at The Sapphire Residences is around $ 5,000 sq.ft. and will have 67 four-bedroom units (priced between $ 2.5 million and 3.2 million each), 30 five-bedroom units, 18 three-bedroom units and 11 two-bedroom units (priced at $ 1.4 million upwards). It will also have four penthouses (9,000 sq.ft. each) and two master penthouses each spanning 19,000 sq.ft. and priced at $ 10 million upwards.


Pathak and Phillpot said they expect the majority of buyers to be Sri Lankans including expats apart from foreigners. The website www.sapphireresidences.lk went live on Friday.


Set to redefine uber-luxury vertical residential living in the Indian Ocean region, the extensive mixed-use development also includes a private Residents' Club offering over 40,000 sq. ft. of leisure amenities for the exclusive use of homeowners and their guests.


Destined to become a globally recognised landmark for the city, the iconic design was the brainchild of a world-class international team lead by US architectural firm Gensler, which created the two distinctive parallel towers connected by a sky bridge, with the residential interiors by London-based YOO working with Philippe Starck in Paris and landscaping by BuregaFarnell in Singapore.


ITC Hotels has developed and operates more than 100 hotels in over 70 destinations across India whilst diversified Group with interests in FMCG, Paperboards and Packaging, Agri Business and T, has a turnover of over $ 10 billion and boasts of a market capitalisation of $ 50 billion.