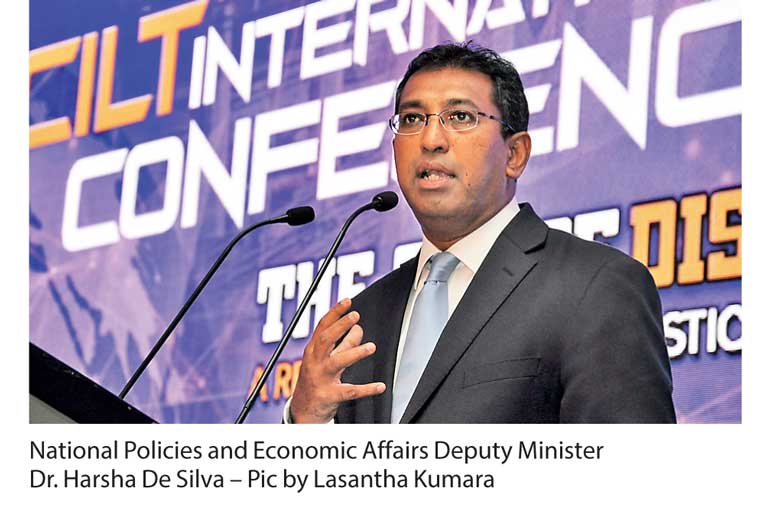 Govt. to remove para-tariffs, cess to make SL a logistics hub
Admits SL stuck in "a very bad place" on Ease of Doing Business rankings
Insists trade reforms essential to integrate economy with rest of the world
Planned financial centre in Colombo to be top global oasis for business, high-value jobs, a policy lab
By Charumini de Silva

The upcoming Budget will have "generous" incentives to encourage research and development to make the economy more competitive, while also removing para-tariffs, cess and other obstructions for the private sector to make Sri Lanka a logistics hub in the Indian Ocean, a top official revealed yesterday.

Speaking at the Chartered Institute of Logistics and Transport (CILT) International Conference 2017 titled 'The Age of Disruption: A Reality Check on Logistics and Transport', National Policies and Economic Affairs Deputy Minister Dr. Harsha De Silva said the Government has taken some tough decisions in terms of policy to direct the economy towards sustainable development.

"I feel that we have finally understood the importance of research and development. In the upcoming Budget you will see some very generous incentives to shift more people towards knowledge-based industries to innovate, invest and productisation," he added, noting that Sri Lanka's spending on research and development was quite insignificant compared to other economies.

Emphasising that trade consists of both imports and exports, he explained it was very difficult not to import anything and export everything.

"People think export is good, import is bad. That is not the way one needs to look at trade. What makes sense is adding net exports to the GDP. You can do only exports if you have gold or oil, but in our case, we need to add value and export."

It was pointed out that the high tariff protection rates in Sri Lanka were one of the key reasons to restrict imports to the country.

He said total protection rates in most industrial HS codes from 2005-2014 had increased from 10% to 20%, while noting in agriculture it was even greater. "Therefore we must be enlightened enough to be able to appreciate the fact that trade reforms are absolutely essential to integrate the economy with the rest of the world."

Dr. De Silva however raised concerns about Sri Lanka's Ease of Doing Business rankings, which was also highlighted in the World Economic Forum Global Competitiveness Index (GCI) released last week where Sri Lanka slipped to 85th place, down from 71st place in the previous assessment.

"However much various people have been attempting to tweak the components of the Ease of Doing Business, we seem to be stuck at a very bad place. This is an area we have not been successful to shift our position from where it was to where we want to take it — to be honest," he stressed.

He assured that in terms of policy and economic affairs these measures will be specific in the upcoming Budget 2018.

Acknowledging the importance to have the ability to invest to improve the infrastructure, the Deputy Minister said the Government was now thinking of new ways such as BOT structures for the private sector to partner the public sector to carry out infrastructure projects.

He said they are now moving away from the general thinking that the infrastructure was the monopoly of the Government and cited the joint venture agreement with China Merchants Port in Hambantota as an example.

"I did an analysis of the capital expenditure. We only spend about $ 5 billion of Government money on capital expenditure annually and of that education we found out that 60% goes to construct buildings. There are buildings, there are labs, but there is nothing inside those labs. So if you are talking about quality infrastructure I am digressing from ports to school labs, but still that is what it means,"

Dr. De Silva, who also chairs a Steering Committee looking at 'soft infrastructure', pointed out that Sri Lanka's planned financial centre in Colombo will be a top global oasis for business creating high-value jobs and a policy lab which will spread to the rest of the country.

"We are trying to create a major structural break from the rest of the country's doing business investment climate. I want it to be a policy lab and I want what works here to permeate to the rest of the country. The strategy is to create a top 10 doing business oasis in the world," he added.

Noting that Sri Lanka's position in terms of digitisation was not all that bad, Dr. De Silva said that the removal of data taxes will further help to digitise the economy. He also said there were many other initiatives currently ongoing including authentication platforms that will create a digital ecosystem to ensure the transaction cost of doing business will reduce.