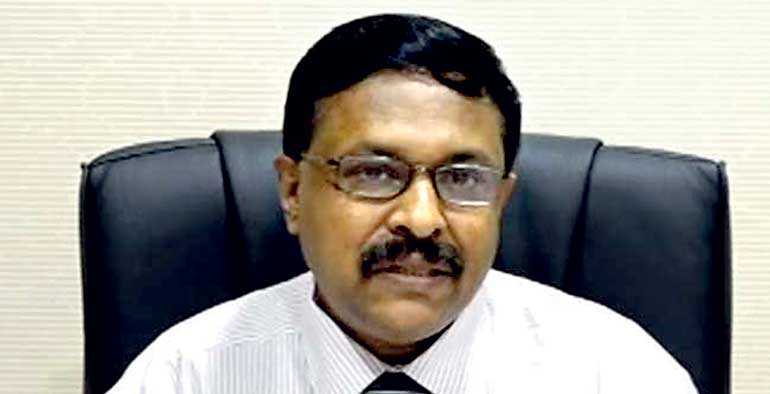 Industries Ministry Secretary Anusha Pelpita
---
Industries Ministry evaluating 140 proposals worth an estimated Rs. 48 b
Much focus by local biz on import substitution and exports
New ventures to require 395 acres of land and create over 11,600 jobs
Ministry to roll out new zone, expand existing to accommodate proposals
Secy. says working to encourage investment outside Western Province
---
By Uditha Jayasinghe
---
Spurred on by the Government's import restrictions, local manufacturers are stepping up with about 140 new proposals, worth an estimated Rs. 48 billion, currently under evaluation by the Industries Ministry, a top official said yesterday.

Industries Ministry Secretary Anusha Pelpita told Daily FT that the multitude of new ventures has left officials scrambling for land, as all zones within the Western Province are mostly operating at capacity. The new ventures are likely to need approximately 395 acres of fresh land and will create 11,655 new jobs, the official added.

"Most of the proposals we have received are for exports or import substitution ventures. They cover about 20 sectors including metal, rubber, pharmaceuticals, agriculture, agro chemicals, textiles, tiles recycling and furniture."

The industry committees of every district have also been forwarding proposals to the Ministry, Pelpita said, prompting officials to encourage companies to consider investing outside of the Western Province.

"We are attempting to funnel investments to other parts of the country, particularly underdeveloped regions such as Uva, North and East as well as North Central provinces. The Government is hoping to provide tax concessions and other support to industries willing to move out of the Western Province. The focus is on filling existing zones around the country."

The Ministry has already received a slew of Cabinet approvals to roll out investments. In late February, Cabinet approved expanding the industrial zone in Kalutara by absorbing 1.9 hectares of State land adjoining the zone, to meet the growing demand of industrialists for land in the Western Province.

Industries Minister Wimal Weerawansa presented the proposal to expand the industrial zone and to distribute plots of lands among selected industrialists, under the regional industrial zones development program, after laying the required infrastructure facilities. The industrial zone is maintained in a 50-acre land known as 'Fullerton Estate' in the Divisional Secretariat Division of Kalutara.

According to the Government Information Department, 33 investors have established industries there and are carrying out commercial production activities as of now by investing Rs. 837 million, and generating around 775 employment opportunities.

However, the bulk of the new investment is likely to be in a new industrial zone. Cabinet last month also green-lit State land to be used to set up a new industrial estate in Katana to facilitate 150 investors that are expected to invest Rs. 30 billion and create 10,500 jobs.

The industrial estate will be established using 100 acres of Government land named "Kaludiyawala Watta" in the Katana Divisional Secretariat, to facilitate investment. Once completed the zone is expected to house industries in multiple sectors including rubber, plastics, pharmaceutical and allied products, electrical and electronic appliances, packaging, value added agro products and recycling industries, with a focus on apparel and allied products.

The Government has backed a strong growth turnaround of about 5.5-6% in 2021, partly created by stronger local investment, and has pledged to support Sri Lankan investors in starting new projects. As part of this effort the Central Bank has announced it will keep interest rates at single digits and introduce priority sector lending targets for Micro, Small and Medium Enterprises (MSMEs) to propel rapid economic expansion.

The Central Bank has repeatedly projected private sector credit growth to rebound in 2021 to 14%, surpassing the Rs. 300 billion recorded in the first 11 months of 2020. In January, private sector credit increased to Rs. 25.7 billion.

The Government's import restrictions, introduced early last year, have provoked criticism from the European Union, which has called for Sri Lanka to update the World Trade Organisation (WTO) on details of its policy and when it will be lifted. The Government has defended the move as essential to protecting reserves and ensuring debt repayment of the more than $ 4.3 billion due this year is met.