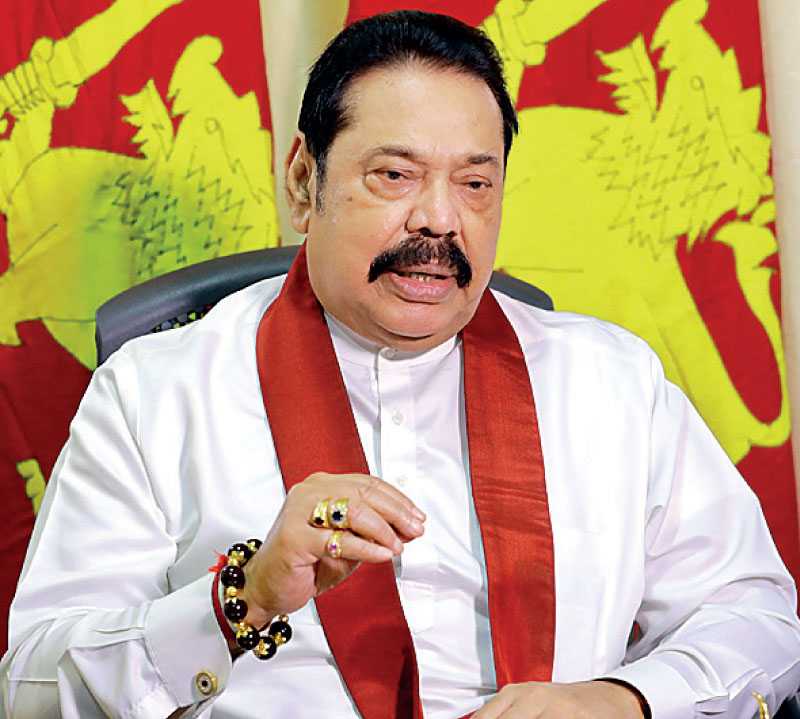 Prime Minister Mahinda Rajapaksa
---
Says time is right to move SL towards growth
Pledges public sector and policy support
Recaps COVID-19 support given by Govt.
Wants biz community to aim for FDI
Coordination between sectors needed for new and innovative policy measures
Invites biz community to convert SL into hive of activity
---
By Uditha Jayasinghe
---
Economic and growth challenges need to be jointly managed by the private and public sectors to move Sri Lanka beyond COVID-19 impact and towards people-centric development, Prime Minister Mahinda Rajapaksa said yesterday.

Speaking at the Sri Lanka Economic Summit 'Roadmap for Takeoff: Driving a People-Centric Economic Revival' organised by the Ceylon Chamber of Commerce (CCC) on the second day, the Prime Minister recapped the efforts made by the Government to support the private sector during a difficult year. He also emphasised Sri Lanka needs to return to work as soon as possible and said the Government stands ready to provide the requisite support.

"We stand ready to utilise new and innovative measures to revitalise growth in Sri Lanka. The next few years will be decisive ones for Sri Lanka and to strengthen the economy the public and private secretory will have to jointly manage growth challenges," he told the virtual gathering. Rajapaksa said it was an accepted fact that Sri Lanka had managed its COVID-19 challenges far better than many other countries around the world and provided support to keep the economy ticking over.

However, the time has now arrived to move to the next phase of turning around growth and preparing for an economic take-off and in order to achieve that the business community and other stakeholders will have to intensify efforts and make use of the policy framework provided by Budget 2021.

"We are satisfied with the initial response to COVID-19 but now greater things have to be achieved on this foundation. This entire country has to be converted into one hive of activity and we appreciate that is also the intention of this Chamber. For this task, corporate and private sector leaders have to come together to plan, exchange information and implement policies."

The Prime Minister pointed out even though remittances and exports have proved resilient, the Government could not be satisfied with the level of foreign direct investment and advocated that the private sector should also work towards attracting more investment.

"We will support you unreservedly in this effort and invite you to lift up our economy once again." He added that the Government expected the private sector to support completion of 289 stalled projects worth Rs. 5 trillion as well as improve Sri Lanka's food security.

Rajapaksa opined that despite the multitude of challenges faced by his Government, they had stepped up and delivered. He called on the private sector to do the same and take Sri Lanka towards an economic rejuvenation,

"We are with you in this challenge," he said.