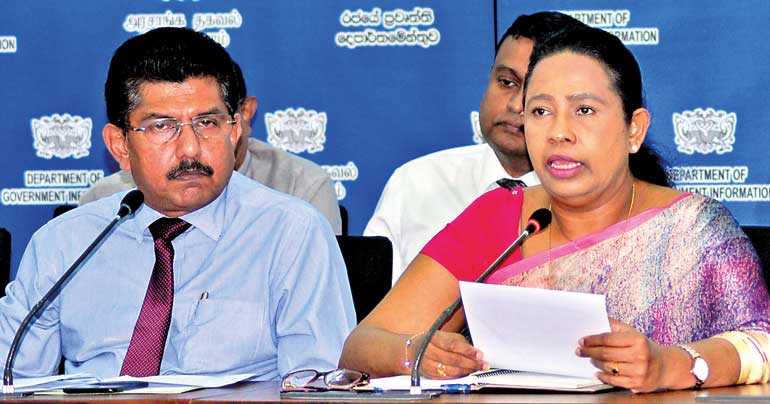 Health Minister Pavithra Wanniarachchi and Director General of Health Dr. Anil Jasinghe talking to reporters yesterday
---
On-arrival visa for Chinese nationals suspended

Applications made online will be scrutinised before visas are granted

Those allowed entry will be monitored throughout stay by health authorities

Chinese nationals on work permits will also be subjected to checks by PHIs

Lankan students returning from Wuhan Province to be kept under surveillance at Diyatalawa Army Camp for two weeks

PHIs will carry out medical checks on ships before passengers disembark

Regional hospitals geared to house patients suffering from virus
By Chandani Kirinde
The Government yesterday imposed restrictions on Chinese nationals visiting Sri Lanka and sent Lankan students returning from Wuhan Province in China to the Diyatalawa Army Camp to be kept under observation for two weeks after the first positive case of the Novel Coronavirus (2019-nCoV) was identified by health authorities in the country.
The restrictions on the issue of visas to Chinese nationals was put in place upon the instructions of President Gotabaya Rajapaksa, Health Minister Pavithra Wanniarachchi revealed. She said Chinese nationals who apply for a visa online would no longer be eligible to automatically gain a visa on arrival. Instead, their visa applications, submitted online, will be scrutinised to see which part of China they were travelling from and those coming from high risk areas will not be allowed entry, Wanniarachchi said at a press briefing yesterday.
The Chinese Ambassador to Sri Lanka has been kept informed of the visa restrictions, she said.
Along with the visa restrictions, the Government will also monitor all Chinese nationals who are provided entry into the country.
"A printed form in the Chinese language is given to all nationals of that country who arrive at the Bandaranaike International Airport (BIA) in which they have to declare information on their places of accommodation in Sri Lanka. Public Health inspectors (PHI) in the respective areas will monitor them during their stay here," Wanniarachchi said.
A video from the health authorities is also being played at the airport so as to alert incoming passengers on the need to mandatorily declare if they are coming from high-risk areas as well as how to contact the relevant health authorities if needed. The Civil Aviation Authority had set up a separate arrival section at the BIA for all persons arriving from China.
Chinese nationals who are in the country on work permits and who travel frequently between the two countries will also be monitored by the PHIs.
"They will visit locations in Colombo and other areas where there are Chinese workers and check on their health conditions too," she said.
Health Inspectors will also board all ships that arrive in the country and carry out checks before anyone is allowed to disembark. Similar health checks will be carried out at the Jaffna International Airport (JIA) which has several weekly flights coming in from India, the Minister said.
Health Services Director General Dr. Anil Jasinghe confirmed that a Chinese female tourist in her 40s who had arrived in the country on 19 January was infected with the coronavirus and was under observation at the Infectious Disease Hospital (IDH) but is not in a critical condition. He said health authorities had gone to the hotels and other sites she had visited during her stay here and were keeping those who were in contact with her under surveillance.
He said that the four thermal detection machines installed at BIA were being used to screen all passengers arriving in the country, with both doctors and PHIs placed on duty at the airport.
Meanwhile, all Sri Lankan students returning from Wuhan Province in China, where 2019-nCoV was first detected, will be kept in isolation for two weeks at the Diyatalawa Army Camp to ensure that they are not carriers of the virus.
"This is a precautionary measure," the Health Minister stated.
Separate wards have also been allocated in the North Colombo General Hospital (Ragama) as well as the main government hospitals in Gampaha, Negombo, Kandy, Karapitiya, Jaffna, Anuradhapura, Kurunegala, Badulla, Ratnapura and Batticaloa to keep suspected patients in isolation.
"If any person is suspected of suffering from the coronavirus, they will be kept in isolation at these hospitals and will be transferred to IDH if they are identified as positive carriers of the virus," he said.
The Government has also taken precautionary measures to ensure medical staff are not exposed while engaging in their duties.
"All medical personnel have been issued with Personal Prevention Equipment (PPE) which includes full body suits, goggles, boots and masks.
"We have adequate stocks for now and will receive more through the World Health Organization," said Director General of Health Dr. Anil Jasinghe.
The Government has also established two 24-hour hotlines for members of the public to call in if they have any questions regarding the coronavirus. The numbers are 071-0107107 and 011-3071073.
Postal services too will take precautionary measures when handling parcels arriving from China.
Meanwhile, the National Action Committee to prevent the spread of the coronavirus, comprising health experts appointed under the direction of the President, will meet on a daily basis to assess the situation, the Health Minister added.