Cabinet approves Investment Management Committee to be headed by Treasury Secy.
Comm. will include line ministry secys and BoI head
Plans to evaluate and fast track investment proposals already received by the Govt.
Cabinet spokesman says focus also on assisting existing virus-hit BoI companies
SL attracted $ 793 m FDI in 2019 and $ 548 m in 2020
Govt. projects $ 2 b FDI for 2021 with Port City leases possibly adding $ 1 b
---
By Uditha Jayasinghe
---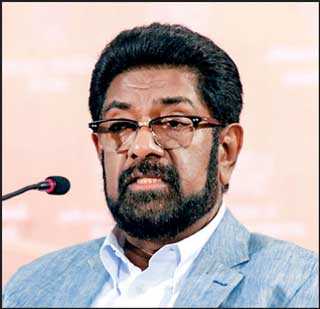 Cabinet spokesman and Media Minister Keheliya Rambukwella
---
Targeting more foreign investment, Cabinet has approved the appointment of a new high level
'Investment Management Committee' to be headed by the Treasury Secretary, to evaluate and fast-track investment proposals received by the Government, a top official said yesterday.

Cabinet spokesman and Media Minister Keheliya Rambukwella told reporters at the weekly Cabinet briefing that the new committee will be appointed by the Cabinet and include relevant ministry secretaries as well as the head of the Board of Investment (BoI). The Cabinet paper was submitted by Prime Minister Mahinda Rajapaksa in his capacity as the Finance Minister.

Treasury Secretary S.R. Attygalle will head the new committee.

"The Government has understood the accelerated requirement of establishing a more formal methodology for encouraging investments. Therefore the Cabinet of Ministers approved the proposal submitted by the Prime Minister for the appointment of an Investment Management Committee. The committee will be entrusted to take necessary measures for granting approval for the investment proposals," Rambukwella said.

He added that the Government was keen to attract Foreign Direct Investment (FDI) to foster economic growth, which has been hard-hit by the COVID-19 pandemic. The Government is also keen to support international companies already in Sri Lanka that have invested via the BoI, and will consider ways to support them on virus recovery measures, the Minister said.

"We see these investment proposals received by the Government as very positive and it is important they are implemented as soon as possible. The Government has already set in place a very favourable tax environment for FDIs, and we think that with support from this committee we will be able to attract significant foreign investment. We are also keen to support BoI ventures already in the country and will look at modalities for that as well."

Responding to questions, Rambukwella also insisted that environmental and other approvals will not be overlooked by the Committee and that they will operate within the laws and regulations already established by Sri Lanka.

"The clash between environment and development exists everywhere in the world. This issue is not just in Sri Lanka. Such problems need careful management and our Government is dedicated to balancing these interests. There will be no shortcuts," he assured.

Sri Lanka has traditionally struggled to attract substantial amounts of FDI, with the situation becoming more challenging following the Easter attacks and COVID-19. In 2019 the country attracted $ 793 million, which dipped to $ 548 million last year largely due to virus impact, data released by the Central Bank showed. ICRA Lanka, a subsidiary of Moody's Investment Services, releasing their Economic Highlights report on Monday predicted FDI could slip to as low as $ 200 million in 2021 as global recovery continues to impact international investment.

However, the Government has projected FDI for 2021 at $ 2 billion with the possibility of Port City lease sales bringing in an additional $ 1 billion. Sri Lanka is strongly focused on attracting investment to bolster reserves and help meet an estimated $ 6 billion in outflows for this year. Of this amount about $ 4.3 billion has been earmarked for debt repayments. Sri Lanka has to repay an average of $ 4 billion in debt for the next few years and requires better performance from investments and exports.

Nonetheless, previous attempts to establish "one stop shops," "single investment windows" and integrated committees, to fast track FDI has yielded limited results. Last year Sri Lanka only managed to improve one notch in the World Bank's 'Ease of Doing Business Index,' moving to 99th, up from 100th in 2019, out of 190 economies across the world. According to the World Bank, Sri Lanka maintained its score obtained in the 2019 edition for the second consecutive year, at 61.8 points.