---
At least 4 State Ministers tasked with specific export emphasis of several produce types, products
Additionally, dedicated State Ministers for Handloom, which has export potential, and Gem and Jewellery
Support to exporters expected from Ministry of Agriculture as well as Plantations
Flagship agency Export Development Board comes under Cabinet-level Trade Minister Bandula Gunawardana
EDB Chief says move amplifies importance of export sector
By Charumini de Silva

The Government's thrust on development of exports is manifested from the appointment of a host of Ministers with specific tasks, official sources said yesterday.

At least four State Ministers have been directly assigned specific export emphasis of several produce types and products as part of their mandate. They are:
Coconut, Fishtail Palm, Palmyra and Rubber Product Promotion and Allied Industrial Production and Export Diversification (Arundika Fernando)
Company Establishment Reforms, Tea Estate Crops, Tea Factory Modernisation and Tea Export Diversification (Kanaka Herath)
Development of Sugarcane, Maize, Cashew, Pepper, Cinnamon, Cloves, Betel Production and Promotion of Allied Products and Export (Janaka Wakkumbura)
Ornamental Fish, Freshwater Fish and Shrimp Farming Development, Multi-day Fishing and Fish Export (Kanchana Wijesekera).
Separately, a few other Ministries too are expected to help exports, such as the State Minister of Development of Aviation and Export Zones (D. V. Chanaka); Gem and Jewellery-Related Industries (Lohan Ratwatte); Livestock and Farm Promotion and Dairy and Eggs-Related Industries (D. B. Herath); and Paddy and Cereals, Organic Food, Vegetables, Fruits, Chilies, Onions and Potatoes, Seed Production and High Tech Agriculture (Shasheendra Rajapaksa). Sources said that even the Ministry of Batik, Handloom Fabrics (Dayasiri Jayasekara) has the potential for exports.

These State Ministers or their Ministries are in addition to the Cabinet-level Trade Ministry, under whose purview the Export Development Board (EDB) will function. Additionally, Cabinet-level Ministries such as Agriculture and Plantations too have responsibility in promoting exports.

Selection of subjects and formulation of the new Cabinet, along with new State Ministers, is an extension to and aligned with President Gotabaya Rajapaksa's 'Vistas of Prosperity and Splendour' policy statement. Post COVID-19, President Rajapaksa reiterated the Government's fullest support to the export sector to realise its full potential, through correctly identifying and rectifying prevailing grievances and obstacles it faces.

When contacted, EDB Chairman Prabhash Subasinghe told the Daily FT that sector-specific State Ministers/Ministries have amplified the importance of the export sector, and that they look forward to working with all line ministries to boost merchandised exports.

"Exports have been recognised as a deserving sector to appoint sector-specific Ministries in reviving the economy post COVID-19. A lot of emphasis has been given to agricultural exports and farming, which has been a weak area in our export basket for decades," he added.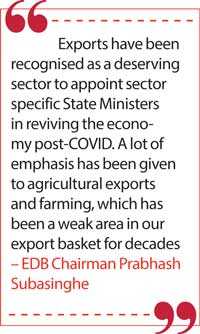 EDB Chief also said the focused attention to these sectors will now help in improving short, medium and long-term targets in these neglected areas in agriculture exports. "The idea is to improve yield and productivity in the short term, supply chain in the medium term, and building new export markets in the long term. It is commendable to see the priority given to the export sector," Subasinghe said.

When asked if it would be challenging to deal with so many State Ministers/Ministries, the EDB Chief said that they are used to working with multiple stakeholders.

Proving the country›s resilience and rebound amidst the impact of COVID-19, merchandise exports in July crossed the $ 1 billion mark according to the provisional data, an achievement last enjoyed in January this year. Soon after the COVID-19 pandemic erupted, exports in April fell to $ 277.4 million, but a continuous pick-up in exports was seen thereafter, with $ 587 million in May and $ 906 million in June.

The EDB is optimistic, and anticipates that the steady growth trend would continue in the last quarter as well. The apex body is bullish on the food and agriculture exports, and expressed confidence that these sectors would help Sri Lanka achieve the $ 10.5 billion target set for the year.