---
New support available from next week; Monetary Board approval received
Central Bank to set up Credit Guarantee Scheme
Short-term three-month working capital loans for NPL-saddled SMEs with three-month grace period for repayment
Banks asked to prohibit abuse of working capital support; purchase of luxury vehicles for personal use won't be allowed
Relief on cumulative interests and penalties depending on quantum of original loan repayment
SMEs with active loans will be supported with fresh five-year loans up to a maximum of
Rs. 300 m at an interest rate of below 10% with one-year grace period based on new business plan
Permanent ODs due or up for review on 31 March to be extended till 30 June NPL rate in banking sector around 5%; SME loans account for 30-40% of total banking sector lending
State Minister Semasinghe says banks may be looking after big companies but Govt. is keen to look after SMEs
Expresses confidence Govt's overall stimulus package and debt relief support will help boost economic growth to 6.5% this year
By Charumini de Silva

The Government yesterday unveiled additional support measures to the already announced debt relief package to fast-track the revival of the economy via the critical small and medium-sized enterprises (SMEs) sector.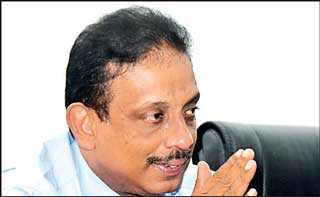 Finance Ministry Secretary

S.R. Artigala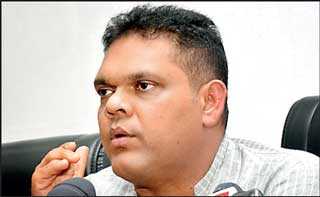 Development Banking and

Loan Schemes State Minister

Shehan Semasinghe


Development Banks and Loan Schemes State Minister Shehan Semasinghe told journalists that the new debt relief package would come into effect from next week, with the Monetary Board already approving it.
In November the Government announced all loans taken up to Rs. 300 million as at 31 December 2019 would enjoy a one-year moratorium on capital repayment while interest would have to be paid. The freeze on capital repayment is for both performing and non-performing loans (NPLs) with banks having to consider restructuring the latter in addition to freezing the seizure or sale of assets. The interest penalty will be removed on NPLs as well.

The State Minister relief will be given on cumulative interest depending on the quantum of repayment of the initial capital of a NPL.

Pointing out that debt relief alone would not help sustain most of these small businesses, Semasinghe said the banks would be required to offer a short-term working capital loan to SMEs to resume or continue business.

"Just rescheduling the loan at this moment is not practical and that is why the Government is also giving a working capital loan. We have asked the licenced banks to provide three-month working capital with a three-month grace period which will be paid within six months," he added.

SMEs who have been servicing the loans will be supported with fresh five-year loans up to Rs. 300 million if needed with a one-year grace period to expand their business activities at an interest rate below 10% based on new business plan.

Treasury Secretary S.R. Attygalle said the NPL rate in the banking sector was around 5% at present and SME loans accounted for 30-40% of total banking sector lending.

"If they (SMEs) seek fresh working capital support, my rough estimate is about Rs. 5-6 billion additional lending. This will create an economic boost anyway. So the working capital for three months will be around Rs. 5-6 billion; maximum Rs. 10 billion," he added.

Attygalle also said that in order to facilitate the debt relief package, the Central Bank would also introduce a Credit Guarantee Scheme for the licenced banks on a voluntary basis.

Further, he said the Finance Ministry had strictly instructed banks to prohibit purchasing luxury vehicles for personal use via this new working capital loan scheme.

The State Minister said the debt relief package was not limited to a particular sector and therefore any SME business that had obtained less than Rs. 300 million would be eligible for it.

"The banks are keen on looking after the big companies but the Government is keen on looking after SMEs, which are the backbone of the economy. The country's future is in the hands of these SMEs. With the relief package announced, we hope to see an immediate boost in economic activities to achieve 6.5% growth by year-end," Semasinghe added.