Eran says Easter Sunday setback, other internal and external issues key causes

Pressure on Budget 2019 hinges on prudent fiscal policy amidst challenges but assures there are 'no concerns'

GDP growth forecast for 2019 likely to be around 3%, deviating from earlier projection of 3.5% to 4%


By Charumini de Silva

The Government is to revise the 2019 Budget, given the Easter Sunday setback and other external and internal challenges.

State Finance Minister Eran Wickramaratne told the Daily FT yesterday the review will be completed by June, and the revised Budget will be presented to the Parliament within the first half of the year.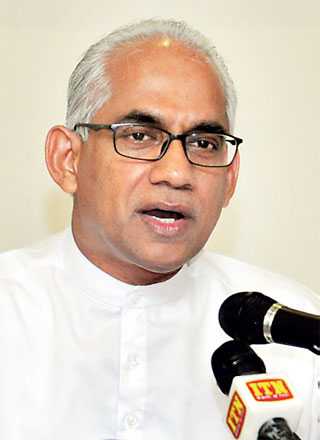 State Minister of Finance Eran Wickramaratne

– Pic by Sameera Wijesinghe
"From the Budget we presented in November, what is obviously going to happen is that those revenues will reduce, as we experienced an unfortunate terror attack last month. When the revenues reduce, we have to adjust our expenditure. We will broadly review the Budget revenue and expenditure proposals, and we will have to realign on the priorities going forward," he added.

When asked if there will be additional pressure on the Budget deficit, Wickramaratne pointed out that the economy will only face such a situation if the Government do not take proactive measures to adjust them now.
"Everybody is asking for concessions, but we may not agree to all of it. If we do these adjustments on the Budget proposals such as security as a priority area; we will keep the fiscal discipline going and not end up with pressure on the Budget deficit," Wickramaratne pointed out.
Earlier this year when the Government presented the 2019 Budget, the overall fiscal deficit was projected to be 4.2% of GDP.

The likely revised Budget may be coincided with the statutory Mid-Year Fiscal Report,which is usually tabled in Parliament in July.

Wickramaratne also said GDP forecast for this year will be around 3%, deviating from their earlier projection of 3.5% to 4%.

He said the Central Bank, the World Bank, the Asian Development Bank and the International Monetary Fund too will review the GDP growth forecast.

"Commonsense tells us that it (reviewed forecast) will be at the lower end of the range," he said.

Despite these challenges, the State Finance Minister expressed confidence in all due debt repayments, cash flows, and foreign reserves, noting that there are 'no concerns'.

"We will meet all our debt obligations. We will go to the international markets and raise funds if we need to. We will raise the previously announced $2 billion, and there is another $1 billion policy base guarantee by the World Bank. This allows to use their credit rate and provides a guarantee to raise money for yourself. So immediately there will be another benefit of about 100 basis points and of the $2 billion, $1 billion will be covered by that. It also allows to extend the tenure. All this is possible because of the fiscal discipline we have maintained," he stressed.

In terms of confidence building exercise of the investors, Wickramaratne said they have had discussions with multinationals and others, while the first external engagement with Invest Sri Lanka in Singapore was a great success.

"It will take time, but I am confident we will bounce back with greater vigour," he said.