By Uditha Jayasinghe
The next two years will be crucial for Sri Lanka's debt management, said Prime Minister Ranil Wickremesinghe yesterday while calling on the private sector to use technology to find new avenues for growth.

Addressing the CIMA Business Leaders Summit as its Chief Guest, Prime Minister Wickremesinghe insisted the Government's key task was to develop a framework and create an enabling environment for business, which it is already in the middle of achieving.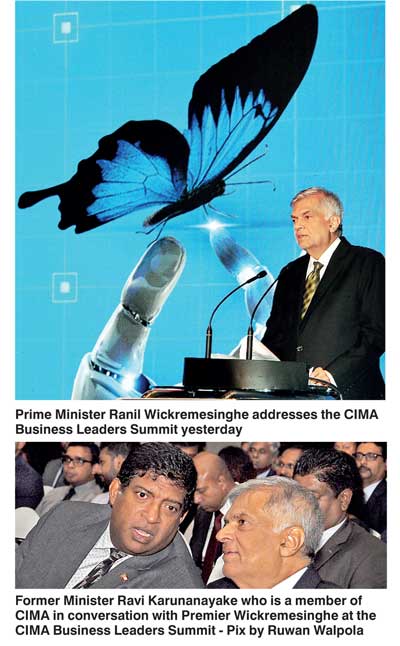 However, this will be insufficient unless the private sector also expands its role to drive forward growth, taking advantage of the policy set by the Government, he said.

"If the economy doesn't tick there is nothing you can do," he said, outlining several policy initiatives taken by the Government, including fiscal consolidation, inflation targeting, encouraging growth and further liberalising the economy. "We are now putting the responsibility on you. Go for growth. We want you to expand."

"If we can hold our budget for the next two years we can get through. The highest debt servicing payments are coming in the next two years," he added, recalling how debt ballooned under the previous Government and the steps taken by his administration to stabilise the macroeconomic environment. However, he acknowledged that Sri Lanka still faced the dual challenge of improving exports and investment.

"Where does growth come? We have changed the previous policy of trying to use commercial loans for Government-funded infrastructure to drive growth, which never works. Now we are putting the responsibility on all you ladies and gentlemen here and others in the private sector."

Recapping the investment zones, industry corridors, Hambantota Port, Mattala Airport and Port City investments as well as the Megapolis plan, Wickremesinghe went on to point out that the private sector needed to tie in to these measures and also promote business through technology adoption. The Government will complete its proposal to provide a tab to every student, he noted.

"How can we unleash the potential of the Sri Lankan entrepreneur? How do we encourage private foreign direct investment? With GSP+ you have 6,000 items to export but I don't think we are even sending 60 to the European Union. There is a new ease of doing business. If we don't do this we will be nowhere. Having said this what are we going to do in the next three years for growth? We want you all to expand. What are our advantages? You have to go by comparative advantages and the future depends on technology and innovation."

This week the per capita income of Bangladesh surpassed the per capita income of Pakistan, Wickremesinghe noted, emphasising the need to become competitive lest Sri Lanka be surpassed by other regional economies. "We will only have ourselves to blame."

"Where are we? The area we live between Iran and Indonesia will have at least 500 million more people by 2050. This is not only adding population but more and more people will come out of poverty. So this is the market to be in; just imagine providing higher education for all these people? So here in the Indian Ocean there will be a new growth wave."

Even though the industrial revolution started in the West, its latest wave will be in Asia, the Prime Minister said.