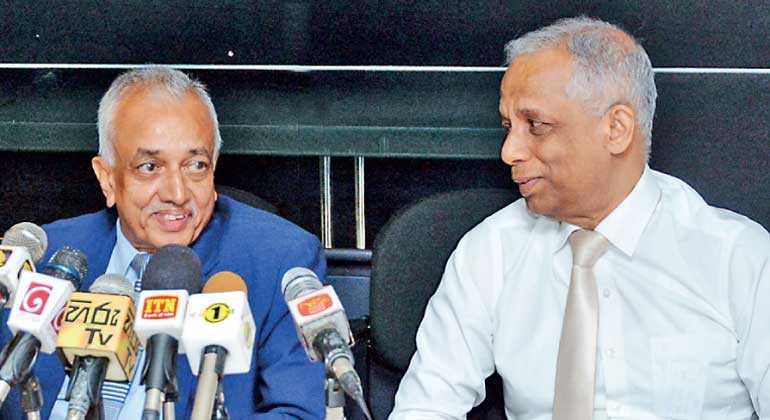 International Trade and Development Strategies Minister Malik Samarawickrama and FTA Chief Negotiator and Ministry Advisor K.J. Weerasinghe share a smile during the press conference yesterday – Pic by Upul Abayasekera
Govt. steps up defence of economic policies including trade agreements
Rejects censure of Singapore FTA, outlines positives for Sri Lankan economy
Tenth round of ETCA talks on 23 May, scoping discussions on Thai FTA on 16 May
South Korea talks on trade and investment cooperation MoU
Govt. awaiting dates to continue China talks, discussions hit hiccup after China demands 90% liberalisation
By Uditha Jayasinghe

Stepping up its defence of economic policies, particularly liberalisation, the Government yesterday gave an update on trade agreements being negotiated with India and China, while also defending the recently-inked Singapore deal.

Dismissing critics, International Trade and Development Strategies Minister Malik Samarawickrama staunchly backed the Sri Lanka-Singapore Free Trade Agreement (FTA), which was signed in January and came into effect at the beginning of this month.

He rejected statements made to the effect that tariff removals would make it easier for Singapore to import goods and services, pointing out that the tariff removals would be done in stages and would not cover petroleum products which made up over three-quarters of Sri Lanka's $1.2 billion imports from the city-state.

The tariffs would be removed in three stages, the first between the first and sixth year, the second between the sixth and 12th year and the last between the 12th and 15th year, he explained.

He also contended that the only space for movement of professionals was for top level management and experts of companies who choose to make significant investment in Sri Lanka. Even then the professionals would have to possess a minimum of five years' work experience with at least one year in Singapore and would only be allowed to work for the specific company making an investment.

The officials also took pains to stress that citizens of a country as developed as Singapore where per capita income was $ 52,000 would not choose to leave Singapore in droves to live in a country where per capita income is only $ 4,000. They also contended that ASEAN countries would not be allowed to import through Singapore as the FTA contained safeguards including rules of origin that would dissuade such efforts. Migration of professionals will not be allowed in India and China FTAs.

The Minister's statements were supported by FTA Chief Negotiator and Ministry Advisor K.J. Weerasinghe, who insisted that the Singapore FTA, which was the first that Sri Lanka had signed in over a decade, was an important international milestone.

"Investment is the primary objective of the agreement. Given that we signed the agreement with one of the most liberalised economies in the world, it will send a very positive message to the world that Sri Lanka is open for business and we are committed to reforms. This is the message we wish to send. When negotiating with a country like Singapore, the sensitivities are less because we do not expect a significant threat coming to our local industries, which is not the case with India and China," he said.

Large-scale investors from Singapore would not invest unless they have safeguards for their investment, the Minister pointed out. However, Weerasinghe noted the need to protect and be more on the defensive in negotiations with India and China, rather than Singapore, as they had the potential to affect Sri Lanka's local industries.

It took eight rounds of negotiations over 16 months for the Singapore FTA. Sri Lanka has completed the ninth round with India on the Economic and Technology Cooperation Agreement (ETCA), which started in August 2016 and the next round is from 23-25 May.

"Currently on liberalisation with India, Sri Lanka is considering about 68% but India has liberalised about 82%; then the next round of negotiations will be on what we can further liberalise and how we are going to look at the 30% negative list, taking into account domestic sensitivities. One of the important elements of the Indian agreement is the acknowledgement of the asymmetry between the two countries so the extent of liberalisation that India is going to do will not be matched by us," Weerasinghe said.

The Government is also awaiting fresh dates for China, which would be for the seventh round of talks. Weerasinghe denied talks were dragging, but attributed the time lapse to the more detailed negotiations needed to ensure Sri Lanka received a fair deal.

"The reason for the FTA negotiations with China taking a break of 10 months was due to China demanding that Sri Lanka's tariff liberalisation be as high as 90%."

"Such a high level of liberalisation could be possible over a period of 20 years. That would give local industries a chance to adjust and evolve new business models. So one of the main issues that we are currently dealing with is whether we can go up to 85% or 90% and on which sectors and the timeline," he added.

Sri Lankan officials will also have meetings on 16-17 May for a "scoping session" on a potential FTA with Thailand. "We will look at the overall aspects and modalities of the negotiations. Then the negotiations can begin."

With South Korea, the Ministry is working on a Trading and Investment Cooperation Memorandum of Understanding (MoU).