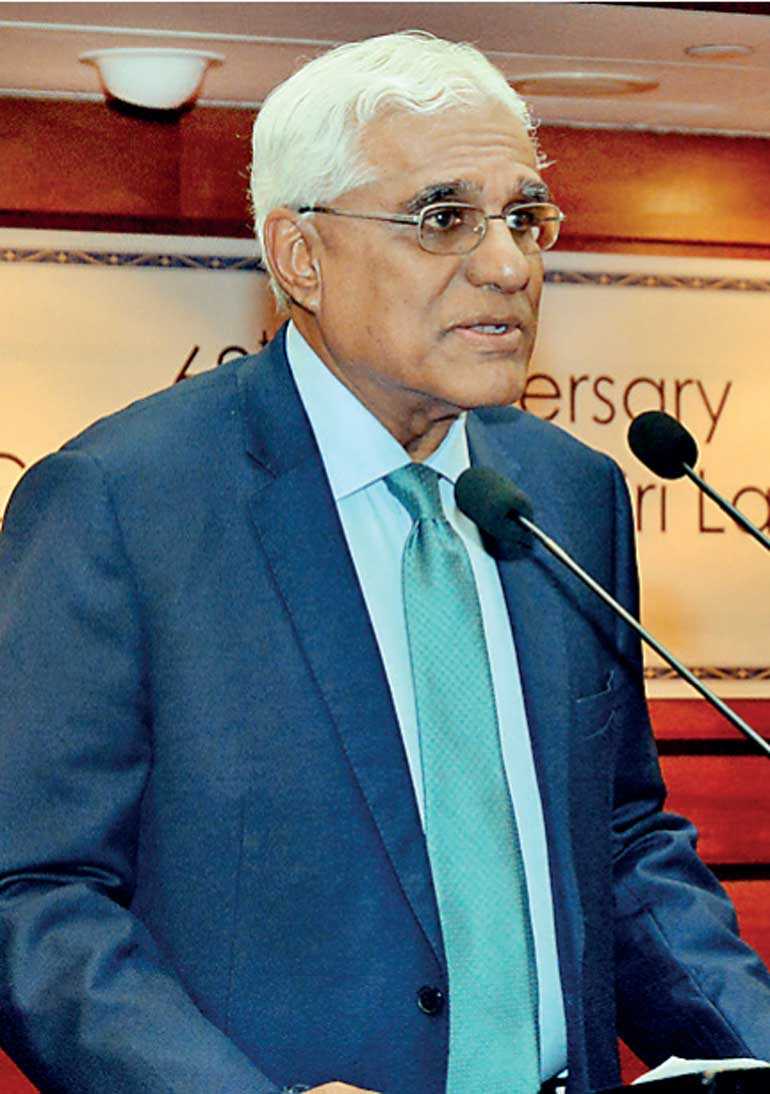 Central Bank Governor

Dr. Indrajit Coomaraswamy - Pic by Upul Abayasekera
CB chief insists transparency and accountability improved sufficiently in trading guidelines
Challenges of new Foreign Exchange Act to be taken up with Govt.
CB to improve oversight on Fintech and blockchain but with space for innovation
By Uditha Jayasinghe

The Employees Provident Fund (EPF) will return to the stock market "fairly soon", Central Bank Governor Dr. Indrajit Coomaraswamy said yesterday as the monetary authority has established sufficient safeguards to improve transparency and accountability in trading guidelines.

Speaking at the oration held to mark the 68th anniversary of the Central Bank, Dr. Coomaraswamy recapped the activities and achievements of the institution and insisted much had been done to improve stability in the country's financial system. The EPF withdrew from trading in the aftermath of investigations into the controversial bond trades in 2015 that sparked public outcry and the appointment of a Presidential Commission of Inquiry. However, the EPF has already returned to trading on the secondary market, the Governor noted.

"There is a new auction system in place and it is working well. We have had greater transparency introduced through the Bloomberg platform and the auction rules and the processes that we will use, which have all contributed to a more transparent and effective system of public debt issuance. On the debt management side, the passage of the Active Liability Management Act has given the Treasury and the Central Bank greater flexibility in tackling the considerable overhang of public debt and we are confident that provided the country is able to manage its fiscal consolidation trajectory we should be able to manage the debt burden," he said.

Dr. Coomaraswamy also gave details of the new processes that were included to improve the transparency of trading systems, assuring that the new measures would increase the credibility of transactions.

"A lot of work has been done in terms of improving services and procedures. The investment committee meets on a daily basis, new investment guidelines have been developed, and CCTV and voice recording systems have been put in place. The segregation between front, middle and back offices has been made more entrenched and we are working towards the EPF coming back to the stock market fairly soon, once all the propriety work has been completed."

Recently the EPF started working on the secondary market, he noted. The Governor also touched on a stronger risk management framework, which focused on establishing oversight structures in place at three levels of defence to improve risk management.

"The macroprudential surveyance department is doing more and more work. Currently the department is moving ahead with a clean note policy. The Foreign Exchange Department has had the challenge of adapting to the new Foreign Exchange Act, which has required considerable awareness raising among financial institutions and the public."

The Governor said the implementation challenges of the Foreign Exchange Act would be raised with the Government to obtain support to have them addressed.

Moving on to Fintech and crypto currencies, the Central Bank was working to implement recommendations from two committees while maintaining space for innovation.

"The challenge is for the regulator to balance innovation with stability. Two committees have been set up, one on Fintech and the other on blockchain. Those committees have completed their work and the Central Bank is currently working through the changes necessary to implement their proposals, including a regulatory sandbox to promote experimentation and assist the monetary authority to move forward in implementing a regulatory framework, which will facilitate new technology while maintaining stability."
CSE hits 17-month closing low; tax proposals weigh
Reuters: Shares extended losses on Tuesday to hit their lowest close in 17 months, as investors offloaded telecom and beverage stocks, while worries over new tax proposals dented sentiment. The Colombo stock index ended 0.56% lower at 6,010.23, its lowest close since 28 March 2017. It closed marginally higher last week after four straight weekly falls.

The Bourse posted their eleventh session of declines in 12.

The day's turnover was at Rs. 374.8 million ($ 2.34 million), less than half of this year's daily average of Rs. 815.5 million.

Foreign investors sold a net Rs. 24.3 million of shares on Tuesday, extending the net foreign selling so far this year to Rs. 3.4 billion worth of shares.

"The market came off with foreign selling in thin volumes," said Hussain Gani, deputy CEO, Softlogic Stockbrokers.

Local investors are on the sidelines due to uncertainties regarding tax proposals, analysts said.

Banking and telecom stocks have been under pressure after a media report last week stated the government planned to impose new levies on these sectors to boost revenue, analysts said.

Lacklustre corporate results and a Moody's report saying Sri Lanka could face significantly tighter external refinancing conditions in the next five years, have also dented investor appetite for riskier assets, analysts added.

Shares in Dialog Axiata Plc ended 3% lower, while Ceylon Cold Stores Plc closed 3.2% down, and Ceylon Tobacco Company Plc ended down 1.9%.

Conglomerate John Keells Holdings Plc ended 0.4% weaker, while the biggest listed lender Commercial Bank of Ceylon Plc closed 0.7% lower.

The Central Bank left its key policy rates unchanged, as expected, on 3 August, citing its goals of stabilising inflation and fostering sustainable economic growth.

The economy was unlikely to grow more than 4% in 2018, falling short of an earlier estimate of 5%, Central bank Governor Indrajit Coomaraswamy said.