By Charumini de Silva

The Coast Conservation Department confirmed yesterday that it will go ahead with the demolition of the 17 identified unauthorised buildings on 1 May at Mirissa coastal area, insisting that decisions were made years ago according to the Act.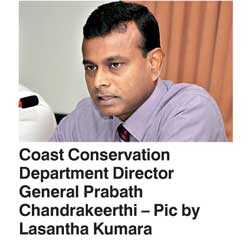 "We will definitely demolish the 17 identified unauthorised structures on Mirissa beach on 1 May. This was not an arbitrary decision taken by the department, but a legal ruling for such constructions," Coast Conservation Department Director General Prabath Chandrakeerthi told Daily FT.

Yesterday, Provincial Councils and Local Government Minister Faiszer Musthapha issuing a statement opposed the Coastal Conservation Department's decision to remove unauthorised constructions in Mirissa, claiming it was an arbitrary.

Noting that the tourism industry is a thriving sector in and around the Mirissa area, the Minister stressed that such removal of these SME businesses would lead to many economic consequences among the area residents.
Musthaphasaid tobelittle small scale entrepreneurs was not the principal of the Unity Government,insisting that he will advise the authorities to consider the grievances of the masses before reaching any harsh decisions.
Denying the allegation made by the Minster that the decision was arbitrary, the Director General emphasised that these unauthorised structures were identified around three years ago, when the department made complaints against them and obtained demolition orders.

It was also pointed out that all these individuals were given an opportunity to appeal within seven days of receiving the letters and thereafter, a final review by the Ministryidentified the 17 structures were illegal and should be demolished.

"The law and order of the country needs to be equitable for all," Chandrakeerthi stated.

Tourism Development Minister John Amaratunga, and Law and Order Minister Ranjith MaddumaBandara addressed a media briefing in Colombo last week, extending their fullest support to regulate the tourism trade in Mirissaafter a spate of sexual attacks and violence targeting foreign visitors.

In fact, the Tourism Development Minister urged the IGP PujithJayasundara, who was also present at the press briefing, to provide necessary security measures by deploying SFT officers to the Mirissacoastal area on 1 May to complete the demolition of the 17 unauthorised structures.

Chandrakeerthi further noted that if the department fails to perform the demolishing of unlawful structures, they have to answer for the audit queries by the Public Accountant Department in the Parliament.

"We are bound to answer for the audit queries as to why action was not taken and for allowing people to use Government-owned land illegally," he added.

The Director General said that the department will also dismantle all identified unauthorised buildings in Negombo on 8 May, while planning to do the same in the Uswetakeiyawa and Dehiwala areas in the near future.