Support for industries and workers affected by trade liberation
Joint Steering Committee headed by Treasury Secy. to oversee implementation
Independent Trade and Productivity Commission to recommend proposals for liberalisation-affected industries
Proposals for workers also included
The Trade Assistance Program (TAP), which was formulated by the Government to offset adverse impact to companies and workers from tariff and para-tariff removals, as well as increased competition from Free Trade Agreements (FTAs), received Cabinet approval last week.

The Cabinet paper was jointly presented by International Trade and Development Strategies Minister Malik Samarawickrama, and Finance Minister Mangala Samaraweera. An outline for TAP was released in August 2018 for stakeholder feedback.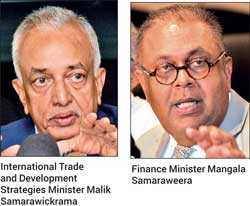 As part of TAP,a Joint Steering Committee (JSC) will be established to oversee its implementation. The JSC will be chaired by the Secretary of the Treasury, and other members would include the Secretaries of key Ministries relevant to this agenda, including Industry, Labour, and Skills Development, among others.

"Analytical tools have been developed (using national statistics data) with the assistance of international expert institutions (World Bank and the Harvard Centre for International Development) to be able to assess 'vulnerability' of firms and workers. This analysis would inform the decision-making around tariff phase out, negotiations with affected industry sectors, and other TAP matters," said the TAP Executive Summery released by the Ministry.

The program will also set up a Trade and Productivity Commission (TPC) as an independent body that recommends the trade adjustment to be offered to industries after examining quantitative and qualitative evidence, and investigating and hearing industry concerns on tariff phase out and competitiveness constraints. TPC will be comprised with a majority of independent members from relevant professional backgrounds. The TPC will have a dedicated Secretariat.

"To build transparency and credibility in the decision-making process, submissions received by industry sectors as well as recommendations of the TPC and the decisions of the JSC would be published online and be available to the public. This is important to mark a departure from the narrow industry lobbying process that often occurs."

The program will also identify and implement a minimum level of labour market flexibility reforms that can be implemented in order to allow workers from trade liberalisation-affected sectors to move into new sectors and adjust better to the new market conditions. This is to be determined following consultation with relevant industry and labour market stakeholders, with leadership from the key line Ministries, the document added.

It is planned for TVET institutions to develop, in consultation with the industry, new and rapid retraining programs and identify a network of TAP-relevant skills re-training centres and job placement hubs across the country (from within the established government TVET institutions/agencies). These will be tasked with helping impacted workers obtain the new skills they need to move to another sector or find new job openings. The Government would formulate an arrangement to cover part of the skills retraining costs for trade liberalisation-affected workers.