---
Cabinet Spokesman says Govt. to give incentives to strengthen local industry and boost agriculture sector
Says all cultivable land to be used productively
COVID-19 crisis has seen local innovators come to fore manufacturing PPEs and ventilators
Says self-sufficiency is key to survive the crisis and beyond
The Government will expedite programs to revive local industry and reach self-sufficiency, especially in the agriculture sector, as the COVID-19 outbreak has shown the importance of self-sufficiency, Cabinet Spokesman Minister Bandula Gunawardana said.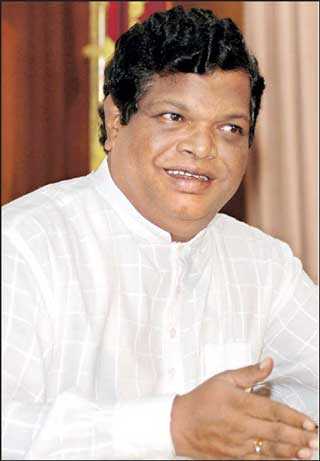 Cabinet Spokesman Minister Bandula Gunawardana


He said that the need to strengthen local industry and tend to all cultivatable land was discussed by Cabinet on Wednesday and District and Divisional Secretaries had been directed to extend assistance to the farming community across the country.

"We discussed at length ways to overcome this crisis. The stimulus package will be in effect for six months so that people can come out of this crisis and start breathing with ease," he said at the weekly Cabinet press briefing.

Co-Cabinet Spokesman Dr. Ramesh Pathirana said that the policy of the Government had been to encourage local industry even before the new coronavirus began to spread but that this crisis had seen the speedy revival of the sector.

"Like every dark cloud has a silver lining, we can see how many local innovators are using this difficult time to contribute to the fight against COVID-19. They are manufacturing Personal Protection Equipment (PPE) and even ventilators, while almost all the masks that are needed for hospitals have been made locally using available raw material.

This is very impressive," he said.

He said that this was the start of local industry revival, especially in the agriculture sector.

"People have now realised the need to be self-sufficient, especially to meet our food needs to overcome this situation. There was a time when our country was self-sufficient but later we became too dependent on imports; now we can change that," he said.

Pathirana said the Government had stopped the import of spices such as pepper and cinnamon and other products that could be made locally, such as kites, pens, incense sticks, etc. soon after coming to office, adding that soon the import of all plastics products would be stopped.

Gunawardena meanwhile said that there would be no shortage of goods during the coming month as excess stocks were in place for April as it was New Year season.

"All importers bring surplus stocks during this season so there will be no shortage of essential items," he said when asked if the lockdown in India would lead to a shortage of goods which are imported from there.