Acquisition of Singer boosts revenue along with strong growth from transportation and logistics
1Q turnover from 16 sectors up 74% to cross Rs. 50 b mark; pre-tax profit up 96%, though loss at bottom line level
Already a global leader in several key products, Hayleys aims for number one position in other core sectors
Finance cost rises but management not overly worried though action being taken to reduce debt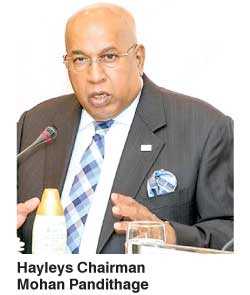 The most diversified export cum manufacturing rich blue chip, Hayleys Plc, which marks 140 years this year, is optimistic of greater progress moving forward, with first quarter results showing strong growth.

"Despite challenging times we have achieved our best quarter results. Hayleys has survived and grown for the past 140 years and we will be aggressive to be number one in the sectors we operate," Hayleys Chairman Mohan Pandithage told the media on Friday.

The Hayleys Group saw its FY19Q1 turnover gain by 74% to top the Rs. 50 billion mark with the inclusion of its biggest ever acquisition late last year of Singer Sri Lanka (consumer and retail segment contributing Rs. 16.6 billion) and the transportation and logistics sector delivering strong growth with revenue of Rs. 10.6 billion, up from Rs. 7.2 billion a year earlier.

Last financial year Hayleys became the first listed company to achieve $ 1 billion turnover whilst its exports account for 3.3% of Sri Lanka's total earnings.



Gross profit was up 96% to Rs. 11.5 billion and results from operating activities more than doubled to Rs. 3.1 billion.

All 16 sectors of Hayleys except plantations have posted impressive gains in pre-tax profit. Apart from retail and logistics, Hayleys' traditional sectors of hand protection (accounting for 5% of global market share), purification products (accounting for 16% of the global market share of activated carbon) and agriculture (Sri Lanka's biggest processed fruits and vegetables with 45% market share) reported sharp gains as well.

Consolidated pre-tax profit was up 96% to Rs. 798 million and post-tax was at Rs. 260 million, up from Rs. 61.4 million.

However, Hayleys' bottom line was a loss of Rs. 261 million, up from a Rs. 150 million loss a year earlier.
Highly geared Hayleys saw its net finance cost increase from Rs. 875.6 million to Rs. 2.4 billion in the 1Q of FY19. The Hayleys Group's interest bearing short-term and long-term borrowings are Rs. 78 billion but last week the senior management said the company was not overly worried though steps to reduce debt were ongoing.

"Yes we are overleveraged but we are not overly worried. Our debt to EBITA of not more than three times. We have been implementing identified actions to address this," Director Sarath Ganegoda said, adding that some of Hayleys' assets did not reflect their true value.

He said there was an aggressive Group-wide strategy to enhance return of investments and assets in sectors which were lagging and if there was no considerable progress the management may consider divesting.

"Our 2020 target was to cross the $ 1 billion figure in turnover. However, we achieved this in FY2018," he added. He said that within the traditional sectors of Hayleys there was ample scope to enhance revenue and earnings.

Chairman Pandithage said the future high-growth sectors would continue to be transportation and logistics, retail, leisure, renewable energy and aluminium.

He also expressed confidence that Hayleys' export businesses would continue to grow. Before the Singer acquisition, exports accounted for over 60% of Hayleys' turnover.

Pandithage said Hayleys was the biggest value-added exporter in Sri Lanka and prospects remained good. However, he said a shortage of raw material and labour were key challenges.

"Our continuing success has been a result of a concerted focus on consistent operational excellence, long relationships with our principals and business associates, strategic investments into fresh growth opportunities and an unwavering commitment to the delivery of economic and export development in alignment with the needs of Sri Lanka as a nation," the Hayleys Chairman recalled.

"Throughout our history, a theme that consistently recurs across all of our businesses is one of localised value addition, to capture increasingly globalised markets. Our organisation is geared towards seeking out new methods to sustainably harness this nation's potential and transform it into lasting value that will lend vital support to the aspirations of our country and all of our fellow Sri Lankans from every walk of life," Pandithage added.

The Hayleys Group provides direct employment to 32,000 Sri Lankans, in addition to providing indirect employment to over 20,000 people. The Group collectively accounts for 3.8% and 3.4% of Sri Lanka's tea and rubber production. The Group is also the biggest logistics provider in Sri Lanka, a leading aluminium extrusion manufacturer and possesses Sri Lanka's single largest solar power facility in Welikanda as well as contributing 2% to Sri Lanka's renewable energy. Hayleys caters to over 7.6 million customers worldwide. See full story on Page 9