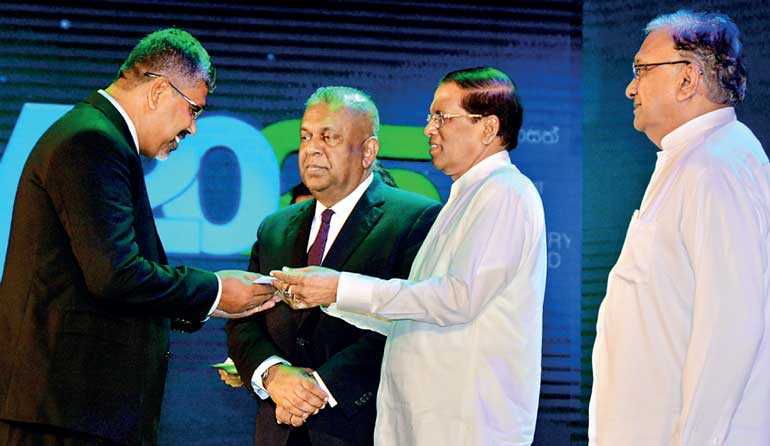 President Maithripala Sirisena handing over a loan under the 'Enterprise Sri Lanka' scheme to an entrepreneur yesterday while Finance Minister Mangala Samaraweera and Public Enterprise Minister Lakshman Kiriella look on at the BMICH – Pic by Upul Abayasekera
'Enterprise Sri Lanka' program of 15 loan schemes at concessional interest rates launched
President hails effort, says Sri Lanka has talent and perseverance to grow
Calls on State banks to empower effort, provides services not just make profits
Wants better marketplace for local businesses, space for creativity and innovation
By Uditha Jayasinghe

President Maithripala Sirisena yesterday called on State banks to focus on providing affordable financing to entrepreneurs, pointing out that generating colossal profits alone was insufficient to promote the welfare of the country.

The President addressing the 'Enterprise Sri Lanka' program launch at the BMICH on Friday acknowledged that Small and Medium Enterprises were the backbone of the economy and critical for job creation and for tangible economic benefits to filter to the masses.

He pointed out that State banks generally performed well, generating significant profit, but stressed that as public banks they had a responsibility that went beyond mere profit creation to improving the economy of Sri Lanka as well.

"We have to ask ourselves whether banks exist to generate profit or whether they are able to exert themselves and provide services to the people. In my view State banks have multiple roles to play, perhaps 50% of their effort should be focused on profit generation and 50% in providing services to the people," he said.

While acknowledging that profits were important to fund the economy and by extension the Government, he highlighted the need for capital flows to be equitable so that different segments of society would be able to benefit from the country's financial system.

"An entrepreneur is someone who takes his talent, his creativity, his intelligence, his resourcefulness, and brings it all together to stand on his own two feet. An entrepreneur is someone who perseveres, who fights the odds, who never gives up and who helps others along the way. These are laudable qualities to have and I firmly believe that Sri Lankans have these abilities in abundance. This is an effort on behalf of the Government to find a way to support such people."

He praised the Government, and in particularly Finance Minister Mangala Samaraweera, for formulating the program that aims to create 100,000 new entrepreneurs by 2020.



However he pointed out that it was imperative to create awareness and improve financial literacy of people so that they do not unwittingly become indebted to banks and find it more difficult to live.

The program has 15 tailor-made local- and donor-funded financial and non-financial schemes under the umbrella. The credit program aims to provide access to finance at an affordable rate with the Government guaranteeing some of the loans and providing concessionary interest rates.

The most challenging issue that is faced by Small and Medium Enterprises is access to finance and absorbing high interest rates, officials acknowledged at the event.

President Sirisena noted that it was imperative for State organisations, including ministries and departments, to support the Government's latest efforts to promote entrepreneurship on a large scale by improving market place access and enabling small businesses to be more competitive.

"I travel around the country and hear the complaints of the entrepreneurs. Whether they are growing pomegranates in Kaplitiya or bananas in Hambantota, they complain that they cannot get market access for their harvests. This is a problem that we need to solve. This program can be the salvation of Sri Lanka or it can be a massive waste of resources. I believe that while we promote entrepreneurship it is also important to address these issues. Businesses need access to markets and they need a local footprint before they can export. We see this in all developed countries around the world and we must create a conducive environment for local businesses in Sri Lanka."

However, he acknowledged that Sri Lanka could not grow in isolation as technology, expertise and knowledge would have to come from elsewhere. He recalled that in the past many more products were manufactured in Sri Lanka but now even kites and Vesak lanterns were imported, reducing the creativity and enterprising nature of locals. He advocated for renewed investment to tap into new ideas and use technology in different ways to solve problems and raise the standard of living for all Sri Lankans.