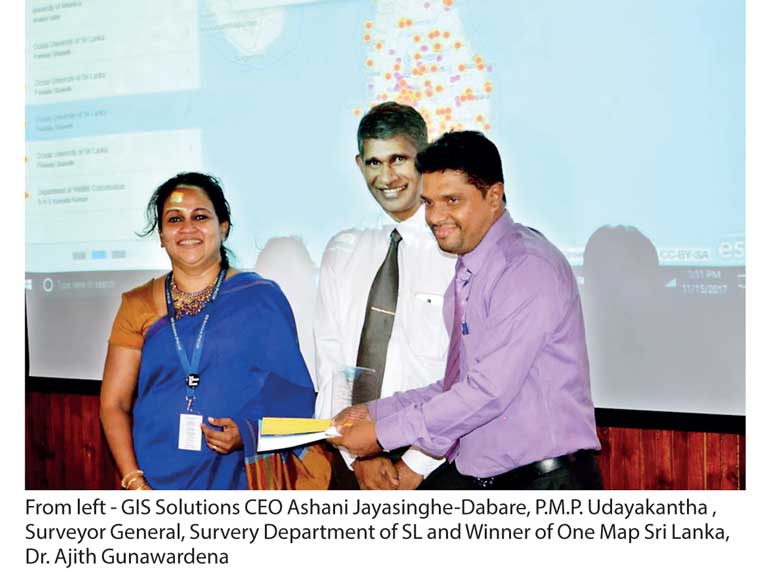 Geographical Information Systems (GIS) Day provides an international forum for users of GIS technology to demonstrate real-world applications that are making a difference in our society.

The first formal GIS Day took place in 1999. Esri (Acronym for 'Environmental Systems Research Institute – USA'), president and co-founder Jack Dangermond credits Ralph Nader with being the person who inspired the creation of GIS Day. He considered GIS Day a good initiative for people to learn about geography and the uses of GIS, and wanted GIS Day to be a grassroots effort and open to everyone to participate.

World GIS day (Geographical Information System day) is celebrated around the world every year on the third Wednesday of the month of November as a part of National Geographic's & Geographical awareness week. This year it falls on 15 November – for which information and material can be found at www.gisday.com.

GIS Solutions Ltd., as the Sole Authorised Distributor for ESRI takes World GIS Day on to promote the use and value of maps and mapping technology for the general public of Sri Lanka – especially amongst school children. This year's official World GIS Celebrations are conducted in collaboration with the Survey Department of Sri Lanka (the National Mapping organization of Sri Lanka) and included a workshop and guided tour for participants of the National Map creating process of the survey department The Surveyor general himself will grace the occasion and the event will featured some educative presentations about GIS and GIS Concepts and the great GIS work done Sri Lanka by some government departments of Sri Lanka.

To create awareness about World GIS day 2017,GIS Solutions conducted a competition that involves mapping interesting and historically important places onto a digital map. This is the second year consecutively this has been conducted as an island-wide competition titled 'One Map Sri Lanka', targeting two groups:

nProfessional GIS Users and GIS Technologists

nSchool students

The competitors were required to send in digitally (i.e. via email) a picture of a place or location that they considered to have some historical, cultural or environmental significance or importance from their own surroundings, along with; a description, corresponding longitude and latitude exact coordinates (Geo coordinates).

All entries received were added to a special Sri Lanka Digital GIS Map called, 'One Map Sri Lanka', which was created on the ArcGIS Software Platform known as the Number One Software platform for GIS, Globally. One Map Sri Lanka (2017 edition) was unveiled during the above mentioned event by the Surveyor General, P.M.P. Udayakantha and Ashani Jayasinghe-Dabare, CEO of GIS Solutions.

There were many entries from all over Sri Lanka and most of them were of a very high standard from students and GIS ArcGIS Technology users from all across the country. The winners of this competition from the professional category received their awards and certificates from the Surveyor General and the CEO of GIS Solutions during the event.

This is the fifth year GIS Solutions is commemorating 'World GIS Day', and CEO of GIS Solutions remarked that, "We are highly encouraged by the responses received over the last few years."

GIS is considered one of the three growth areas of ICT and it is a technology that can be used across all industries; to plan, manage assets, make right decisions, save time and money, collaborate and work more efficiently and optimize on resources. Many career paths are there for those who pursue GIS as a career and it's a high demand profession both locally and globally. Developed nations reap the full benefits of GIS at a high growth rate.

GIS and Spatial Data is such an important aspect for the countries development that the Government of Sri Lanka has launched an initiative to necessitate a National Spatial Data Infrastructure for the nation.

GIS Solutions' vision is to help our nation reap the full benefits of GIS technology, to take Sri Lanka to the next level. GIS Solutions sees its mission as 'Enhancing Life through GIS Technology and enabling the Digitalization of Sri Lanka'. World GIS Day – Discovering the World Through GIS.

GIS Solutions is a subsidiary of the Just In Time Group, a foremost systems integrator in Sri Lanka with a 20 year history, providing ICT solutions and service support to a niche market in Sri Lanka. JIT was recently listed in the latest edition of the APAC CIO Outlook magazine's Top 25 Govt. and Public Sector Technology Providers 2017 and as the only Sri Lankan company to be featured and recognised in the magazine's annual listing of the Top 25 Government and Public Sector Technology Providers 2017.