By Chandra Schaffter

The greatest lovers of cricket and the connoisseurs of the game are not necessarily the greatest cricketers. Most often we find that the true lovers of the game are those who have played a reasonable amount of cricket but have never attained the great heights to which the great cricketers have.

Ranjan Mellawa is one of them, and like me, he started his cricketing career in his father's coconut grove, but unlike me, his fellow cricketers were his brothers and his friends. Mine were my sisters and my maids.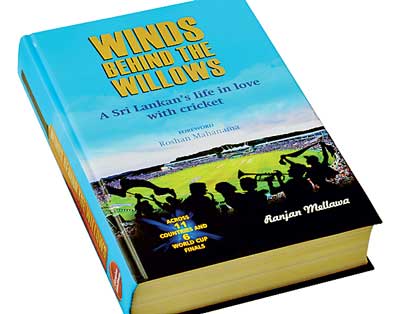 Playing with the rubber ball and the bat was how most of us started our cricket in Sri Lanka, and Ranjan weaves an interesting tale not only of his own beginnings but also of the beginnings of the game in England and Sri Lanka and how it has spread the world over. He talks particularly of how Sri Lanka itself matured over the years and after a long struggle gained international status and subsequently built on it to achieve greater heights by winning the World Cup in 1996.

Ranjan takes us through the early history of Sri Lanka cricket more or less starting with Sri Lanka's first World Cup as an Associate Member and the valiant display against the murderous bowling of Thompson and Lillie and having progressed from tournament to tournament over the years, culminates with the whipping given to the same Australians in 1996.

He describes very vividly the run-up matches as well as the finals at which he was present and how Sri Lanka turned One-day cricket on its head with the strategic thinking of Whatmore, Mendis and Ranatunga and the clinical implementation by Jayasuriya and Kaluwitharana. They gave One-day cricket a totally different dimension.

In writing this book, one of Ranjan's greatest assets appears to be his intimate knowledge of the goings-on in the cricket administration at Sri Lanka Cricket. No doubt his affable manner and close friendship with the powers that be at various stages of the board's history have given him access to a lot of information which may otherwise have eluded him. However, he has not endeavoured to promote his writing through scandal and invective but rather has set down in a sober and sedate manner the facts as he knew them to be. For that, he has to be greatly commended. Ranjan displays an incisive knowledge and access to the various shenanigans that went on in Sri Lanka cricket over the years including the not so mentionable events, both of thuggery and dishonesty as well.

His vivid description of cricket in Sharjah, the crowds and matches, makes for very interesting reading. The description of the Sharjah matches as we have come to know them and the completely different atmosphere and the manner in which they were played, gives insight into a different aspect of international One-day cricket.

Moving on to England to live, Ranjan then transfers his location to Lords, about which he writes in great detail. He goes on to describe in detail the 2007 World Cup played in the West Indies, and his adventures in getting from island to island to watch matches. It showed Sri Lanka's progress to the finals and how Gilchrist took the match away from them. He describes Jayawardene's generous gesture in helping to complete the match in unfavourable conditions just to ensure a result. His foray into the West Indies and adventures with his friends in island hopping from one to another island, to make the most of the trip and watch as many matches as possible, makes for very interesting reading. All in all, Ranjan's book is an excellent portrayal of the journey of Sri Lanka cricket during his lifetime, which started before we attained international status. We owe Ranjan a deep debt of gratitude for taking the trouble to set down on paper a faithful record of events, with goodwill, humour, and malice towards none.

His colourful description of the cricketing widow - his wife - and her initiation into the game at a rather late stage in their lives is typical of what happens to most Sri Lankan cricket worshippers, but unfortunately, not to all of them. It was during his visit to Australia when his wife insisted on joining him that he initiated this introduction. He goes on to describe the 2011 World Cup and Sri Lanka's journey to reach the finals. The final itself was played in very suspicious circumstances, and Ranjan raises so many doubts that many of us who watched the game with heartburn probably never voiced. Whatever one may say, this was not a normal World Cup final. Something was wrong but nobody was able to place a finger on the problem.

His vivid description of how the SLC hierarchy bent over backward to please its political masters and undertook an ambitious cricket infrastructure development program is so true, and the SLC still carries the burden of unpaid debts.

The sad story of Sri Lanka's defeat in the final of the 2012 T20 World Cup (won by the West Indies), makes interesting reading. Once again, it was a story of lost chances. His description of the fairytale ending to Sri Lanka's victory in the final of the 2014 T20 World Cup is both vivid and professional. It was a fitting farewell to two of Sri Lanka's greatest cricketers, Sangakkara and Mahela. Ranjan did not stop with the 2014 World Cup. He made sure he was at the 2015 World Cup in New Zealand and Australia where Sri Lanka did not fare so well.

His final chapter gives suggestions and advice on several areas in which the game should improve, and those interested in its welfare would do well to take note of them.

All in all, Ranjan's book is an excellent portrayal of the journey of Sri Lanka cricket during his lifetime, which started before we attained international status. I have no doubt that true lovers of cricket would find much to read and enjoy in this great work. I feel privileged to have been asked to write this review by somebody I have known for many years, and whose love for cricket is unmatched.
(The writer is considered by many to be the father of insurance in Sri Lanka. He founded Janashakthi Insurance in 1994. An outstanding sportsman, he also excelled as a double international in hockey and cricket. Having managed Sri Lanka's national cricket team on several occasions, he served as a national selector as well for both cricket and hockey for many years).