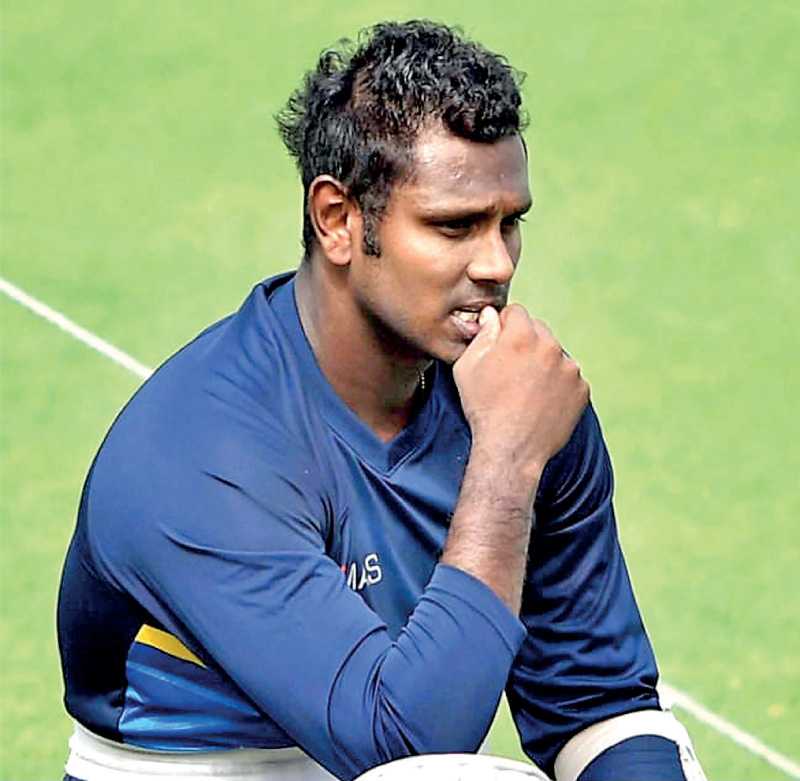 Angelo Mathews ponders his future as he waits for international cricket to resume
---
"We never know when we are going to play again, it is very frustrating": Mathews
---
By Sa'adi Thawfeeq
---
The postponement of another series (3 Tests vs. Bangladesh) has only added to the woes of Sri Lanka's cricketers, who have been starved of international competition since the first week of March, when they completed a T20I series against the West Indies. Since then all the cricket they have played has been in the Premier Super Eight and Premier Plate League that comprised four 3-day matches.

Not even when they have suffered injuries has the players been kept inactive without any international cricket for now counting upon seven months, and the frustration is beginning to creep in, although they are trying their best not to become victims of the circumstances.

For former Sri Lanka captain Angelo Mathews, the long break has been frustrating as well as a godsend. Frustrating because he and his team mates have been preparing for a series intensely, only to find that at the end of the day it is not taking place, and on the other hand the break has given him time to be with his family, to catch upon on lost time, and to recover from a string of injuries that has plagued his career throughout.

"If you know that there is a tour coming up you get prepared mentally and physically both, but knowing that there is a lot of uncertainty even in the future especially with the coronavirus hanging around still, we never know when we are going to play again, that is very frustrating," Mathews told Daily FT. "We have been preparing ourselves for every single tour and to see it get postponed it is very frustrating, you don't really know when you are going to really play next."

"We travel a lot and play a lot of cricket; we hardly get time off to be with our families. It is good in a way, we've got a lot of time to spend with them and catch upon lost time. Then again we are waiting to start and get into our normal routine, because we have just been practicing and practicing. We were ready and looking forward to the Bangladesh Test series, but unfortunately it's not going to happen. It's out of our control. We are missing the game so much," he said.

On the positive side, Mathews was happy that the break has given him time to recover from his injuries.

"I take it as a blessing in disguise. I had a few months to work on several areas of my game, not only skills. It is a refreshing breath. Now I think I am all ready and looking forward to whomever we play and start playing international cricket as soon as possible."

At 33, Mathews is not getting any younger, and it is at this age that every cricketer peaks and plays his best cricket.

"The way I go about is that if you're fit and scoring runs and taking wickets and performing for your country, age is just a number. What I can control and what I can focus on, for which I am working really hard, I think the rest will take care of itself, obviously performance and all that matters. All I can do is prepare myself and be as fit as I can to continue as for as long as possible."

On not being able to reach the desired goals in one's career: "Obviously we can't control the nature, all we got to do is try and keep focusing, keep working hard day in day out and not get disappointed, not think whether you can achieve your goals or not. You need to keep going, keep working day in day out till we get on the park again. I am sure when we start to play again it will be a very busy calendar and that all the postponed matches will be rescheduled. I am sure if we face this and if we perform, we don't need to worry about not playing many matches and not achieving our targets," Mathews said.

Getting back to international cricket won't be all that hard as the players have been hard at training, said Mathews.

"It boils down to preparation. If you have good preparation you don't have to worry about being rusty on the field. We were supposed to play a 3-day game in the next few days but it won't happen because the Bangladesh tour got postponed. We were going to play a lot of matches before we started playing Bangladesh, and I am sure with the programming they have put into together, there's no doubt that we are fit and ready to go when we are playing next."

"If we start to play in the future, there will be a lot of games so that is why we are working hard now. We know that when we start playing it will be demanding mentally and physically, that is why you give yourself a chance to prepare your body and mind. This is the game that you love and enjoy playing. You can't really complain about playing a lot of cricket, because I love playing a lot of cricket. I love playing for my country and performing for my country. It's not about thinking that we are playing a lot of cricket, or wasting ourselves or not about wear and tear, it's about keeping up with the game, keeping up with intensity of the game and most importantly performance. When you perform you tend to enjoy the game more," continued Mathews.

"We can't wait to get onto the park and we hope we will be able to get onto the park very soon. At the same time we have to respect the authorities, they know exactly what they are doing, we have to listen to them and follow their guidelines. Sri Lanka has done great in controlling this pandemic so we need to listen to them and take their advice," he said.

Mathews will be in action for his club Colombo Colts when the SLC Major Club T20 tournament commences on October 22.