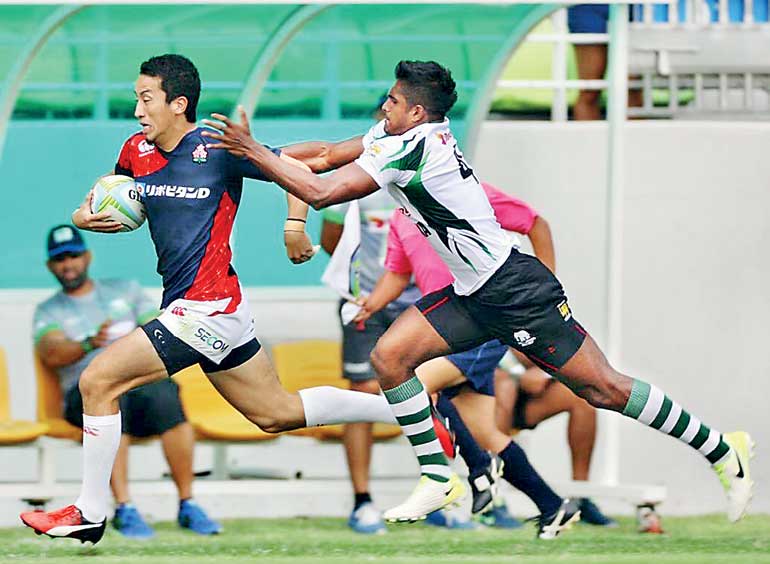 By Shamseer Jaleel

Sri Lanka men's Sevens rugby outfit will be in with a very good shot to end within the top four of the third leg of the Asian Sevens series 2017 in Colombo, which will be worked off at the racecourse rugby grounds on 14 and 15 October.

However, Sri Lanka will not have any chance of booking a place at next year's Hong Kong Sevens or the Rugby World Cup Sevens in San Francisco. There are already three frontrunners in Japan, Hong Kong and South Korea but the Asian Giants Japan have already booked their berth for the two tournaments in 2018. The third leg will see both Hong Kong and South Korea battling it out for the second berth and both teams are expected to field their best outfits.

Sri Lanka, who missed out on their experienced players due to injuries, were placed fifth at both the Hong Kong and South Korean legs. They will be looking at an overall fourth position finish which is the best they can look for in front of their rugby crazy fans in Colombo. Sri Lanka will not play both Japan and Hong Kong until the semi-final encounters as both teams are in the other group. In the women's segment, Sri Lanka were placed fifth and will be hoping for a better finish.

Both the men's and women's outfits will be selected early next week. Sudath Sampath will be the head coach of the women's outfit while Peter Woods will look after the men's outfit led by Sudharshana Muthuthanthri.

Men's

Group A - Japan, Hong Kong, Malaysia and the Philippines

Group B - Sri Lanka, South Korea, China and Taipei

Vs. South Korea 11.14 a.m.

Vs. China 2.32 p.m.

Vs. Taipei 5.28 p.m.

Women's

Group C - Japan, Hong Kong, Sri Lanka and South Korea

Group D - China, Kazakhstan, Thailand and Singapore

Vs. Japan 11.58 a.m.

Vs. Hong Kong 3.36 p.m.

Vs. South Korea 5.56 p.m.