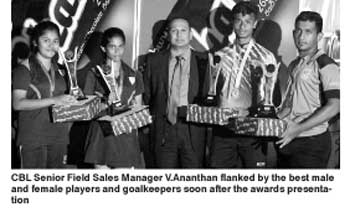 The Rajans All Island Invitational Hockey Sevens 2017 was held at the Bogambara Stadium in Kandy recently with 48 school teams participating in the All Island Under-20 tournaments for both boys and girls. The tournament is part of the 130th anniversary celebrations of Dharmaraja College, Kandy and sponsored by Ritzbury Champ of Ceylon Biscuits Limited (CBL).

According to CBL, the intention behind the tournament is to identify hockey talent dispersed amongst schools that could be brought into national highlight with due recognition.

CBL Foods International Assistant Brand Manager Saumya Fernando said that the brand values of Ritzbury Champ are associated with energy, sports, achievements and celebrating victory.

"CBL believes that children who are involved in sports grow up to contribute to their communities and the nation which is why we take pride in encouraging and supporting an array of sports. Ritzbury Champ ideally stands for recognising the inner champion in every child and celebrating the achievement of personal milestones," he said.

Ritzbury, as a strong supporter of sports in Sri Lanka has been sponsoring the Sir John Tarbet School Athletic Championship for six consecutive years, the company said in a statement, adding that the brand has also been synonymous with the Junior National Squash Championship, the Inter-International Schools Athletic Meet and the Mercantile Athletic Meet. Ritzbury Champ also sponsored the children's segment of the annual 'Walawe Supercross' – the event that attracts the country's racing enthusiasts to the Udawalawe Supercross track at Sevanagala, Sabaragamuwa.