Marking an iconic milestone in the annals of Sri Lankan banking sector, People's Bank recently opened its 200th Self Banking Unit in the premises of Kankasanthurai Railway Station.

People's Bank has also taken steps to open several Self Banking Units at Chavakachcheri Court premises, Palali Army Camp, Thirunelvely, Inuwil and Chankanai areas. In a bid to provide residents in the North with the ultimate convenience of banking topped up with most modern technology, People's Bank launch 6 Self-Banking Units simultaneously on the same day.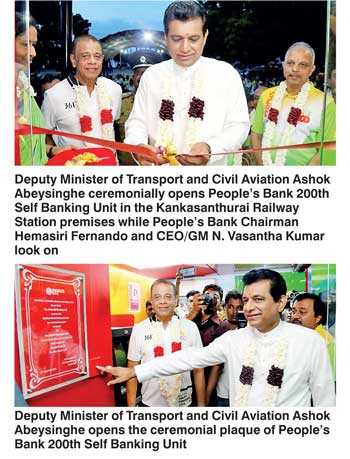 Deputy Minister of Transport and Civil Aviation Ashok Abeysinghe, People's Bank Chairman Hemasiri Fernando, Secretary and Civil Aviation to the Ministry of Transport G.S. Vithanage, senior officials representing the Railway Department, Members of People's Bank Board of Directors Chandra Ekanayake, Dr. Aminda Perera and K.D. Ranjith Ashoka, CEO/GM of People's Bank N. Vasantha Kumar, the bank's Corporate and Executive Management, President and Director of Novus Ricardos Khoury, Director of VSIS Kithsiri Gunasekara, senior government officials, senior officers representing the Tri Forces and Police, Railway Station Masters, Banking staff and a large gathering of key customers attend the inauguration ceremonies.

As a bank which has provided financial solutions to its island-wide customers from all walks of life for 57 years and making an immense contribution towards uplifting their living standards, People's Bank took steps to implement its Digitisation drive in 2015 with an aim to offer banking facilities with enhanced convenience, safety and efficiency. People's Bank is also the first banking institution in Sri Lanka to implement an island-wide fully-fledged digitisation drive, which covers the entirety of the bank's operations – from the lowest to the highest tier.

People's Bank has adopted world's most modern technological platform to implement its digitisation drive. Hence, the mechanism will position People's Bank on par with the world's top banks and financial firms, providing services par excellence.

The digitisation initiative of People's Bank focuses on providing seamless banking facilities to the customers through the establishment of Self Banking Units. These units are furnished with Automatic Teller Machines (ATM), Cash Deposit Machines (CDM) as well as Kiosks to make utility payments. Operating 24 hours a day, seven days a week and 365 days a year, the Self-Banking Units will offer the utmost convenience of performing banking transactions without requiring to visit a People's Bank branches.

Customers can conveniently check their account balance, change passwords, in addition to withdrawal of money using People's Visa card from any Self-Banking Unit. Thanks to its partnership with Lanka Pay Network, the unit also allows performing transactions with 23 affiliated banks. Furthermore, People's Visa card holders can also enjoy all the benefits of electronic banking system, including the convenience of using People's Visa card to make payments when purchasing goods from local and international markets.

The CDM machine installed at Self-Banking Units facilitates customers to make hassle-free cash deposits at any time of the day without having to visit a bank branch to make the transaction. In addition, customers can check the account balance and make payments for various utility bills, while greatly cutting down travel time and costs. These Self-Banking Units also offer the convenience of performing Cardless Banking, paving the way for its island-wide customers to enjoy a seamless banking experience.

The Kiosk machine at the Self Banking Unit caters to a host of bill payments, such as Dialog Mobile and TV bills, Mobitel bills, SLT bills, Lanka Bell bills, Electricity (CEB/LECO) and Water bills. Customers can check their account balance as well as change their password at the Kiosk.

The very first Self Banking Unit was established in December 2016 at the People's Bank Headquarters. Since then the bank has taken steps to expand the services to every nook and corner of the country, marking many milestones. The 100th Self Banking Unit was established at its Regional Head Office in Trincomalee while the 150th was established in May 2018 at Padukka Branch. People's Bank aims to further expand its digitisation drive to serve customers throughout the island, and make an inimitable contribution towards economic development and social welfare of the country.