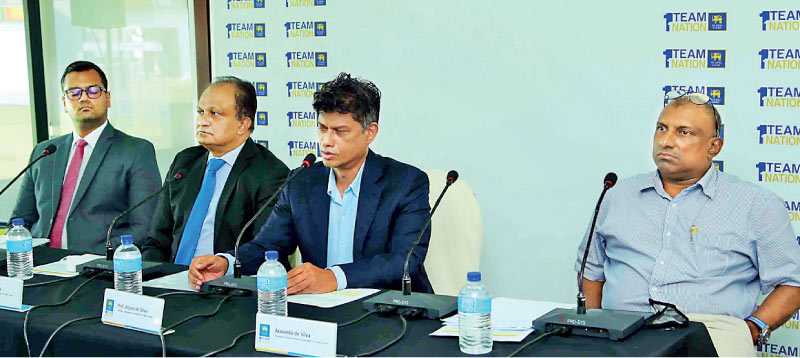 From left: SLC Management Committee member Uchitha Wickremasinghe, SLC Management Committee Secretary Ashley De Silva, SLC Management Committee Chairman Prof. Arjuna de Silva, and SLC Technical Advisory Committee Chairman Aravinda de Silva at a media briefing yesterday
---
Streamlining accounts, legal aspects and ensuring transparency top list of priorities
---
By Sa'adi Thawfeeq
---
Professor Arjuna de Silva assuming his new position as Chairman of the Sri Lanka Cricket Management Committee said that his priority in the six weeks they have been given before the scheduled SLC elections on 20 May will be to streamline the accounts and legal aspects, and ensure that there is transparency because of the bad press the institution has received in the recent past.

"I have been given an excellent team with different field sets, and to the best of our ability we want to open out things and show that things are not as bad as it is – or as bad, whatever. We have no agenda, we will just show how it is," said Prof. De Silva addressing a media conference at the SLC headquarters yesterday.

De Silva said that he hopes that what comes out during their time in office will not have any direct bearing on the forthcoming SLC elections.

"We have not come here to look for mistakes of other people and to oppose anyone but work with transparency, and if there are any shortcomings to address them. We will only administer the affairs of SLC."

Speaking further Prof. De Silva said: "One of the reasons why I accepted this post was that for the past 10 years I have been associated with the SLC in various capacities, especially in anti-doping. I have also worked in about eight ministries and the experience I have got from that I hope to use to streamline SLC.

"The other factor is the team that I have been given to work with – Aravinda de Silva is there for technical advice from the cricket side, Sujeeva Mudalige is a leading accountant in Sri Lanka and he has been a financial officer at PricewaterhouseCoopers. I have been bestowed with the task of looking into all the accounts of SLC. Then there is Uchitha Wickremasinghe, a renowned lawyer who has previously worked with SLC. He will look into the player contracts. Ashley de Silva is in the committee, not as a CEO but as a member of the committee, because of his experience with SLC. And then there is the Director General of Sports Amal Edirisuriya from the Ministry of Sports who is there to assist us whenever it is required."

Elaborating further, Prof. De Silva confirmed that the two-Test tour to Sri Lanka by Bangladesh will go ahead as scheduled and that it will be conducted in a bio-secular bubble, and also that the media will be allowed access to cover the matches to be played in Pallekele. However he said that spectators will still not be allowed into the grounds.

Former Sri Lanka captain and 1996 World Cup hero Aravinda de Silva also spoke at the media briefing.