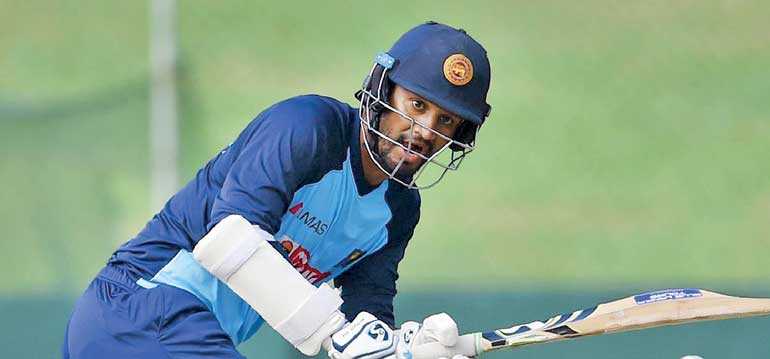 Dimuth Karunaratne
---
By Madushka Balasuriya

Dimuth Karunaratne will lead Sri Lanka in this year's ICC Cricket World Cup, Sri Lanka Cricket has confirmed, after the board's first choice Angelo Mathews declined the role.

Both players had been identified as being capable of unifying a disjointed dressing room, though Karunaratne's efforts in South Africa where he led the Test side to a first ever series win there has the board and selectors feeling confident over their pick.

Karunaratne takes over from Lasith Malinga, who had overseen a string of eight straight limited overs defeats in South Africa. Chief Selector Asantha De Mel said Malinga had been in contention to continue in the role, but questions surrounding his ability to "bond the team" had seen them go in a different direction.

"Lasith Malinga as Captain, he's very good, we don't have any problem with his captaincy. The problem is the bonding of the team. Between him and the coaching staff and all that, he has to make sure there is some form of unity in the team," De Mel told Daily FT. "I think Dimuth did that job very well in South Africa. Angelo Mathews also has that capability, he has more experience. He was definitely our first choice but he had some other problems so he declined."

Over recent months there have been reports of dressing room tension between Coach Chandika Hathurusingha and some of the players, while player factions are also believed to be of concern. In South Africa, Karunaratne had been credited with being an effective go-between between all these varying groups, and serving as a mediator cum motivator. For De Mel this was a deciding factor.

"The talent is there but we have to play as one team - one nation, one team. You can't have so many different, different parts in the team, all have to play together."

Karunaratne's appointment caps a spectacular couple of months for the 30 year-old, who at the start of the year was seen as a strictly Test player.

Fresh off being named in the ICC Test Team of the Year in January, he was a surprise captaincy pick ahead of what promised to be a punishing tour of South Africa. But his ability to rally the team and coax match-winning performances from his teammates saw Sri Lanka emerge unlikely victors in the Test series, and therein becoming the first Asian team to achieve the feat.

Karunaratne, who hasn't played in an ODI since the last World Cup in 2015, has a subpar average of 15.8, having scored just 190 runs in 17 matches. He has however played List A cricket in the intervening years, scoring 3514 runs in 118 matches at an average of 34.5. Most recently he captained Kandy in this month's Super Provincial 50-over tournament, where he posted scores of 35*, 44 and 86, opening the batting.

As his first job as Captain, Karunaratne will be meeting with the selection committee today to finalise Sri Lanka's World Cup squad.