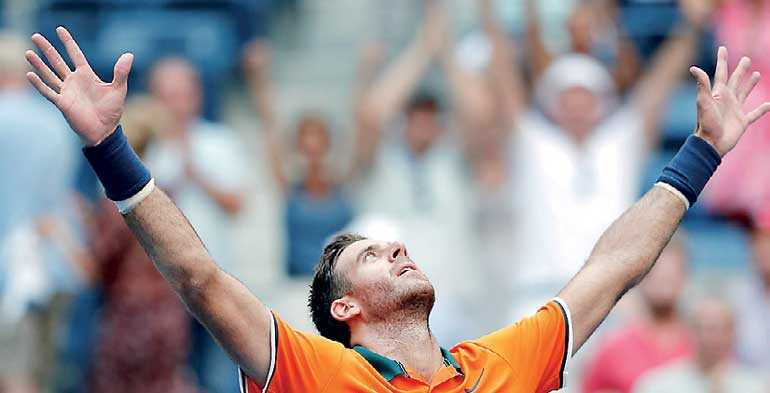 Sep 4, 2018; New York, NY, USA; Juan Mart'n Del Potro of Argentina celebrates after his match against John Isner of the United States (not pictured) in a quarter-final match on day nine of the 2018 U.S. Open tennis tournament at USTA Billie Jean King National Tennis

Center - USA TODAY Sports
NEW YORK (Reuters): Juan Martin Del Potro outslugged John Isner 6-7(5) 6-3 7-6(4) 6-2 to reach the semi-finals of the US Open on Tuesday after a towering battle in a sweltering Arthur Ashe Stadium.

The three hour, 31 minute quarter-final was played in suffocating humidity so extreme that officials called a halt to junior matches on the outside courts for more than two hours.

Play continued on Arthur Ashe but with temperatures nudging 100 degrees Fahrenheit (37.7°C) the stadium was turned into a sauna, leaving the 6'10" (2.08m) American Isner and 6'6" (1.98m) Argentine Del Potro, suffering."I weigh 238 pounds, so I have always said it's pretty difficult to play in hot conditions," said Isner, who had 11 shirt changes during match. "I weigh a lot and I sweat a lot.

"It takes its toll on bigger guys, in my opinion.

"I don't know what I weighed before the match. I did not weigh myself, but I can tell you I lost a lot of weight out there."

Anyone looking for serve and volley came to the wrong place as the pair traded bombs from the baseline with Isner, bidding to become the first American since Andy Roddick in 2006 to reach US Open semi-finals, belting 26 aces and Del Potro 14.