By Hishan Welmilla in Ashgabat

Sri Lankan athletic coach for the 5th Asian Indoor and Martial Arts Games 2017, Sajith Jayalal is confident that Sri Lanka could take a few medals home.
"We have few experienced athletes who have won many international awards. We have four athletes who hold national records in their respective events. Manjula Kumara who is competing in the men's high jump event is one of our major medal prospects. He has won a medal at the previous games. In additional we have young Himasha Eashan and Indunil Herath who can make an impact on the other athletes from Asia," said Sajith Jayalal.

Manjula Kumara is the current national record holder of the high jump event and also the winner of the gold medal in South Asian Games last year. Manjula will be in action on Wednesday (20), Himasha Eashan in Men's 60m and he will compete in the heats which begins on Tuesday (19). Himasha is the holder of the national record in men's 100 metre dash. Indunil Herath will be in action in men's 800m today (18).
"We got two female athletes also competing this time in Women's Triple Jump and Women's 800m. Gayathika Aberathna and Vidusha Lakmali also could make a difference and bring two medals in their respective events," Sajith Jayalal added.
Gayanthika Abeyrathna national record holder of the women's triple jump will be in action today (18) while Vidusha Lakshani will try her ability in women's triple jump on Tuesday (19)
There will be 21 sports contested across 15 venues over 12 days of competition and Sri Lanka will take part in Chess, Indoor Athletics, Taekwondo, Weightlifting and Wrestling at the games. More than 6,000 athletes and team officials represents 65 delegations in the 5th Edition which unfolds today.
Spectacular opening ceremony

A spectacular opening ceremony was held yesterday (17) at the Ashgabat Olympic in front of a capacity crowd of 45,000. The opening ceremony ran for more than two hours and featured some 7,500 performers, 200 musicians, 75,000 costume items and 100 animals.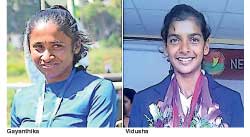 First the performers representing the martial arts athletes arrived, followed by the other sports performers; some flew into the stadium before re-enacting the pictograms of the sports with incredible mass choreography and very inspiring music.
Organisers of the 2017 Asian Indoor and Martial Arts Games have predicted that the opening ceremony of the event could go down as one of the greatest ever shows of its kind and kept its promise till the end of the last minute.
"We think this is the longest games-type ceremony ever," Francisco Negrin, Balich Worldwide Shows' creative director, said at the press conference held before the event on Sunday (17) morning.
The ceremony was produced by Milan-based company Balich Worldwide Shows, which has experience in performing the role at previous Olympic Games. They were involved in the ceremonies at Torino 2006, Sochi 2014 and Rio 2016, where they produced the Tokyo 2020 handover segment. Their Olympic experience also includes the flag handovers at Salt Lake City 2002 and London 2012.
The newly built Ashgabat Olympic Stadium took the centre stage in the Ashgabat Olympic Complex featuring a modern design which pays homage to the revered symbol of Turkmenistan – the Ahal Teke horse.
The Games got underway on 16 September with two early medal events (Traditional Wrestling and Ju-jitsu), followed by the opening ceremony.