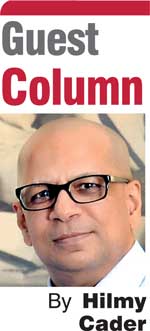 Roy-Tho reflections
As your age scoreboard accelerates towards that elusive century and knowing very well that 'Duckworth & Lewis' can come into play any time, one tends to enjoy the Roy-Tho even more with every passing year!
Psychologists have long told us, there is a 'child' within each of us, that if unleashed can spur innovation and creativity. Of course, some of us are more spontaneous in expressing this and what better occasion than the 'The Big Match'? And there are those, conditioned by decades of stiff corporate life and taking themselves so seriously, find it difficult to let loose and have fun.

In this article, I go back and examine some of my writings on the Royal-Thomian and what we can learn from it, not just the fun!

"Too many people die at 30 and are buried at 80" – Robin Sharma
What businesses can learn from the Royal-Thomian?
Only a handful of Sri Lankan companies have been in existence for over 100 years. However, for 139 consecutive years, the Royal-Thomian has been played, including through two world wars. What can businesses and brands learn from the experience of the Royal-Thomian?
The 'power' of two competing 'brands' synergising to create an experience much 'larger' than either could. Even if businesses cannot stretch their thinking to synergising with competing brands, start with complimentary brands.
The 'power' of tradition (as part of the organisational DNA) – that delivers far more than following a process manual.
The 'power' of alumni affinity and volunteering – that ensures effective project management involving a multitude of diverse stakeholders.
The 'power' of teaming – with no hierarchical organisational structures and associated bureaucracies.
"Strategies are okayed in boardroom that even a child would say is bound to fail. But there is never a 'child' in a boardroom" – Tom Peters
What brands can learn from the Royal-Thomian?
Talk to any Millennial and they will hail the concept of social networking (conceptually I agree) and toutthat the likes of Facebook and LinkedIn are the ones who invented this (which I disagree). The concept of social networking (in its different forms of manifestations) did exist for centuries, however what I am about to discuss today is a social networking brand that was invented 139 years ago, still going strong and arguably unparalleled by whatever measures of brand equity you may decide to use.

The Royal-Thomian as a brand provides many learnings for today's marketers and even sets a benchmark of brand strength that many of today's brands should aspire to. Here are the learnings and reasons why:
Prof. C.K. Prahlad in his book 'The New Age of Innovation' talks of the concept of co-creation and sites the groundbreaking examples of Wikipedia, YouTube – where the user provides the contents, while the producer provides the platform. This has been the case with the Royal-Thomian for more than a century, where by the alumni provide a key part of the contents, not forgetting those in their boys' tents, the schoolboy cricketers and the well-wishers.
It is argued that profit is the only driver of a business, here is an exception where passion is the driver of the business – an event that the busiest corporate CEOs will find time for and one that old boys will cross continents for.
New age marketers will talk of tattoo brands like Chelsea, Nike and Harley Davidson. Linked to the Royal-Thomian you will use many such experiences – for instance, 60-years-olds clad in school uniform going back to their classes for a lesson with the same master (some still hale and hearty) who taught them 50 years ago.
Even the modern day concept of 'cult brands' is so evident when one takes a look at corporate Sri Lanka and how loyal alumni pull strings for each other's, even proudly claiming "he was at college, my batch, we played rugby together" – would not today's marketers aspire for such a cult brand status for their brands?
The Royal-Thomian has strong sub-brands, the Mustangs, the Stallions, the Colts to name a few. New brands such as Thoroughbreds are also carving out an interesting niche, thus challenging some of the more established brands to stay relevant. Each of these communities has a unique customer profile based on a combination of demographics and psychographics!
Above all, it has gone on for 139 years and considering it never had a single payroll employee, only the efforts of the different brand evangelists.
For those of you not part of this brand, I do apologise if my passion for the brand got the better of me, but it does not take away the strong learnings.

I am looking forward to three days of pure brand indulgence! Now it's time to enjoy the 'power' of fun!

"Be yourself; everyone else is already taken" – Oscar Wilde.

(The writer is CEO of MTI Consulting.)