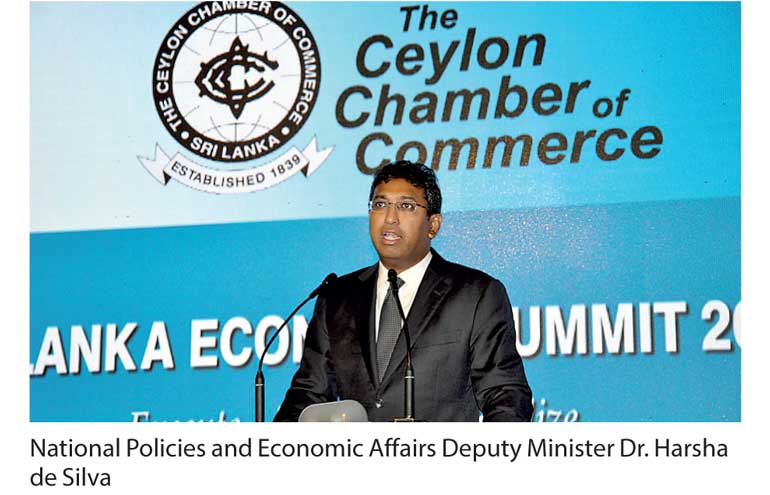 National Policies and Economic Affairs Deputy Minister Dr. Harsha de Silva yesterday declared that the rapid export orientation of the economy was critical for the future success of Sri Lanka as the country has fallen behind considerably.

"Exports have fallen dramatically over the years. We are doomed unless we reorient the economy from a non-tradable to a tradable economy," Dr. de Silva said at the opening of the Ceylon Chamber Economic Summit.

Displaying statistics since 1990, the Deputy Minister told the summit that Sri Lanka has "messed up the export equation." Export contribution to GDP growth from 1990-1994 was 2.24% for Sri Lanka whilst for Vietnam it was 2.57%. By 2010-2014, the export contribution was only 1.53% whereas Vietnam has increased to 6.30%. Between 1990 and 2014, exports contribution to Lankan GDP growth was just 1.07%, the lowest among a sample of 10 Asian countries.

The share of exports in GDP for Sri Lanka has also come down from 39% in 2000 to 21% by 2014. Another problem was three quarters of Sri Lanka's exports (except high-end apparel and IT software) is biased towards low complexity products implying low know-how.

"Unless we add technology and improve the complexity of our products we cannot be competitive in global markets. So we have to re-orient from what we are to what we have to become.

"People are asking 'where are Foreign Direct Investments?' We need to ask why should FDI come here and for what when the focus in the past has been more on a non-tradable economy."

He also said that the growth model pursued by previous president Mahinda Rajapaksa's regime was unsustainable as confirmed by the drop in per capita GDP growth to 3% from a high of 9% in post-war Sri Lanka.

"This was despite the so-called peace dividend which was to be around 2% GDP growth," he said, adding the main reason was a lack of focus on exports.

He was also critical of boosting infrastructure development via expensive foreign borrowing during a period when foreign exchange earnings via exports were lagging. The reality was the servicing of expensive foreign debt using the Sri Lankan rupee.

"Why did per capita income growth drop from 9% to 3%. Where did the original growth come from and if it was coming from sustainable sectors it would not have dropped to 3%? So how sustainable is debt-fuelled infrastructure-led growth," Dr. de Silva queried.

"How many Hambantota ports we could have put up with borrowed money? How many Mattala airports we could put up with borrowed money," he told the audience. "It hits the limit. This year we have to pay about Rs. 4.5 trillion in debt. We must be able to generate income, especially foreign exchange. So the quality of growth is more important than quantity."

As per the Harvard University Centre for International Development, the most binding constraints for Sri Lanka are coordination failures, access to land, policy uncertainty, especially tax and trade policy, water and wastewater and transportation. The non-binding constraints are access to finance, education, health, geography, electricity, labour regulations, macro-fiscal stability and corruption, courts and crime.

"Coordination failure is a massive problem. The number of ministries, policies made by one ministry is contrary to another. There are four different ministries that look into agriculture for example. How does the private sector coordinate with the Government in this backdrop? Add to that there is policy uncertainty, etc.

"We understand the problem. We are not running away from the fact that we have an enormous challenge we have to overcome and these constraints are being fixed urgently," Dr. de Silva added.

What is Sri Lanka's hinterland?

The Deputy Minister also said given the limited market size of 22 million people, a focus on exports was a must for Sri Lanka. "The hinterland of Sri Lanka is not Hambantota but Tamil Nadu or the southern states of India which have a 450 million population and an economy worth $ 450 billion. To me Sri Lanka is not a South Asian country but an Indian Ocean nation," he said in order to stress that there is a bigger market out there.

"If we don't leverage on the God-given advantage of strategic location, we will not progress," Dr. de Silva said, reinforcing the Government's strategy of forging greater economic cooperation with India, China and Singapore, Bangladesh and Pakistan.
Revised 3-year economic plan to be made public in Sept.
National Policies and Economic Affairs Deputy Minister Dr. Harsha de Silva yesterday told the private sector that a revised three-year economic policy plan will be announced in September by the Government.

This is to mark the second anniversary of the coalition Government.

"This will show precisely what we are going to do till end of the first term of the Government and hopefully an eight-year plan towards 2025," Dr. de Silva said while speaking at the Ceylon Chamber Economic Summit.

"We have to address the fundamental policy problem of reorienting the country's economy from a non-tradable, unsustainable, inefficient one to a tradable, sustainable, efficient one. That is what I and 17 other people have been tasked with by the Prime Minister to try and address," Dr. de Silva added.