The Daily FT-Colombo University MBA Alumni Association forum shares key insights from public-private sector experts
By Charumini de Silva

Recognising the urgent need for third generation reforms to improve the business climate and achieve higher and sustainable socio-economic growth in Sri Lanka, the Daily FT and the Colombo University MBA Alumni Association in a joint initiative held a first-of-its-kind forum titled 'Reforms: The Way Forward for Sri Lanka' last week in Colombo.

The forum was an ideal opportunity for both the public and private sector to be enlightened as well as share their ideas on the way forward in terms of reforming relevant sectors and thereby Sri Lanka's economy for the future good. The relevant sector minister and his secretary and public and private sector leaders were invited to share their views.

The session titled 'Banking & Finance for an Efficient Financial Hub' saw Finance Minister Ravi Karunanayake delivering the keynote address. The session included a panel discussion featuring Ministry of Finance Secretary Dr. R.H.S. Samaratunga, Central Bank of Sri Lanka Deputy Governor Dr. Nandalal Weerasinghe, BOC/SEC Commission Director Ranel Wijesinha and DFCC Bank Plc CEO Arjun Fernando.

From left: BOC/SEC Commission Director Ranel Wijesinha, Central Bank Deputy Governor Dr. Nandalal Weerasinghe, Finance Minister Ravi Karunanayake, Finance Ministry Secretary Dr.R.H.S. Samaratunga, UoC MBAA Lasintha Ferdinando (Moderator) and DFCC Bank Plc CEO Arjun Fernando


Path to recovery

In his keynote Minister Karunanayake assured that Sri Lanka was geared for a significant economic transformation with innovative measures to become the 'Miracle of Asia' in the next five years.

He pointed out that the Government was now trying to bring confidence back into the country while keeping abreast of the rapidly-changing international arena. The Minister noted that it was no easy task to revive an economy which has been on the decline, adding however that the Government was now taking it on the path of recovery.

"Financial discipline has started from the 8 January last year and we can see the revenue gaining pillars such as the Customs, Inland Revenue Department (IRD) and Excise Department posting tremendous growth. The Excise Department saw a growth of over 60%, while IRD is moving up around 30% in its revenue collection," he added.

Noting that it is far too low compared to the expected revenue, he explained it was a pitiful situation that a country which has 22 million people and 80,000 companies with a seven million workforce has only 28,000 taxpayers.

Last year Government revenue was Rs. 1.584 trillion and with new amendments in tax collection as well as several other directives, the Minister said he was expecting it to be Rs. 1.8 trillion by end of this year.


Outlining how the Government is going to bring down the debt burden which remains in the range of about Rs. 9.4 trillion at present, Karunanayake said that they were looking at ways to privatise non-strategic assets and introduce a special scheme on securitisation for certain assets such as hotels.

Stating that there were many economically non-viable State enterprises, he said it had caused a severe drain on the economy. "We are looking at certain assets and a special scheme is being created rather than having those on the Government balance sheet. Now, this doesn't mean that we sell the asset as well as the operation. While holding on to the operations we want to give a regular dividend premium to any prospective company to help us overcome the most turbulent times we are going through," he stressed.

He said they were also trying to extend the loans that have been obtained, to negotiate and reduce the interest rates as well as trying out new innovative approaches.

He asserted that the Government was determined to resolve the majority of the key macroeconomic issues within the next six months if they can consolidate to walk into 2017 with a clear direction.



Finance companies a concern

Finance Minister Ravi Karunanayake pointed out that finance companies were a matter that they were "really concerned" about, adding that dramatic changes were likely to be introduced within the next month.

"Finance companies need to be brought under control in the sector, as there are areas which have been vulnerable that we intend to correct soon. Within the next one month, we will spell out that policy. We intend to implement dramatic changes in the current policies. The present system has not worked. Confidence needs to be brought back into the system in going forward," he added.

Noting that financial discipline was an important aspect of the economy, the Minister gave a wakeup call to the banks again, stating that they should not perform leasing business and leave it to the finance companies.

"Although there was a direction, it was put on hold due to concerns of the banking unions and it has finally been settled. We are looking at an upper limit where anything below Rs. 5 to Rs. 7.5 million cannot be leased through the banks and that can be handed over to finance companies. The rest can be run through the banking system," Karunanayake explained.


Financial consolidation

The Minister emphasised on the importance of financial consolidation, stating that the economy required bigger banks in marching forward towards becoming a financial centre.

"At present, we see a lot of foreign companies coming in and looking interested in the financial sector. This is mainly because of the policies we have spelled out. I am sure with the changes that are yet to take place it would have a positive impact on the whole economy," he said.

Karunanayake also said they intend to commence the Colombo International Financial Centre by end July at the World Trade Centre.

Noting that the 'draconian' concept of exchange control would be reviewed within the next three months in order to bring in protective measures to the system, he added: "These are the things that we want to liberalise and see the benefits coming into the Sri Lankan economy. We are a Government that would like to be consulted by all stakeholders, where we will be able to change matters that are of vulnerability which need to be relooked and come with policies that are more adaptable," he said.

The Minister predicted that the economy would achieve unprecedented growth with new and innovative policy measures especially in the banking and financial sector.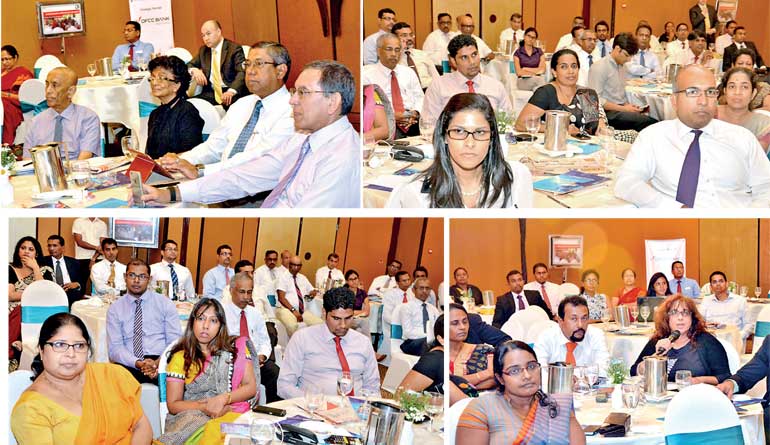 Partial listing of select SOEs

Bank of Ceylon Director/Securities and Exchange Commission (SEC) Commissioner Ranel Wijesinha sharing his perspective suggested that in order to restructure and reposition Sri Lanka's balance sheet, the Government should consider listing several State-Owned Enterprises, including a 10% stake of Bank of Ceylon.

"The Government should partially list BOC around 10% in the Colombo Stock Exchange (CSE) which will give a boost to the capital

market as well. If we are looking for a dressed up bride, then I think BOC is all dressed up and ready. We can give a strategic spread; we can combine it with a listing, and I predict we have a fantastic girl on the beach for foreign investors to look at," he asserted.

Further he assured that BOC was compliant with International Financial Reporting Standards (IFRS) and ready to hit the market.

Wijesinha pointed out that instead of lamenting over the debt inherited from the Rajapaksa regime, the Government should look at practical ways and means to increase revenue in the long term by raising taxes or by strengthening efficiency in revenue collection to look good in the eyes of the International Monetary Fund (IMF) and the Asian Development Bank (ADB).

Out of many ways to restructure the country's balance sheet in the next six months, he suggested that the Government must take off certain percentage of stakes it holds in State-owned institutions. "Whether it is BOC, People's Bank or Sri Lanka Insurance, identify State-Owned Entities which are ready to be listed in the Colombo Stock Exchange," he stressed.

Proposing another solution, he asserted that Sri Lanka could do a debt equity swap, perhaps with the four top Chinese banks, which are all State-owned banks. Thereby, some of the Chinese debt could be used as swap windows and in turn to provide an equity infusion or debt equity swap.

"I feel that this is required and if there is any government that can do this, it is this Government. I don't think any government would get resistance from unions if you invite and make them think of the merits of it," he added.


Reforms needed in becoming a financial hub

Central Bank Deputy Governor Dr. Nandalal Weerasinghe outlining areas in which Sri Lanka needs to develop further in the overall financial sector pointed out it was important to have the domestic financial sector achieve international standards first, citing that 99% of the services the industry provides are domestic and not international financial services.

"We need to have developed bond market, corporate bond market, corporate debt market and a well-developed insurance sector. If you look at the size of the equity market is very small compared to major developed markets. These are important areas we need to develop in order to become a financial centre," he said.

Although there is a Government securities market, which is pretty large because the administration is borrowing heavily, he noted that it is not so sophisticated with a lot of liquidity and has no proper long-term yield curve.

He highlighted that a lot of technology needs to be brought into the systems to make them efficient and on par with international standards. "We don't see corporate debt in the capital market. We need new platforms of trading to be developed in that area to make it attractive to investors. We are at very early stage in those markets; these are important reforms that we need in the domestic market to become a financial centre," he explained.

Dr. Weerasinghe said developing the domestic markets would enable us to go into commodities and derivatives exchange, adding that at present there was no market or regulations for these kinds of instruments.

Commenting on the legal aspect, he pointed out that Sri Lanka in marching towards becoming a financial centre in the region needed to have a strong and efficient dispute resolving mechanism as time-consuming legal framework would discourage investors.

While pointing out that the banking sector was well regulated with no major issues, he urged them to be bolder in terms of taking risks and expanding their businesses to contribute better towards nation building.

He added that bank lending to the private sector was very low compared to regional countries. "In the banking sector, credit to the private sector is still 30% of GDP, which tells us that the banking sector has not even performed the main banking function of supporting growth."


Despite having sound large State-owned banks in the system, he said as the regulator they were not satisfied with their efficiency compared to private sector banks.

He said financial consolidation with large banks, providing access to finance especially for SMEs and microfinance as well as non-banking sector regulations and its number of companies are areas that banking sector needs reforms in order to make Sri Lanka a financial hub.

Elaborating on the lack of availability of credit to SMEs, he said banks were reluctant to do business with small businesses and thereby emphasised on the need to have more microfinance businesses to cater to this segment.

"One mistake we have made in the recent past was by not approving of the Micro Finance Bill. It would have brought regulation to the micro finance sector as well as given them a regulatory frame so they could formalise and do business, most importantly to find finance at a lesser cost," he explained.

In terms of the non-banking sector he said there were 57 companies which cater only to 7% of the overall financial sector, pointing

out that this was too many companies doing business and competing. "There have been lapses in terms of regulations as well as the number of companies engaged in the business. In terms of regulations, there should be corporate governance codes and share ownership where they are allowed to take public deposits subject to similar regulations like banks. This is one important reform we need to implement," Dr. Weerasinghe said.


Govt.'s approach to innovative measures

Sharing the innovative measures being taken to arrest the declining trend in Government revenue, Treasury Secretary Dr. R.H.S. Samaratunga said that already a number of initiatives on technology advancements, legislation amendments and setting up new entities were in the progression.

He said developing new electronic platforms for revenue collecting agencies such as the Customs Department, Inland Revenue Department (IRD) and Excise Department had been looked.

Noting that Excise Department revenue collection was not up to mark compared to the other two departments — IRD and Customs – he said that they planned to introduce an advanced electronic platform towards this end in the immediate future.

"IRD's Revenue Administration and Management Information System (RAMIS) will be completed by the end of this year. The first two phases have been completed and have delivered some acceptable results. We hope to introduce an advanced Automated System for Customs Data (ASYCUDA) to the Customs Department as well," he explained.

Pointing out that most of the legislation was outdated, Dr. Samaratunga revealed that they were planning to bring in new laws as well as revise the existing laws to cater to modern-day requirements, especially in relation to the Revenue Collection Act, IRD Act, Customs Act and Excise Department Act before the next Budget.


He also added that a lot of measures had been taken to simplify the current taxation system, noting that there were more than three dozen kinds of taxes.

Stressing that debt management was one of the key priorities, the Treasury Secretary said: "The Government is currently in the process of developing a separate debt office backed by good legislation and state-of-the-art technology under the General Treasury. Currently it is divided between the Central Bank being our agency for managing certain aspects of the country's debt and the rest by a few departments of the Treasury," he said.

At present the combination of contingent liabilities and total debt accounts to about 85% of Gross Domestic Product (GDP), which is Rs. 9.3 trillion.

Speaking on public expenditure, Dr. Samaratunga emphasised on the need for a rational system especially on capital expenditure which has been brought to budget department books and to Parliament. "Nothing has happened in the past several years, but it is now being done by the National Planning Department; you will soon see the results," he added.

Pointing out the capital market at present was under several agencies and ministries, he stated that a comprehensive study was being carried out by the Treasury with the assistance of the ADB and once their consultation work was ready, the Government would be ready to have it as a separate segment in the policy arena.


Position Sri Lanka as a transaction hub

DFCC Bank Plc CEO Arjun Fernando pointed that Sri Lanka should position as a transaction hub and not as an offshore centre where money is going to flow in, a top banker opined.

"In terms of becoming a financial hub, the thinking is to be like Singapore or an offshore centre where money is going to come in. But I don't believe that's the case today, because of the international regulations on money laundering," he added.

Three key pillars such as improved country rating, consistent and longevity of policies and proper regulatory measures were stressed as crucial factors towards becoming a transaction hub.

Fernando also observed: "At present the regulator is becoming more rules rather based than principle based. I believe a shift to the latter is more welcome."

Noting there were many positive facets which augured well such as human resources, connectivity and IT systems, he asserted that the banking sector could play a big role in Sri Lanka becoming a transaction hub.

Fernando recalled that Sri Lanka was one of the first countries in the region to have offshore units in the banking sector, where Indian Overseas Bank (IOB) had a lot of their overseas branches here.

On the competitive edge, he pointed out that Sri Lanka needed to capitalise on location proximity to important markets like India, Pakistan, Bangladesh and other large economies.

DFCC Bank was the strategic partner of the full-day forum.
Pix by Upul Abayasekara and Gitika Talukdar
​
Q&A session


Q: In order to have leapfrog development, re-export is a must. Where are we in terms of making Sri Lanka an entrepôt trade hub? What are our plans?
Karunanayake: Certainly in our policy planning we have spelled out the importance of export diversification. Considering the fact that export diversification is the most important tool, it is the only way we can ensure achieving higher export revenue. We are helping the exporters in their decision-making by assisting them and facilitating from Customs and IRD as soon as possible to be on par with other trading nations. I once again call on chambers, because a sense of unity must be felt. We want to ensure that the chambers' togetherness is inculcated. That will be the single success that is there. If you have any delays in Customs, please come back to us. We have a three-day clearing policy at the moment; 85% is cleared in one day, 95% in two days and only 3% of shipments are cleared beyond one week.


Q: The Prime Minister said we are moving from indirect taxes to direct taxes. But what we are doing is going again into indirect taxes in the form of VAT. Are we going forward or backwards?
Karunanayake: We got to collect some revenue from somewhere. The Prime Minister's statement was that by 2020 there would be greater reliance on direct taxation but if nobody is paying direct taxes, then how can we survive till that day? Unfortunately, this is until such time people become more nation conscious and remember that statement was for 2020 and not for 2016.


Q: I've been exporting solid tyres for the majority of my life here. I've been trying a new venture for the last two years to promote boat and yacht building and operating. For that we have to create three companies, local ones to service the yachts, boat building and for operations. Now this complexity is something which is very inefficient because every transaction we do is taxed. It's asking a newborn baby to cover almost 30% of the capital investment, but I've seen in recent publications that ships have been exempted. Would you be able to apply this for yachts?
Karunanayake: This is the first time you're telling this to us. If you would've shared the problem with my team, you wouldn't be in this situation today. We are an open Government, bring your questions to us, we will solve the problem. Every month we have an Ease of Doing Business Forum, where we take up issues relating to this kind of day-to-day matters, hence make use of it.

Observation: I'm a Sri Lankan born who came back to the country in 2013. I was a taxpayer in the UK and I'm surprised to see how little you charge on tax. It's shocking to see only 28,000 people paying taxes. Secondly, in terms of positioning as a financial hub, setting up a Green Stock Exchange will differentiate the country from the rest. If you'd like I would be happy to facilitate connections with some very serious people in the capital markets and bring expertise. Thirdly, I'm engaged in renewable energy. So if we were to look at how to really change this country's energy sector, if we can move away from spending $6 to $10 billion on oil, coal and fertiliser, this country's economy will stabilise, the rupee will get better and life will get better for everybody.

Karunanayake: We appreciate your honesty and food for thought. But if we can't collect from 28,000, how on earth can we collect 40%? This is why we are looking at a more respectable way of collecting taxes. We like people with experience to help us and we look forward to be engaged with the services. Renewable energy is something we have been trying to fix for the past 14 months. The lack of approval is there is strictly because of the resistance coming from the unions in the Ceylon Electricity Board (CEB). Forget about 100MW, even to get 5MW there is such a lot of resistance that you need to have a power crisis for renewable energy to come in. Within the next two months we are putting open bids for 350MW renewable energy like solar, wind, waves and so on. You will see a dramatic change.
Karunanayake on listing SOEs
Following is Finance Minister Ravi Karunanayake's response to the suggestion by Bank of Ceylon Director/Securities and Exchange Commission (SEC) Commissioner Ranel Wijesinha that the Government should consider listing several State-Owned Enterprises, including a 10% stake of Bank of Ceylon
Even though I'm a politician as a Minister, I'm a professional as a Minister. I would love to subscribe to much of the professional thinking that is there, but in order to be in administration you need to be in power.

There were certain things that Ranel mentioned and as professionals we can agree. However, as Dr. Weerasinghe correctly pointed out, the biggest problem we have now is the aggressive cost of State banks which are 61% as against the private sector banks which are 41%. Now these are the areas that confront the macro economy. If we can start by ensuring that the rate increases were not given by lending, this wouldn't be a problem, but you can't. Your unions come and speak to the management and you can see the pressure that comes on us.

Here, many are wondering and scolding us as these guys have imposed VAT on medical services. These are the topics that have to be spoken about today, not just that revenue is 10.8% of the GDP. How can you compare it to peers which are 18%, 19%? These are the problems that we are confronted with. Give us six to eight months; we have inherited an economy which is like a grenade given to us, where the pin has been removed. In order to ensure that this doesn't last long, we are trying to take it to a safer tomorrow. It is one of the reasons why the IMF reluctantly helped us with the facility. Today we see the benefits that are coming in. Certainly, we would love to see this, but that is the longer strategy.

We need to educate the unions. If we are going to take our unions to China, say they move the banks and the private sector or there is no Government institution that gets us a single cent as subsidy from the Government I'm sure unions may come back and stay in China — but that is what we are going to grapple with. On May Day we saw there was one in Campbell Park, another in Galle and another in Kirulapone so this has to be put in.

We have a minority as the Opposition in the Parliament, but still we have got to bring through the hearts and the minds of the people. The general feeling in this country is, when you advance reforms too fast that we do too many things too quick and then it has negative reactions. These guys are selling our assets to somebody that is coming, but we are actually balancing this. This is why I thought we'll open it out clear. Each of you all control at least 100,000 to 200,000 people, that message going down to the people will get that positive message across that Ranel was just trying to tell.

As Dr. Weerasinghe said, we are trying to expedite and get things done, in the Budget we spell this out. This is not just a piece of work by one person, but the entire system. Just give us a little time which is required. Scolding is a normal hobby in Sri Lanka, but I'm sure the benefit of that would be seen by the end of the year — when you see revenues going up, your tax money being spent on priority-oriented projects and being able to get the economy started.

In terms of dressing up the bride, a bride needs to be a girl or a lady — not a grandmother. This is the problem we have. SriLankan Airlines in 1 April 2009 had Rs. 9,400 million assets and today the same company has Rs. 174 billion as a loss. How on earth can you run a company which has gone into that extent? What were the directors doing in that company? They were directors of blue-chip companies. Would they allow their companies to be that? They pledged leases for what you are unable to pay. The problem was that there were dictated from above and these are the situations we are facing now.

Can somebody say that it came from somebody in the past hence the current Government doesn't need to pay? How can you give soft fixes for long-term mess ups? This I'm sharing among professionals, among businessmen, among people who have made companies successful. Tell us how we can overcome this problem. So, if you in your macro situation are unable to provide the answer, imagine when those are accumulated? However, we have the confidence and the will to rectify that under the leadership of this Government.

When I was the Trade Minister we restructured Sathosa. We had Rs. 23 billion liability just because bread was sold at Rs. 3.50 when it should have been sold at Rs. 7; we incurred a loss of Rs. 23 billion. When we took over within six months a special purpose vehicle was created. We reduced that from Rs. 23 billion to Rs. 2.5 billion. The change of Government resulted in my being accused of having sold Sathosa. Today, I take over as Finance Minister and we pay Rs. 11 billion as subsidies for the Sathosa loss that is there. Now these should have been something of the past, never to be paid back. This is not paid by the Ministers of the Government, but you as taxpayers — that is the sad situation.

You have to have a sense of consistency in coordinated coherence that needs to go through in Government policy. This is why the President and the Prime Minister working together have been able to bring our borrowing rate much lower. Foreign governments are giving us 10 to 15 years as opposed to that which was at six to seven years. They are coming forward and helping us. This is the time to seize that opportunity.