By Nisthar Cassim

Sri Lanka is uniquely located to play a very important role in the Belt and Road Initiative (BRI) hence greater bilateral economic cooperation is critical, a top Chinese think tank declared recently.

"Sri Lanka enjoys strategic and unique geographic location within South Asia as well as in the Maritime Silk Route. This pivotal position enables Sri Lanka to play a very important role in Belt and Road Initiative, hence greater Sri Lanka-China economic cooperation is relevant," the Shanghai Institute of International Studies (SIIS) President Prof. Chen Dongxiao said.

The significance of Sri Lanka's role and the benefits for the country as well as that of BRI was shared by Prof. Chen with a group of Sri Lankan journalists who visited Shanghai and two other cities on the invitation of the Embassy of the People's Republic of China and the Sri Lanka-China Journalists' Forum. Prof. Liu Zongyi, Research Fellow of the Center for Asia-Pacific Studies, was associated with Chen during the briefing along with Embassy of China's Second Secretary, Political Section, Liang Zhijun.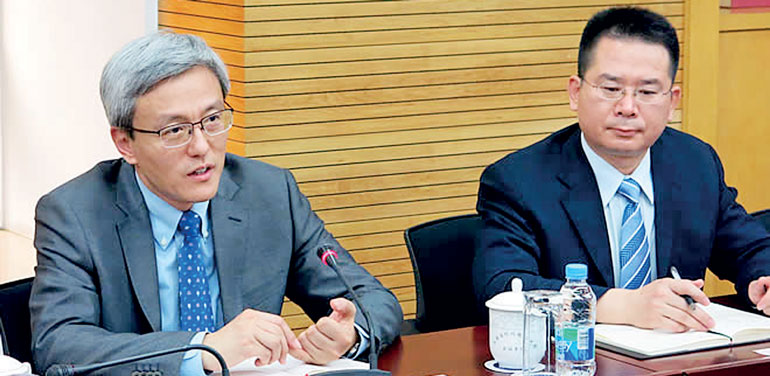 Shanghai Institute of International Studies (SIIS) President Prof. Chen Dongxiao (left) during the briefing to visiting Sri Lankan journalists in Shanghai, China. SIIS Research Fellow of the Center for Asia-Pacific Studies Prof. Liu Zongyi is also present
The Silk Road Economic Belt and the 21st-century Maritime Silk Road, also known as BRI, is stated as the top-level design of China's opening-up and economic diplomacy in the new era with around 50 countries. According to SIIS, BRI encompasses over 62% of the world's population, over 34% of the world's merchandise trade and 31% of the world's GDP.

The BRI initiative is geographically structured along six corridors and the Maritime Silk Road. They are: 1) New Eurasian Land Bridge, running from Western China to Western Russia; 2) China-Mongolia-Russia Corridor, running from Northern China to Eastern Russia; 3) China-Central Asia-West Asia Corridor, running from Western China to Turkey; 4) China-Indochina Peninsula Corridor, running from Southern China to Singapore; 5) Bangladesh-China-India-Myanmar Corridor, running from Southern China to Myanmar; 6) China-Pakistan Corridor, running from South-Western China to Pakistan and the Maritime Silk Road, running from the Chinese Coast through Singapore and Colombo to the Mediterranean.

According to SIIS, quoting Chinese official statistics, China's trade with BRI countries in 2016 amounted to $ 955.39 billion, or 26% of China's total trade. China's outbound direct investment in BRI countries stood at $14.5 billion with cumulative investment exceeding $18.5 billion. Chinese companies have also set up 56 economic and trade zones in 20 BRI countries. Chinese investments and economic activities are also generating about $1.1 billion in taxes and creating 180,000 jobs for BRI countries.

Prof. Chen said since its launch four years ago by China's President Xi Jinping, the BRI has achieved considerable progress especially in terms of enhancing infrastructure investments, trade expansion, integration of economies and people to people cultural exchange among countries coming under the BRI.

The BRI is also fostering global and regional efforts such as Sustainable Development Goals enunciated by the United Nations and aims to complement and enhance existing international economic cooperation and global economic governance," said Prof. Chen. "Peace, stability and security in partner countries are also important facets of the BRI initiative," he added.

Prof. Cheng said the inaugural BRI Forum for International Cooperation held in Beijing in May which he also attended was a success. He said all the outcomes of the BRI Initiative presented during the forum, have far exceeded expectations and reinforced a sense of gain on the part of the countries and regions along the two routes, increasing their confidence.

The SIIS President said BRI as well as partner countries also face challenges in their quest to forge greater cooperation and socio-economic benefits from the initiative. One is improving expectation management which requires greater coordination which will maximise the positive effect of economic policies and minimise any negative side effects. However he emphasised the BRI promises significant immediate and potential business and economic opportunities across partner countries. Full realisation will require greater awareness and understanding of the opportunities.

To maximise the benefits as well as attract more Chinese investments, partner countries also need to enhance their own competitiveness including transactional costs and improve ease of doing business. These measures however, Prof. Chen said, are critical for any country in boosting domestic businesses, enhance economic development and attracting foreign investments from any part of the world.

Greater collaboration among all local stakeholders including private sector and NGOs is also key to ensure BRI benefits are maximised, according to Prof. Chen.

He said BRI envisions all working together towards a prosperous future to be shared by all.

Prof. Chen is also the adjunct professor of Shanghai International Studies University and a senior advisor on economic diplomacy for China's Foreign Ministry. He also holds the position as Vice Chair of China National Association of International Relations.