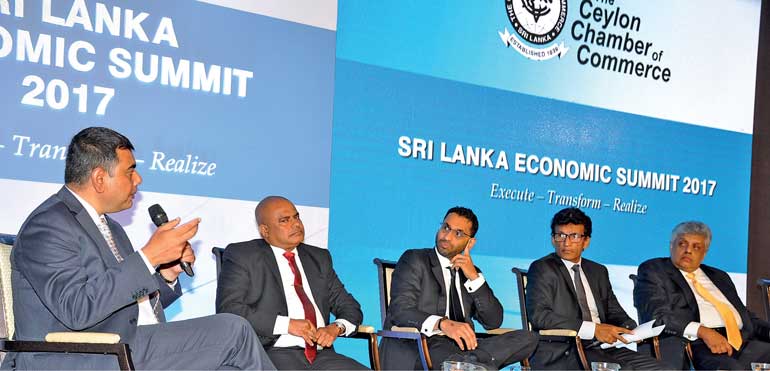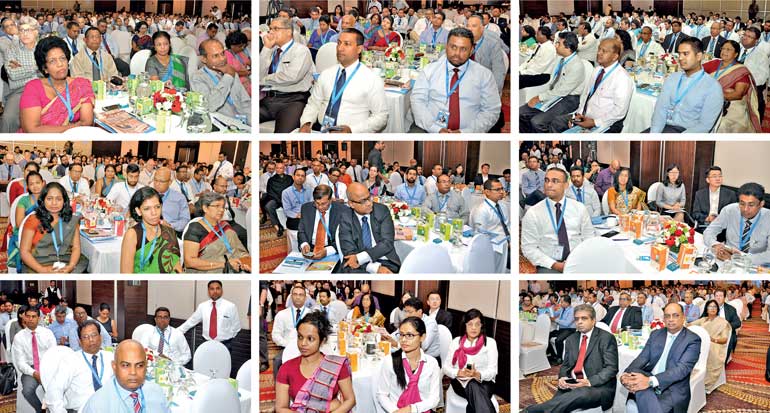 By Charumini de Silva

Acknowledging that the Government has strong fundamentals in place, Public Enterprises Development Minister Kabir Hashim yesterday insisted the next step was to make Sri Lanka the most competitive market for everyone to conduct business.

Speaking at the Ceylon Chamber Economic Summit, he assured that the Government had set out all mechanisms which were beneficial to conduct business, especially export-led trade and investments.

"With the signing of the Hambantota Port deal this week, the Government will take on several other bold decisions that are economically beneficial for the development of the economy," he added.

The Minister pointed out that it was critical for the public to have complete trust in the Government in order to attract much-needed Foreign Direct Investments (FDIs).

"Anyone will invest if the environment is secure consistent policies are in place. This is what we have been working on during the past one-and-a-half years. As a coalition Government we are now thinking in one direction in terms of our investment policies, tax regimes, foreign exchange policies, land policies and ease of doing business policies," he explained.

Hashim admitted that State-Owned Enterprise (SOEs) debt was a concern for the Government, adding they were now thinking of PPP models to turnthese institutions around via obtaining professionalised management.

Lack of financial facilities, poor management and politicisation were outlined as key factors for losses incurred by most SOEs.

"We must also understand that all SOEs are not there to only make profits, they also have a social commitment, such as the transport sector. The question is whether the loss is due to the social role or if it is due to mismanagement of resources. I think it is more from mismanagement," he stated.

Noting that he did not believe in privatisation in the real sense, the Minister asserted that they were thinking of PPP models to professionalise management.

"SriLankan Airlines is one such example. According to the PPP models we are considering, the State will have a stake, but the Government should not be involved in management. However, some of the less strategic investments like running hotels and hospitals, we should not be in these at all."

Highlighting that this process of converting and bring changes to the system was not easy, he said: "You have to understand that we have to first politically survive to make the changes. We are taking our time, but the job is being done."

The Minister said that one of the biggest problems was that there were 'mafias' in most sectors, especially in the power industry.

"In terms of electricity, we have the highest cost in the region. We need to be competitive in terms of financial costs, manufacturing and production cost. The Regulatory Commission cannot penetrate the CEB because right now we are buying power at enormous rate, whereas there are new technologies that can cut the rates half," he added.

He stressed that there was too much regulation,which protects some of the inefficiencies in the system, and unless these rigid systems were cut lose, Sri Lanka could not move forward.
'Brain trust' to foster PPP
Finance Ministry Public Private Partnership (PPP) Unit Chairman and Acting CEO Thilan Wijesinghe outlined his plans for the newly-established agency, determined that PPP projects would act as a catalyst of economic growth combined with investment projects planned by the Government.

"I intend to create a 'brain trust' for PPP projects to meet the current imperatives of the country. The brain trust will include investment bankers, economic researchers and top negotiators. It is crucial that we negotiate the right types of deals for the country," he added.

He believes that this multi-skilled team working along with the line ministries and external consultants would hopefully lead PPP projects to be catalysts in Sri Lanka's economic growth. According to him, the Government has allocated Rs.100 million for the unit, while the World Bank has granted a fund of $800 million as a resident advisor on various aspects and International Bank for Reconstruction and Development has given a loan of $25 million to strengthen the framework for pilot projects and procure assessments.

Thereby, Wijesinghe said that all ingredients were largely in place for his institution to provide value-added services to line ministries to strategise, structure, negotiate and close transactions.

He said the immediate concern now was to appoint a board of directors, which he believes would primarily comprise ministry secretaries, along with a pipeline of PPP projects.

"I want to look at the pipeline of PPP projects and prioritise them accordingly, including some 'quick wins' which are absolutely crucial at this juncture," he stressed.

The priority sectors in the immediate future include transport, utilities, sports, tourism, construction of affordable housing, healthcare, ICT, agribusiness, mining and mineral, financial services and logistics.

Wijesinghe also noted that he was keen to get the basic guidelines from the Cabinet to run the PPP unit within a month's time, while expressing hope that a national procurement guideline would follow within the next three months, to eventually have a law in place to guide the PPPs.

He acknowledged that the draft document by the USAID on PPP framework on Sri Lanka needed to undergo some revisions.

In addition he said the PPP unit was keen on building its institutional capacity with local and foreign legal advisors, research and analytical teams to capture viable PPP projects.
Time to act
McKinsey and Company Partner Ganaka Herath elaborated on a 10-step breakthrough delivery methodology, which has already delivered impact across the world.

Establishing a high-performing delivery system that turns plans into results includes priorities and outcomes, labs, budget, public feedback, roadmap, delivery units, performance management and problem-solving, capacity building, communicating impact and institutionalising delivery.

"In many cases civil services are geared to think about policy, but what we are now asking them to do is move away from thinking about policy and start implementation and action being delivered," he added.

He stressed on the fact that achieving impact alone was not enough as it needed to be communicated credibly and innovatively.

Noting that the governments across the globe face common challenges in mobilising for delivery, he insisted Sri Lanka needed a culture of embracing change, which requires some level of support and up-skilling for enablement.

Herath also emphasised that communicating policy decisions to stakeholders as well as to the general public was critical.

He cited Tanzania, Pakistan, Thailand, Malaysia, the US, Bhutan and the UK as some of the examples where McKinsey and Company have supported economies to achieve big, fast, sustainable results that people can touch, see and feel within six months and 12 months noting that real material change can change the outlook of an economy.

While every country is different, all successful transformation programs share the same DNA, he said, noting that Sri Lanka should also prioritise a sub set of goals in order to achieve change.

"Prioritise reforms that are radical, deep, fast and on materials people can touch, see and feel. Lead by example by showing strong vision and full commitment, and holding others accountable. Manage expectations by only making realistic promises as credibility is your currency. Remember the people element where technical changes must be accompanied by changes in mindsets and behaviours. Build executive firepower with a strong, clean team to deliver critical goals, with a driven culture of high standards and rigorous performance management," Herath pointed out.

However, he cautioned on chasing only quick wins in order to ensure some of these are catalytic. In addition, regular engagement of the public to win their support was also highlighted as an important factor.

He also encouraged Sri Lanka to adopt trial and error mentality as it is a journey where success brings success and the country learns as it moves forward.

Education Ministry Secretary Sunil Hettiarachchi said they would introduce 26 new subjects to the school curriculum that will match according to the industry demands.

WSD Consulting Managing Director and former Qatar Financial Centre CEO Shashank Srivastava elaboratedon a case study of how Qatar evolved its economy from hydrocarbons to the knowledge-based economy it is today.