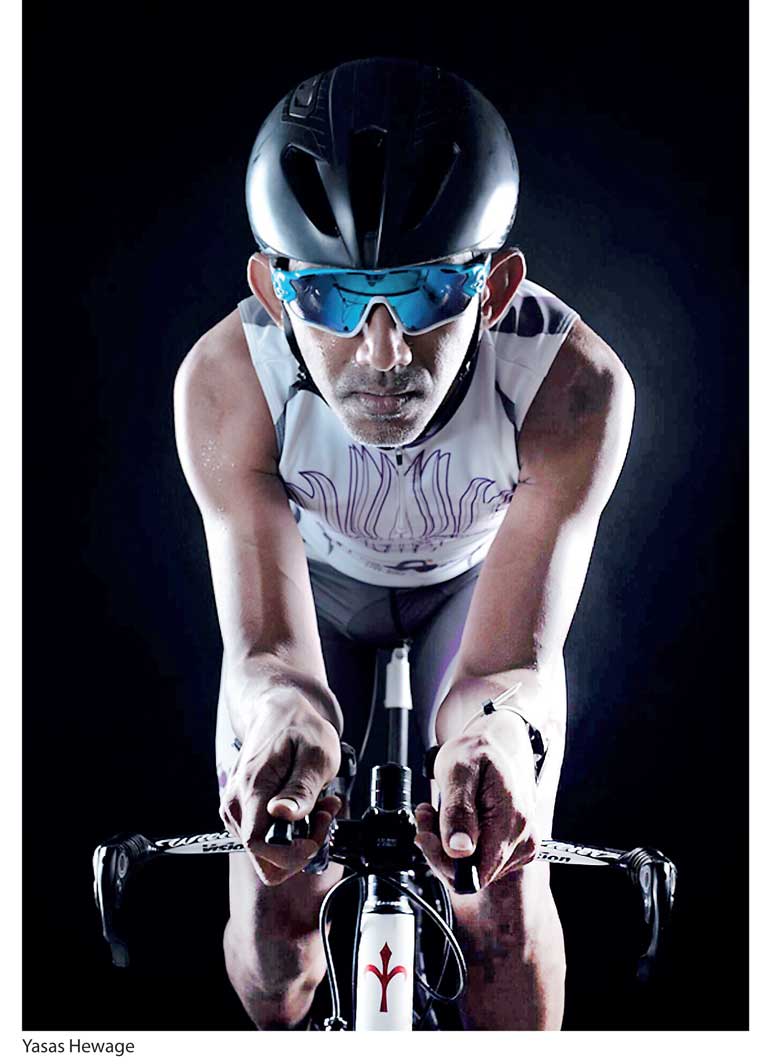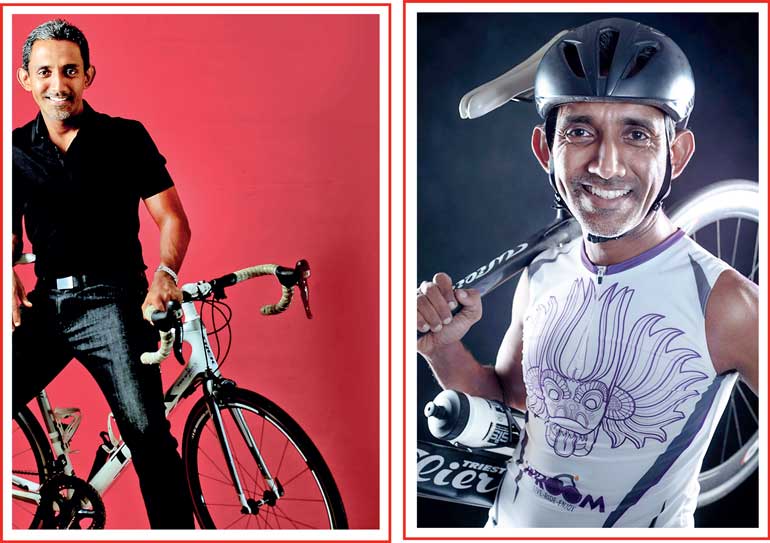 A force to be reckoned with, Yasas Hewage, the Director of Pro Am Serendib, which is the organiser of the Sri Lanka Wonder of Asia IRONMAN 70.3 Colombo, gave up a successful career in banking and decided to pursue his passion for cycling and everything related to the sport. His passion to go green was what started his love for cycling, with him cycling to work every day to lead by example. It gave birth to one of the first cycling communities in Colombo called WROOM.
Q: What brought about the culture of cycling in Sri Lanka?
A: Cycling has been part of rural Sri Lanka for decades. From Jaffna to Matara, cycling is one of the main methods of transportation. To this day the postman still delivers letters on a bicycle. Cycling events like Tour de Lanka started in the 1960s and since then it has been an annual event for Avurudu.

Urban cycling was non-existent till about 2012, when a few of us started cycling for fun; it was popularised by creating groups such as WROOM and Pedal Pushers. Today on a Sunday, you will see so many cyclists on Parliament Drive, Galle Face, Viharamahadevi. Even though there aren't structured cycling paths it's really caught on in the city coupled with cycling events being created regularly.
Q: Where does the cycling industry stand in Sri Lanka?
A: It started off as a very generic business, with the kids' bicycle and commuter market bicycles. The latter is known as the standard bike made of heavy black steel. It's the kind of bike used by the postman, while in the 80s, 90s and early 2000s kids ended up buying mountain bikes.

There were a select few players in the market supplying these, but what is great is that Sri Lanka has, over the last two decades, been a bicycle assembling destination to markets like Europe. This has provided some employment opportunities. Then you have the age-old Vikale, which is the little bicycle shed where you fix bicycles.

Today we have seen a number of specialised bike stores that have popped up in and around Colombo, which allows you to get the good quality bicycle you see in any other part of the world. This wasn't there three to four years ago. I am involved with a cycle cafe in Colombo which was a first, Spinner, which rents and fixes bikes in a professional setting. It also doubles up as a café for people who want to lead a healthy lifestyle.

The worrying factor is the mechanic side because after the fathers, the sons aren't interested in it, just like the cobblers as it is not an industry that's looked up to. Therefore we've done a bit of work with IRONMAN coming and I'm personally involved in developing some of the rural mechanics where we are involved with up-skilling them and nine of them will get exposure at IRONMAN.

The type of bikes that come to this type of event is absolutely high-tech and fairly expensive and part hobby, so you've got to be really good at it while some will be electronic bikes with a price point of a half a million, to a million sometimes so we will be equipping these mechanics to handle and service these bikes and hopefully the next generation can get inspired to embrace the mechanical side.
Q: Why did this change of pace come about for you?
A: After 15 years I was bored with my banking career and was looking for a hobby to do with environmentalism and got involved in an event called 'Think green to get more'. I was one of the first to ride a bicycle to work and people said, 'Hey, can an executive do that?' Your office starts looking at you and saying, 'What's wrong with this guy coming to work on a bicycle?' I would bring my bicycle and put it in my cubicle.

I calculated my carbon footprint and realised I was a big factor, then we did the first bike tour in Sri Lanka (2013) and stopped 1,000 cars coming to Colombo. This journey has been cooking for a long time but infrastructure was always an issue. For a company to be cyclist-friendly you need to convert one car park into a couple of bike bays, one normal toilet with a shower and a locker room and people are good to go. We did that at NDB and a few companies. It's been a quiet revolution.

'Around the Pearl' probably propelled people off the gyms and it's a bit of social capital where you can say, 'I did 50 km/100 km'. These are supposed to be done by pro athletes and you realise you can do the same thing with the community supporting the momentum which has helped build the platform on which we are now, ready to embrace an event like IRONMAN.
Q: What is your involvement in IRONMAN 70.3 Colombo?
A: I met Rajan Thananayagam at Spinner. He floated the idea of creating an IRONMAN event in Sri Lanka. As I had experience in setting the platform for duathlons and had a background in competitive cycling, I knew the technical side of it so he proposed doing this together. By that time Julian Bolling had also gotten involved, so it sounded like a good idea - Julian with his longstanding swimming journey and Rajan who came from a passionate triathlon background. I've seen competitive cycling growing from nothing into whatever it is here today and thought we had the right team.

Plus, post-war Sri Lanka has seen infrastructure developing, roads getting better, tourism growing and if we don't build these types of events and go to the next level, we'll always be thinking small with our typical island mindset. You've got to think like a Shangri-La; you put one hotel and the second one comes up and that means you start believing in a big dream.

I've had a bit of exposure in the setting of events like the Tour de France, how the technical side works. We at Sri Lanka Wonder of Asia IRONMAN 70.3 Colombo are in a great space to have a sold-out event. Today we are working with government officials and local bodies to ensure that the roads are carpeted, Galle Face is in the right condition and to make sure that every triathlete has the best possible experience.
Q: Where does the event stand at the moment?
A: IRONMAN is the world's largest active sports event. Football is one the most biggest spectator sports but IRONMAN has the highest number of participants in a sport with a 40-year history with 220-plus events taking place annually so when we took the call to put Sri Lanka on the map we were one among the 220 and the only one in South Asia so it was all the reason for us to do it before some of the giants in our region.

It is record for an event of this magnitude to be sold out in the first go. In fact some of the more established countries like Malaysia took a lot longer to get where we are right now.
Q: Why do you think that is?
A: It's Sri Lanka. We have a brilliant product to sell. It is a beautiful story of a beautiful island but you've got to give a reason for people to come because traditional tourism tells you the same story packaged in different colours. Yes, we've got beautiful beaches, a beautiful culture and we've got around two to two and a half million tourists which is great but I don't think we can do that over and over again. We've got to give the right product and IRONMAN was a brilliant product – come and race in the Pearl of the Indian Ocean and people said yes and that's the secret.

Our event falls under a race vacation under the big category of Sports Tourism. Sports Tourism has three dimensions – spectator sport (the Olympics or the World Cup), visiting monuments like the Yankee Stadium or Lord's, which we don't have here and active sports, which we have here so you come to compete in an exciting destination and Sri Lanka ticked all the boxes.

From our side we had to take that message to the world. We were not very good at Sports Tourism marketing as a country so we had to go to the drawing board and look at what message had to be given, what media to use, selected all the specific magazines in the world, we did events in India, we went to Malaysia to get our message out and we used a lot of social media, very focused ones, hitting the right athletes and understanding their persona.

If you look at these 870 athletes with families and friends, it comes to about 2,300 in one week that, averaging at over $ 2,000, is about $ 3,000,000 of income for the country. So it's a big economic decision somebody takes from a time and money standpoint.

We worked very carefully to talk to them so they don't go to X country but come to Sri Lanka because they can go to 200-odd locations in the world to race. The fact that we had a great product like Sri Lanka to market was always a plus. The fact that we knew what we were doing from a digital marketing point of view, doing the right events obviously with the support of the IRONMAN Asia team which is always behind making Sri Lanka the hub for South Asia, makes a lot of sense.
Q: Are most Sri Lankan participants doing it individually or as a relay?
A: 95-96% international athletes are all doing it as individuals but the locals are mostly relays and that's how the local market grows. And next year you will see some doing two and then three. We have some triathletes who have gone around the world so for them this is a golden opportunity to finally compete in their own country.
Q: Do you see a future for IRONMAN here?
A: IRONMAN shows you that you're an athlete at any age. In fact our oldest athlete is 81 years old. Sri Lanka is figuring out that IRONMAN gives you the Olympic atmosphere to push your limits and live like an athlete and not to be judged against somebody else but to push yourself against your own limits and make that your inspiration or to inspire somebody else. So this is a paradigm shift which isn't about you winning against another but about you finishing something you never thought possible; it's about you.

In the meantime, some of them will compete and go into the World Championships in South Africa, that's a secondary matter but you will start by trying to figure out if you can complete this crazy challenge then you will slowly start competing with yourself and you will look around and see that you can compete with others as well and that makes it fun so that's the whole new landscape you will see happening in Colombo and that will create a new wave of athletes.

When IRONMAN comes next year you'll be clamouring to register. This event should open up other opportunities for other global events because when Sri Lanka becomes an IRONMAN stamp destination it is the biggest endorsement you can get for you to bring similar types of events.

We've shown the world what we are capable of by showing how we can attract athletes. Come 25 February 2018 we will show the world and convince ourselves that we are very good at organising something of this standard that is leagues beyond what Sri Lanka would have seen organising before.

When you look at it from any aspect it has a global standard, from the registration, roads and medical assistance to technical officiating and athlete services, everything is rule-based, standard-based, checked, double-checked and risk-analysed. That's the global brand of IRONMAN. With that type of capacity built, it doesn't make sense to just think small, you've got to up the game from here and think big.
IRONMAN 70.3 Colomboorganisers issue event road closure info
The organisers of IRONMAN 70.3 Colombo, in a statement to the public, revealed the traffic plan which will be in force on the day of the event, which is slated to attract over 880 athletes from 64 countries.

The following is the full statement.

This is a sold-out event with over 880 athletes from 64 countries coming to our shores to participate in this event with 2,500 of their families and friends.

During this event there will be some level of interruption to local residents and businesses due to temporary road closures to be in place to ensure the safety and security of the athletes during the biking and running legs of the event. We will do our best to minimise your inconvenience.

Following temporary road closures will be in place as follows:

Day 1: 24 February 2018

IRONKIDS event will happen at Galle Face Green on Saturday, 24 February 2018. We are expecting over 550 kids to participate in this event. In this regard, the entire Galle Face Walk and pavement up to Chaitya Road will be temporarily closed from 6.00a.m. to 11.00a.m.

The bus halt in front of the Old Parliament will be out of bounds for the duration of the event.

Day 2: 25 February 2018

Galle Face Green

3 nos. seaside lanes along Galle Road from Old Parliament roundabout to Galle Face Hotel roundabout will be temporarily closed from 3.00 a.m. to 12.30 p.m. Landside lane will be made available to the public to access the hotels.

Galle Face Roundabout will be fully cordoned off from 3.00 a.m-12.30 p.m. However, Police will control limited vehicle movements to and from Galle Face Hotel.

Galle Face car park will be closed to the public from 3.00 a.m. to 12.30 p.m.

The bus halt in front of the Old Parliament will be out of boundsduring the duration of the event from 3.00 a.m. to 4.00 p.m.

Chaitya Road

Both directions of Chaitya Road will be closed from 3.00 a.m. to 11.30 a.m. on 25 February 2018.

There will be no parking along Chaitya Road from 3.00 a.m. to 4.00 p.m. on 25 February.

Galle Road (Galle Face Roundabout to Marine Drive Turn off)

Both sides of Galle Road from Galle Face Hotel roundabout to the Kollupitiya Junction Marine Drive Turnoff will be temporarily closed on 25 February 2018 from 3.00 a.m. to 12.30 p.m.

Marine Drive

Both sides of Marine Drive from Kollupitiya to Dehiwela Bridge will be temporarily closed on 25 February 2018 from 3.00 a.m. to 12.30 p.m. Residents should use Galle Road during this period.

On 25 February 2018, the bus stand at the Kollupitiya Railway station will be to the Kollupitiya Market.

There will be adequate police personnel deployed on the day to enforce the temporary road closures in conjunction with the event officials.