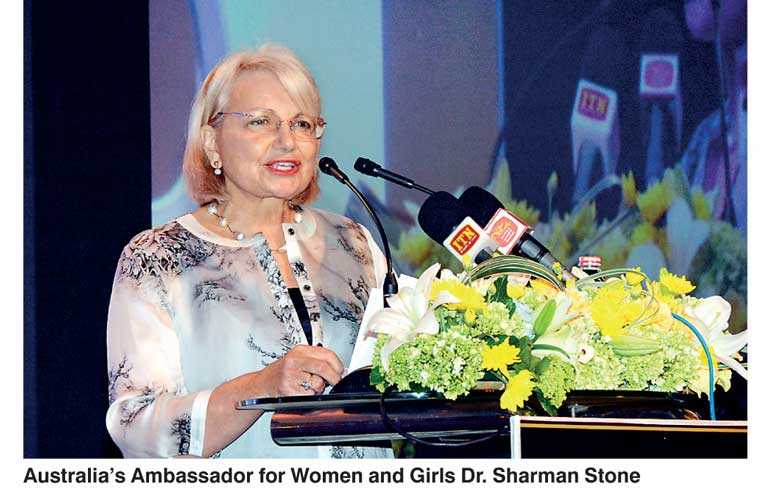 Delivering the keynote address, Australia's Ambassador for Women and Girls Dr. Sharman Stone said that despite the many gains noticed for women in educational advancement during the past decade, it has not necessarily translated into greater employment opportunities nor, in particular, economic empowerment.

"Girls around the globe are forging ahead at school, including at the tertiary level, but for many women success in education does not necessarily translate into employment. Across our economies, women continue to be less paid than men for similar work and are over represented in part-time, low-status, unskilled work and the informal sector, often with little protection and few rights," she pointed out.

She said that this was particularly the experience of unskilled temporary women migrants, who are in the millions in our region, many having to leave their children behind.

Dr. Stone said at the top levels of industry and government, the faces remain stubbornly male, as although women are present on most boards of directors of large companies, their number remains low compared to men.

"Of the 500 largest corporations in the world, only 23 have a woman chief executive officer, which is just 4.6%. These barriers produce serious challenges for women's advancement, as well as inhibiting business performance and economic growth for the nation. The economic case for gender equality is clear and compelling," she emphasised.

Recent analysis suggests that by advancing women's equality, the economies of Asia Pacific could boost their collective gross domestic product (GDP) by $4.5 trillion a year by 2025, a 12% increase over business-as-usual GDP. "Companies benefit financially when they invest in women as employees, entrepreneurs and customers. Investing in women helps broaden the company talent pool, increases productivity and provides opportunities to transform markets," she said.

Research shows that companies with gender-diverse boards generate higher returns on equity and have better share price performance.

She called on Governments, civil societies and businesses to work together to find smarter approaches to break down barriers for women in paid employment.

"We need to encourage executives to be leaders of gender change. We need to better support women returning to work after childbirth with the provision of affordable, accessible childcare. We need to challenge myths about flexible work being less productive and a sign that the worker is less committed. We need to acknowledge that domestic violence is a workplace issue, as is bullying and harassment in the workplace. We also need to help fathers step up to share parenting, rather than encouraging mothers to opt out, to be the full-time carers," Dr. Stone stressed.

Highlighting Australia's commitment to gender equality, she said that it is one of a handful of countries globally to have introduced the position of an Ambassador for Women and Girls, to advance international advocacy for gender equality.

"I am very happy to know that Sri Lanka, too, has an Ambassador for the Protection of Women's Rights and Elimination of Violence against Women, Jayanthi Kuru-Utumpala," she said. It was pointed out that since her appointment in November 2016 as Australia's third Ambassador for Women and Girls, she has undertaken 33 trips to promote new avenues for cooperation to end gender inequality.

She asserted that Australia's Foreign Minister Julie Bishop has made gender equality central to their foreign policy, economic diplomacy, and development agenda.

"This is reflected within Australia's cooperation with Sri Lanka, our joint efforts to promote and recognise women also strengthens our bilateral relationship. Australia is proud to be supporting tonight's event through our flagship gender equality program in Sri Lanka, Women in Work, delivered in partnership with the IFC," she added.

According to Dr. Stone, the Australian Government is investing AUD 15 million over four years, to support Sri Lankan businesses to improve their performance in employing, promoting, and supporting women.

"IFC, as our delivery partner, is working with lead firms to demonstrate the business case for investing in women as employees, and to improve their ability to recruit, retain, and promote women and men equally. This will create more and better jobs for women, and encourage more women to enter the formal workforce," she said.

In addition, the program is also increasing access to financial and other services for women, including those starting their own businesses.

"As I look around the room this evening, it is clear there is an incredible pool of talented women across all professions who are achieving great things in their careers. Continue to help to take the gender agenda forward in Sri Lanka, and inspire other women to reach their full potential contributing to Sri Lanka's current and future prosperity," Dr. Stone stressed.

She also shared some examples of the Australian domestic context, which might be relevant to Sri Lanka's business leaders and policy makers.

According to Dr. Stone, women comprise 46.4% of all employees in Australia, earn on average 16% less than men, has retirement savings that are less than half those of men, making the risk of poverty in old age much higher for women, and within Australia's 200 largest companies, some 20 of these do not have any women on their board.

"These are serious structural challenges Australia must face, if it is to reach its full economic potential. The good news is that the Australian Government is testing some world-class approaches at the moment that I would like to share with you today," she added.

In 2012, she said Australia passed the Workplace Gender Equality Act to improve and promote equality for both women and men in the workplace. It established a set of minimum standards that employers must follow, based on a set of simple gender equality indicators. The Act has directed employers to develop new policy measures on gender equality and report against those goals over time. Employers with more than a hundred employees report on: gender composition of the workforce, equality of pay between women and men, flexible working arrangements for staff and sex-based harassment and discrimination.

"We now have over 12,000 companies across the Australian economy reporting annually on their performance on gender equality in the workplace. The Australian Government has also established an independent statutory body, the Workplace Gender Equality Agency, where it acts as a one-stop-shop for businesses seeking to improve their gender equality record. It provides advice and support and one-on-one training for companies seeking to become an 'Employer of Choice' for women," she stated.

Dr. Stone said after just three years of implementation, they have been able to have an incredible data-set that can draw on to better understand gender in Australian workplaces.

"This information is used by the companies to better know and understand the gender equality characteristics of their workplaces, and helps them to identify opportunities for improving outcomes for women. At the policy level, information obtained from reporting helps inform labour policy development across the country," she added.