From left: Panel moderator and Hemas Managing Director Kasturi C. Wilson, Central Bank Governor Dr. Indrajit Coomaraswamy, Commander of Security Forces in Kilinochchi Maj. Gen. Vijitha Ravipriya, SriLankan Airlines Group CEO Vipula Gunatilleka, Spa Ceylon Director/Co-Founder Shalin Balasuriya, Nielsen Sri Lanka Managing Director Sharang Pant, The Capital Maharaja Organisation Group Director Chevaan Daniel, Aitken Spence Deputy Chairman and Managing Director Dr. Parakrama Dissanayake, Sri Lanka Federation of Information Technology Industry Chairman Abbas Kamurdeen, and The Hotels Association of Sri Lanka President Sanath Ukwatte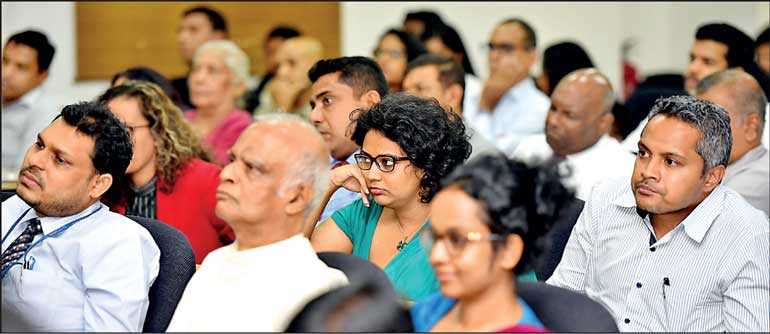 ---
By Madushka Balasuriya

Addressing the fundamental gap between the perceptions of security in the country, and its ground realities, is crucial in fast-tracking Sri Lanka's economic and social recovery from the Easter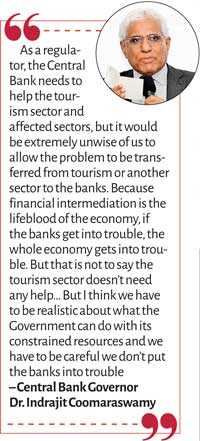 Sunday attacks, noted a panel of experts on Wednesday, while also bemoaning a lack of public trust in the messages coming out of the Government.

The forum, titled 'Sri Lanka Forward,' organised by the Chartered Institute of Management Accountants (CIMA), Acclivity Training, and Leo Burnett Sri Lanka, brought together several industry and business leaders to look at how businesses can recover after the recent terror attacks in the country.

Addressing a packed CIMA auditorium, Aitken Spence Deputy Chairman and Managing Director Dr. Parakrama Dissanayake kicked off the discussion by posing the event's key talking point.

"Here, I must say, we have a situation between perception and reality. The perception is that at that time, Sri Lanka was not safe, but the reality was not that. Thanks to our forces, we were able to dismantle the cell that was there," noted Dissanayake.

"But how much can the defence forces do to protect us, because the menace is totally different now. At present there are no arms, no bombs, but still this menace is causing disruption. We need to get the perception right, more than the reality. Reality we're aware of: they have done an amazing job, travel advisories have been softened. But still the talk is about the threat of terrorism prevailing in the entire country."

Dissanayake added that civilian organisations also needed to do their part in helping Sri Lanka attain the appearance of safety, on top of the work being done by the armed forces.

"Civilian organisations have a role to play. We not only need to protect our assets, but our people. Now when I walk into buildings of national importance, I am yet to see a walkthrough detector,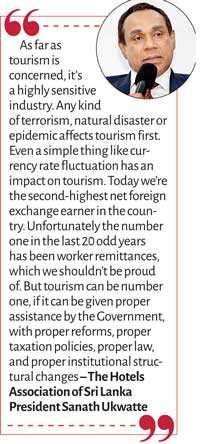 that's a basic thing.

"To me there is only one USP in marketing Sri Lanka - safety and security. That is the key. We shouldn't talk about anything else."

Major General Vijitha Ravipriya, the newly-appointed Commander of Security Forces in Kilinochchi, who had earlier provided a thorough presentation on the Army's tireless effort in dismantling terrorist cells in the country, lamented the uncertainty following the 21/4 attacks, which led to further unrest in the weeks ahead.

"What happened after 21 April was the creation of uncertainty between most of the citizens in the country. When it comes to uncertainty, there are two extremes, underestimation and exaggeration. What is common in most societies is exaggeration. Now, even when I was watching TV or electronic media, I was a bit surprised of the certain news that was put forward," stated Major General Ravipriya.

"Various people were coming on TV and talking on a variety of topics, some of which had no value. That's why I said exaggeration is very common. What we have to figure out is how to move away from this uncertainty."

Ravipriya acknowledged that awareness programs needed to be arranged in order, for as in the present climate he expects people to "have doubts" even when the Army's Media Director provides an official statement. However, he hopes his message will nevertheless go some way in assuaging the public's fears.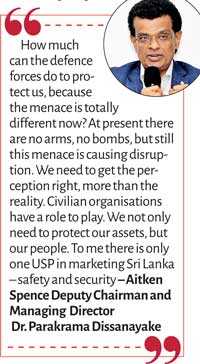 "Awareness programs have to be arranged, he [Dissanayake] quite correctly said, that even when the Army's Director of Media comes out and explains what's been going on, people still have some doubts, they're not going to trust it.

"Now, we're from the armed forces, and we have privileged information, but what we tell you perhaps you're not in a position to believe it. I have shown you what measures have been taken, what I exposed today was the truth, so trust me, because without that we can't contribute."
The true scope of

Sri Lanka's problems
Probably the best explanation given in terms of helping to understand Sri Lanka's present social and economic mess was provided by Nielsen Sri Lanka's Managing Director Sharang Pant. Nielsen provides monthly analysis on consumer and business leaders' sentiment from across 100 countries, and Pant offered some insight into the terror attacks in Sri Lanka, drawing on parallels from similar incidents elsewhere in the world, such as the 9/11 attacks in the US and the attacks in Europe.

"In terms of how business leaders and consumers reacted in those countries, yes, there was a drop in confidence levels, but it went up in a short period of time. In two or three months, basic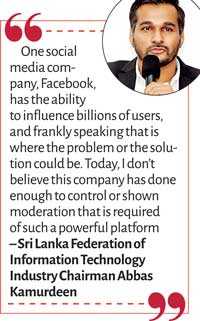 consumption habits moved back to normal. However, in SL, we have seen a big drop," revealed Pant.

"In terms of business confidence level, in the last six months from about 120, as an index it's come down to almost 60-65, that's a big drop. There are various reasons for this, and the Easter Sunday bombings are just one of those reasons. Similarly consumer confidence came down to its lowest level, now at around the level which it was in 2008 prior to the end of the war.

"Now the question you have to ask is, are we, as Sri Lankans, overreacting compared to other countries in the world faced with similar situations?"

The answer to this question, explained Pant, requires us to understand the inherent differences prevalent in Sri Lanka, as opposed to other, larger nations. Simply put, Sri Lanka's relatively small population size exacerbates matters.

"Take our neighbour India. There are various such incidents which happen over there almost every year, but the country in some sense brushes off these incidents, and everything comes back to normal again. Why is that so? Simply because of the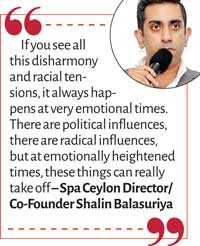 population and vast size of the country, whereas we are a small country, and these things matter to us for various economic as well as social reasons.

"On the consumer side, talking about the social fabric of the country, these things are also impacting consumption. There is still a fear inside us, which is stopping us from opening our retail outlets or stopping the consumers from going out there and buying goods that they need."

Moreover, as part of a qualitative study conducted by Nielsen on how the incident impacted the day to day lives of Sri Lankans, Pant shared an apt analogy to sum up Sri Lanka's situation.

"One respondent told us: 'we are feeling right now as if we're in an aircraft going through some turbulence, and the pilot isn't giving any instruction'. The citizens in general are looking for continuous communication that things are moving in the right direction."

The role of media
The importance of accurately disseminating accurate information and flagging false accounts cannot be understated. This was a point posed to The Capital Maharaja Organisation Group Director Chevaan Daniel, which is the parent company of TV stations Sirasa, Shakthi and TV1, and the Newsfirst brand.

Daniel explained in detail the checks and balances that are in place at Newsfirst, to ensure ethical journalism is carried out.

"For us, the news is something we take very seriously, and the only interest we have is our nation's interest, and to solidify this, I can tell you that the chairman of Maharaja Organisation, a man who runs a multitude of companies, turns up at our newsroom everyday at around 5 in the evening and approves every single piece of news you see on Sirasa or Shakthi or TV1, that's how seriously we take our job," explained Daniel.

He also revealed some of the difficult decisions taken shortly after the attacks, but was clear to state that he was unable to speak for some of the other "irresponsible journalism" which had taken place in the aftermath of the attacks.

"Just after the attacks, I remember giving my boss a call and saying we have footage of the attacks, asking him what to do. His instant response was, 'don't air the footage'. From a competitive point of view, this is effectively committing suicide, because some of our extremely good competitors are going to be airing all the carnage. And there is going to be a segment of society who wants to see that. And so, effectively, you're asking people to switch the channel, but at that point, I think the decision that we took was not in the interest of competition, but in the interest of the nation.

"There's no rating for ethical journalism, but unfortunately what we've seen in the last couple of weeks is that there is a price to pay for irresponsible journalism."

Apart from the attacks itself, the racially-motivated riots which took place in various parts of the country on 13 May further mired Sri Lanka in tragedy. A large factor in the riots was the widespread prevalence of fear-mongering and misinformation through the use of social media.

For Sri Lanka Federation of Information Technology Industry Chairman Abbas Kamurdeen, Facebook needs to share a large portion of the blame, for their inability to crackdown on hate speech on its various platforms.

"One social media company, Facebook, has the ability to influence billions of users, and frankly speaking that is where the problem or the solution could be," stated Kamurdeen. "Today, I don't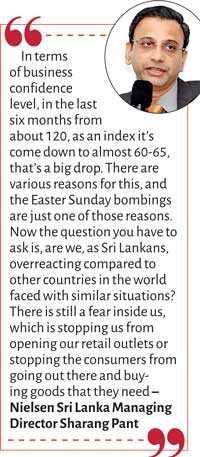 believe this company has done enough to control or shown moderation that is required of such a powerful platform."

Sri Lankan Airlines Group CEO Vipula Gunatilleka related a story illustrating how the media and governmental failings following the 21/4 attacks had compounded an already grave state of affairs.

"A few days after the 21 April attacks we were due to go to the Arabian Travel Mart. We were wondering whether to go or not, but eventually we went, led by the Tourist Board. When we started talking to the operators, we realised we had a huge sympathy factor. All of them wanted to come. The first question was, 'is it safe?' 'When is it going to be safe?' Since we're not security, we simply relayed the measures that were being taken by the Government," recalled Gunatilleka.

"They were obviously not going to come, but they were slowly building confidence again. So we said that by July, once the Ramazan period is over, we'll go for a campaign to selected cities and try to get this Middle Eastern traffic in. Then came 13 May, the damage created by that incident will take a long time for us to recover from. It's like going back to 1983," he added.

"Security is of course one side, but we also have to make sure the media is properly managed."
The role of corporates
But while blame can rightfully be placed at the foot of several third parties, many on the panel were in agreement that this does not allow others to absolve themselves of responsibility.

SPA Ceylon Director/ Co-Founder Shalin Balasuriya was keen to stress on the importance of corporates and businesses, like his, taking it upon themselves to educate and maintain the wellbeing of their employees in such trying times.

"Yes the business is affected, but the people are the first to be affected within the business, and we employ a lot of young people. It's quite frustrating when you're in your first job and finally earning money, you're getting along, and then something like this happens," stated a sympathetic Balasuriya.

"If you see all this disharmony and racial tensions, it always happens at very emotional times. There are political influences, there are radical influences, but at emotionally heightened times, these things can really take off. So it's up to managers to make sure employee emotions are kept in check to a large extent.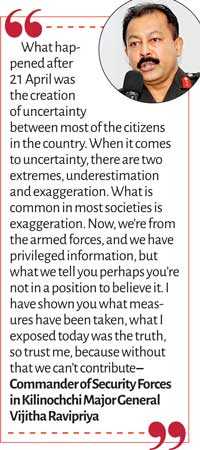 "When life is getting tough, that heightens the emotions, and all it needs is a few sparks from radical influences from other motives to push that to the next level, so we as business owners have a real responsibility to communicate to our staff and colleagues that we're going to get through this, and how we're going to get through this."
The role of government
The industry most affected by the attacks has unquestionably been the tourism sector. 300-plus flights a month have been cancelled, while hotel occupancy rates have been whittled down to a fraction of what is usually expected. The Hotels Association of Sri Lanka President Sanath Ukwatte, however, has seen a pleasing upturn over recent days, and is hoping for more structural stability from the Government going forward to aid in the sectors recovery.

"As Parakrama mentioned, safety, security, and perception are of paramount importance. And I'm delighted to say that today all these three areas are being addressed, and we've seen a breakthrough in travel advisories, and people in the country are slowly getting back to their daily routines. Schools are functioning, traffic has returned, I think in general we're moving in the right direction," noted Ukwatte. "As far as tourism is concerned, it's a highly sensitive industry. Any kind of terrorism, natural disaster or epidemic affects tourism first. Even a simple thing like currency rate fluctuation has an impact on tourism. "Today we're the second-highest net foreign exchange earner in the country. Unfortunately the number one in the last 20 odd years has been worker remittances, which we shouldn't be proud of. But tourism can be number one, if it can be given proper assistance by the Government, with proper reforms, proper taxation policies, proper law, and proper institutional structural changes." The Government, for their part, have put in place a moratorium to aid businesses affected by this downturn in tourism. Central Bank Governor Dr.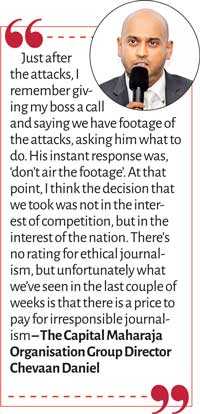 Indrajit Coomaraswamy acknowledged that there was more that could be done, but made clear that it would be unwise to put banks at risk in order to do so.

"I believe to look at the overall context, we have a Government which is significantly fiscally constrained with a very tough debt dynamic; that is the reality. If this happened two years ago, banks would have been in a more robust situation. As a regulator, the Central Bank needs to help the tourism sector and affected sectors, but it would be extremely unwise of us to allow the problem to be transferred from tourism or another sector to the banks. Because financial intermediation is the lifeblood of the economy, if the banks get into trouble, the whole economy gets into trouble. So there is a balancing act that needs to be done," explained the Governor. "But that is not to say the tourism sector doesn't need any help. The moratorium is not just for the large formal sector, it's not just for hotels; it is for anybody who's connected with the tourism sector, anybody who is registered with a series of associations which the Tourism Development Authority has given us. It's not only hotels but their employees, their personal loans are also eligible for a moratorium. So it is really providing support for anybody who is really connected with the tourism sector.

"But I think we have to be realistic about what the Government can do with its constrained resources, and we have to be careful we don't put the banks into trouble."

Pix by Ruwan Walpola and Chamila Karunarathne