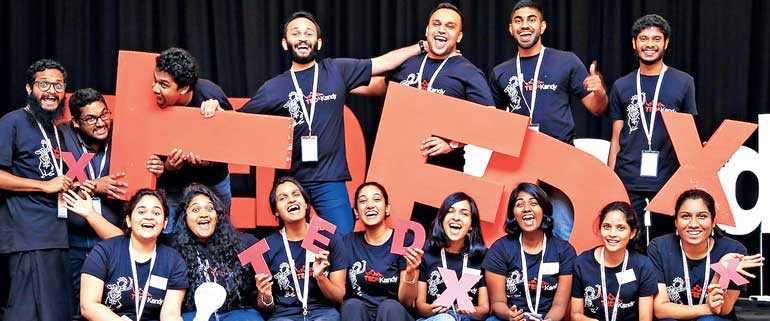 The recently concluded second edition of TEDx Kandy was held at the historic Queen's Hotel, in Kandy on 26 May. The event attracted a diverse audience; from university students to leading businessmen, from activists to seasoned political figures, from senior academics to young professionals, everyone shared the same enthusiasm to hear and appreciate a few "ideas worth spreading." TEDx Kandy 2018 was made possible by the generous partnership of Brandix, the Official Gold Partner for the event, and Daily FT, the Official Newspaper.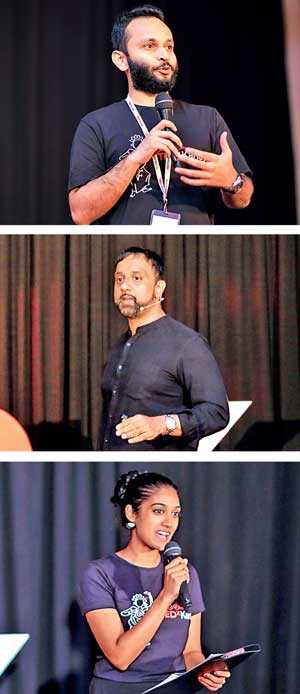 The origins of TEDx Kandy go back to 2016 when a young group of friends gathered for a quick dinner. A casual dinner topic turned into a serious conversation. The topic at hand was the severe lack of opportunities and platforms for dialogue in Kandy. Having grown up in Kandy, those who were at the dinner had experienced a pronounced dearth of opportunities. Kandy lacked public initiatives and platforms which fostered intellectual curiosity and brought about inspiration. This wasn't an issue just endemic to Kandy. It was a reality that was true in many parts of Sri Lanka outside of Colombo. This conversation spurred Heshika Deegahawathura and Anoka Abeyrathne to found TEDx Kandy.

"The underlying realisation was that there needed to be new initiatives which helped realise the abundant human capital in all parts of Sri Lanka while bridging the local and the global," said Heshika Deegahawathura the Organizer and Licensee of TEDx Kandy. "We discussed how local ideas could be highlighted to a broader audience? In turn, how can global ideas help drive local thought and inspire positive change? How could thought leaders from the local arena be recognised on a global stage? How could inspirational gatherings be created where the youth get an opportunity to pick the brains of experts in a multitude of fields? How can an ecosystem, which fosters inclusive growth and knowledge transfer, be built? These were some of the thoughts we initially had," says Heshika reminiscing the beginnings of TEDx Kandy.

In 2016 the team pulled off the inaugural TEDx Kandy. It had five eminent speakers talk to a full house. The speakers included Jayantha Dhanapala, Vihanga Perera, Sabina Omar, Madhawa Meegaskumbura and Asitha Bandaranayake. The theme in 2016 was Fostering Innovation. "Since it was a novel concept in Kandy, we wanted to see if we could gather a decent crowd who were interested in innovative ideas. However, there was quite a lot of excitement when people got to know aTEDx event was happening in Kandy," says TEDx Kandy Head of Branding and Marketing Ashraf Deen.

This year's TEDx Kandy was held under the theme "Ideate. Revolutionise". "Our objective was to attract a range of diverse ideas which could spur dialogue and thought," said Chanaka Herath, who heads Curation for TEDx Kandy. "We intentionally curated talks that were quite different to one another when it came to the field of expertise. We wanted to discuss a range of ideas from environment to entrepreneurship to entertainment."

The first talk for the event was presented by Chaminda Rajapakse. Chaminda worked as a senior advisor on climate change and water issues with the United Nations, the World Bank Group, several governments and numerous corporates. He's had experience working in over 15 countries in four continents. Chaminda is now back in Sri Lanka helping young people build viable private enterprises to solve some of the biggest problems we face in relation to climate change and sustainability.

Chaminda's talk was based around his grass-root level experiences. It focused on why believing in, and especially investing in, young environmental entrepreneurs is an essential strategy to curb some of the biggest environmental policy issues faced globally.

Nayana Mawilmada followed through next with his talk on urbanisation. Nayana is a key advocate and spokesperson for comprehensive urban development policy and planning in Sri Lanka. He was the head of the Urban Development Authority and a thought leader behind some of the country's most ambitious public initiatives: laying out a roadmap for the sustainable urban transformation of Sri Lanka's capital, Colombo, as well as its second largest city, Kandy.

In Sri Lanka, people are used to living in big houses and driving even bigger cars. This creates a vicious cycle of an increased commute time to get to the centre of work and a pervasive system which promotes the usage of individual cars. People waste so many hours on the road each day which, accumulated over a working career, can amount to years of lost time. Nayana provided three simple principles to get a few hours of our lives back- "embracing density, living efficiently and letting go of cars". The message of Nayana's talk was simple – if most citizens were to follow these three principles, we all might have saved many years of lost time sitting in traffic!

The third speaker for the evening was Prof. Arjuna Parakrama. While being the former Dean, Faculty of Arts, of the University of Colombo and currently the Senior Professor of English and Cadre Chair, as well as Director, Centre for the Study of Human Rights, at the University of Peradeniya, Prof. Parakrama has had a distinguished academic career over the last thirty years. He has also held senior visiting fellowships at the University of Pittsburgh and the National University of Malaysia, as well as shorter teaching/research assignments in India and Nepal. Prof. Parakrama's talk questioned the premises of identity. Is identity something we are born into or something we become because of our actions? Accordingly, the talk highlighted the concept of identity as being fluid. Arjuna went on to convey that identity is a trait related to becoming and not just being.

The fourth talk was presented by Yasas Gunaratne. Being both a Chartered Marketer and a Magician Yasas advocated for the representation of magic as an entertainment art. Having practiced magic for 25 years Yasas conveyed the great pains that magicians go through in order to deliver a performance to an audience. His talk requested audiences not to pursue reveals of magical performances. According to Yasas the effects used by a magician are no different to a green screen or a computer-generated image in a film. Yasas urged people to live in the magical moment and be entertained; that, in turn, was the greatest joy for a magician, he stressed.

The final speaker for the night was Rajitha Dahanayake. Rajitha, a self-made entrepreneur, started his own digital marketing business 11 years ago. Since then he has grown the enterprise to include a workforce of over 120 professionals engaging over 1000 clients across the globe. Rajitha drew inspiration from his personal journey as an entrepreneur. Critical points of leadership which were emphasised included taking care of those under one's charge and the need to become an entrepreneur, not for the sake of making money but for the sake of making a difference in any given industry.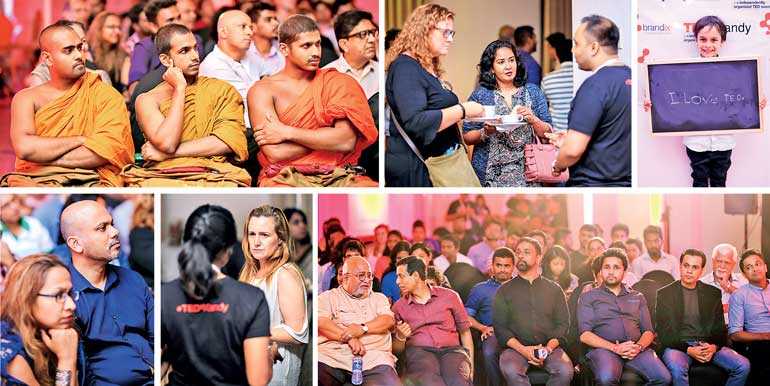 The event also included an interactive networking session. The objective was to create an environment where anyone with thoughts and ideas, no matter their seniority or social standing, would be able to get involved in the discussion. "We wanted to create an inclusive and interactive space devoid of hierarchy," added Chrishain Jayalath who led engagement initiatives for the event. The team believed that having a smaller intimate crowd made the discussions around the event more meaningful. The speakers themselves were quite open to discussing their ideas through open informal discussions.

The organising team underscored that the journey of bringing TEDx to Kandy hasn't been easy. For one, there hasn't been considerable interest in funding such initiatives outside of Colombo. "In that sense, we are extremely grateful to Brandix for recognising the impact a forum such as TEDx could have upon a community and for coming onboard as our Gold Partner; we really hope to sustain the partnership model," says Heshika.

Further, the TEDx Kandy team believes that there needs to be a more comprehensive outlook towards nurturing Sri Lanka's human capital. "There is a clear need to create eco-systems across Sri Lanka which promote new ideas and encourage exchange of dialogue. Not having such avenues results in misconceptions, false beliefs, the stubbing of people's intellectual scope, the lack of creative thought and eventually unrealised potential," stated Heshika. "It's easy for us to say that people have the wrong attitudes towards development and progress. However, what's hard to do is to lay the foundation to create a shift in the mindset of the people." Such an actuality cannot be achieved solely by a small event such as TEDx. Instead it would require wide-ranging governmental and private sector initiatives.

For now, the TEDx Kandy team says that they are pleased with both the positive and critical feedback they've gotten. "There are numerous improvements that need to be made and we are still learning as well. We definitely want to improve ourselves and correct any misgivings as we move forward," commented Supun Jayasinghe who's also involved in Community Engagement. The organisers are eager to keep contributing towards inclusive ideation and dialogue in Kandy while continuing the little impact they might be creating.

The main organising committee also comprised of Ashwin Jayalath, Imesha Athokorale, Praveeni Senanayake, Shamilka Karunanayake, Piyumani Ranasinghe, Choliya Bandara, Jithmi Athukorale, Dulmini Deegahawathura, Rajeev Karunanayake, Maneesha Wijesundara and Ruchini Abeykoon.

The TEDxKandy team welcomes suggestions and is open to collaborate. They can be contacted at tedxkandy@gmail.com. Do look forward to the talks from this year's event which would be available shortly on theTEDx Talks YouTube Channel!