IFS Managing Director Middle East, Africa and South Asia Luis Ortega says Sri Lanka as an innovation hub is fundamental for the success of the leading Sweden-based global enterprise applications company.
In an interview with the Daily FT on the sidelines of IFS 2018 World Conference in Atlanta, Luis said that the IFS R&D and IFS Labs in Sri Lanka continuously make a key contribution to new product development and innovation. The innovative IFS Applications 10 and the Field Service Management 6 solutions which were launched at the recently concluded 2018 World Conference in Atlanta had a host of inputs from the Sri Lankan team.

IFS in Sri Lanka employs over 1,000 at its Global Customer Support Centre, R&D Unit as well as Corporate IT office. The Lankan R&D unit is a test bed for most of IFS innovations and new products.

"IFS R&D team includes those in Sweden, Sri Lanka and Poland but Sri Lanka is by far the biggest with around 1,000 people. Within IFS R&D we have IFS Labs which is based in Colombo. We work very closely with Sri Lankan universities to nurture and enhance skills," he said adding that IFS R&D and Labs are used by final year students for their innovations.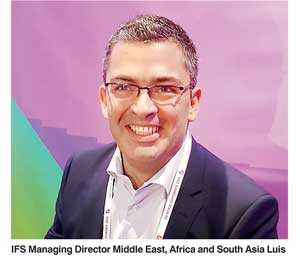 "Sri Lanka is the incubator of all new ideas and solutions emanating from IFS," Luis emphasised, hence our operations and investments in Sri Lanka is very important. I know Sri Lanka is proud of its talent pool. We at IFS are equally proud too about Sri Lanka and our team there."

He also said Sri Lanka is a key place for IFS Consultants who help global and regional clients with implementation of IFS solutions.

For example Lankan IFS consultants are helping clients in the Middle East such as Emirates and in Sun International and Sweden SaaB's operations in South Africa, revealed Luis who oversees the Middle East, South Asia Africa and South Asia.

"Sri Lanka is fundamental for IFS. It is not only because of the good talent but Sri Lanka is very close to R&D, is the home for our IFS Labs, both of which are our like our factory and there is the Support Centre," he added.

In terms of Sri Lanka being a market for IFS solutions for local companies, Luis said that sales have seen "very significant" growth in Sri Lanka. "In fact sales of IFS solutions in Sri Lanka have been above the global average. It has been double digit growth for number of years. Sri Lanka also serves two important regional markets – Bangladesh and Pakistan.

"Success in serving Sri Lankan corporates is also helping IFS to tap other markets on certain industry segments. Tea is a good example where having developed customised solutions to a Lankan tea firm, we are now exploring promoting similar solutions to companies in Western Africa. So in fact we are exporting our learnings and experience out of Sri Lanka to rest of the world. This has been possible as we have worked jointly with customers in Sri Lanka," Luis emphasised.

In Sri Lanka and elsewhere, a host of key utilities and infrastructure are dependent on IFS applications as well, he said adding there is growing interest in South Asia. IFS is the global leader in civil aviation's Maintenance, Repair and Overhaul (MRO) segment.

The MEASA and Asia Pacific together accounts for 10% of revenue and MESA in particular has been growing double digit for the past six years and high end of double digit in the past two years.

"We see huge potential in MESA region hence remain optimistic of future prospects despite challenges," Luis said.

He echoed CEO Darren Roos assertion that IFS will continue to focus on five core industries 1) aviation and defence, 2) services, 3) engineering, construction and infrastructure, 4) manufacturing and 5) energy resources and utilities and aim for number one spot in ERP business or sustain existing leadership status.

In response to a Daily FT question as to what can countries such as Sri Lanka and its companies do to become more tech savvy, Luis said like many other countries Sri Lanka has a skills-gap to address, hence further investment in skills development is important. "In doing so, greater emphasis must be given to adoption of new technology as the world is rapidly advancing on this aspect. This means future generation will be skilled with good knowledge on technology," he added.

Another suggestion is continuing to improve the environment to draw more investments from existing and long standing investors such as IFS which has been in Sri Lanka for over 20 years and has made a significant impact.