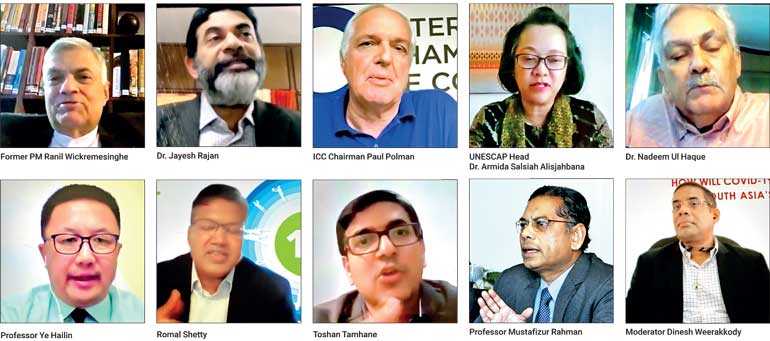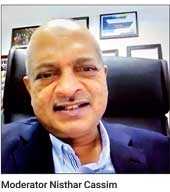 By Samantha Amarasinghe

The webinar hosted by the International Chamber of Commerce (ICC) Sri Lanka in association with the Daily FT, LNW and MTI Consulting explored how COVID-19 will reshape South Asia's future. The session was moderated by ICC Sri Lanka Chairman Dinesh Weerakkody and Daily FT Editor Nisthar Cassim.

A recent World Bank report 'South Asia Economic Focus – Spring 2020' anticipates a sharp economic slump in each of the region's eight countries, caused by halting economic activity, collapsing trade, and greater stress in the financial and banking sectors. The report also cites that the COVID-19 shock will likely reinforce inequality in South Asia.

Economic growth in South Asia is projected between 1.8% and 2.8% in 2020, potentially the worst in 40 years. Against the backdrop of this bleak economic outlook, an eminent panel of thought leaders from Asia shared their insights on the following questions which formed the basis of the discussion.

What should the government, private sector, multilateral agencies and NGOs do to support the most vulnerable in South Asia in this crisis?

What could the Covid-19-induced economic stress and challenges on South Asia mean for the global economy and for political stability in South Asia?

Did the developed world fail miserably in protecting the vulnerable countries in South Asia?


Paul Polman

International Chamber of Commerce Chairman Paul Polman began by outlining his take on what the private sector should do to support the most vulnerable in the region. He emphasised that it was necessary to actively work with the G7 and G20 countries and the World Trade Organisation (WTO) to ensure the right policies are in place to facilitate trade, debt relief, social protection and that funding is wisely spent. He shared the startling projection that 30-40% of SMEs might disappear so there is an urgent need for more support and stated that fiscal intervention will be required to help small companies.

By 2021, approximately $ 5 t will be needed to facilitate trade financing for SMEs. Polman commented that it is crucial to ensure developing economies have the fiscal space to implement the policies required to save lives and livelihoods. Forbearance of debt payments from sovereign and private creditors is important. However, there needs to be a new global roadmap for financing with systematic debt relief and in some countries perhaps even debt cancellation. "We need to take debt out of the equation."

Next Polman asserted that the WTO needs major reforms to reflect the realities of today's world. There is a need to eliminate trade barriers and ensure borders are open. It is imperative that there is global co-operation as the pandemic needs global solutions – there must be universal access to diagnostics, treatments and vaccines.

In response to whether the private sector is doing enough to protect jobs, Polman commented that broadly speaking many companies have factored in the 'S' of the Environmental, Social and Governance (ESG) triad by taking care of their employees, value chains and suppliers and encouraged companies to slash dividends to preserve long-term value and be socially responsible if they are in a position to do so to ensure that strong social cohesion is maintained. A key concern is youth unemployment and its potential to translate into political disunity and the rise of nationalism and populism due to rising inequality. Therefore, it is very important that social safety nets are in place. "We all live on planet earth as one human tribe and we do this in the spirit of co-operation, not isolation."


Ranil Wickremesinghe

Former Prime Minister Ranil Wickremesinghe expressed concern about the lack of global leadership unlike during the financial crisis of 2008-09 and urged South Asia to "look after itself".

Despite SAARC relations being strained between some countries he asserted there is a pressing need for regional collaboration to combat the COVID-19 economic fallout and to ensure growth in the South Asia region gets back on track. Radical economic restructuring is required with new ways to tackle import restrictions. Wickremesinghe also emphasised the need for sound monetary and fiscal policies to be in place so that countries will be in a position to repay their debt obligations.


Dr. Armida Salsiah Alisjahbana

UNESCAP Executive Secretary Dr. Armida Salsiah Alisjahbana underscored the importance of regional cooperation to build confidence to open borders to facilitate trade and to 'build back better,' while urging countries to use fiscal stimulus to assist companies with their digital transition and transformation.

Armida expressed optimism that South Asia will overcome the crisis: "With every crisis there is opportunity, a silver lining." With regard to the SDG challenges faced by the region, Armida believes South Asia can "catch-up" and stated that it is the responsibility of governments in South Asia to step up to safeguard the SDGs through fiscal stimulus, social protection measures and strengthening healthcare systems.

South Asia should leverage its strengths – large domestic market, young population and strong IT sector – but needs to focus on migrating SMEs to digital platforms and promoting investment opportunities in the digital space, particularly in the health and education sectors.


Dr. Nadeem Ul Haque

Pakistan Institute of Development Economics Vice Chancellor and a former top executive of the IMF Dr. Nadeem Ul Haque provided a less optimistic perspective on the region's prospects stating that the South Asia region should take responsibility for its own shortcomings and not turn to donors for funding.

In Ul Haque's view, South Asia needs to rethink its strategy which is too nationalistic, bureaucratic and heavily regulated. "We need to get over out 19th century nationalism. We are protecting obsolete industries and we need to re-imagine the international architecture."

MNCs and NGOs need to rethink their approach to tackle crisis situations. He alluded to the lack of global co-operation and emphasised that global 'imaginative' capacity is at a low point while asserting that the world also needs to be conscious and better prepared for imminent crises such as climate and technology risks.


Romal Shetty

Romal Shetty, President – Consulting, India and South Asia, Deloitte commented from a private sector perspective and highlighted that global cooperation between governments is crucial, however he expressed concern that "we have strong leaders – strong leaders are good but they can also promote isolationism".

Every crisis is an opportunity and he is hopeful that countries will work together to overcome this crisis. Shetty recommends implementing the 'Uber model,' which matches demand with supply and ensures that countries with excess capacity compensate for those with resource constraints whether it be lack of doctors, PPE, ventilators and so on.

Shetty is optimistic that South Asia has the potential to be the technology hub (AI, automation) of the world but there needs to be greater resources channelled towards upskilling the labour force. "We need to think about the future of work and the skills required and not live in the past." He also emphasised the need, in a post-pandemic world, to focus on industries where South Asia has core strengths such as food production.


Professor Ye Hailin

National Institute of International Strategy Vice Chairman Professor Ye Hailin, on the question of whether China, post-pandemic, would continue its aggressive position on the Belt and Road Initiative (BRI), stated that China would continue to support the BRI and play an active role in supporting regional cooperation, but in moving forward it has a new priority and agenda focused on providing public health support which includes projects such as building hospitals to support local communities.


Professor Mustafizur Rahman

Professor Mustafizur Rahman, Centre for Policy Dialogue, Bangladesh touched upon the challenges his country is grappling with in creating the necessary fiscal space and in implementing monetary policy. He is concerned that the lack of reforms and embedded weaknesses of the banking sector already burdened with high NPLs (above 10%) have exacerbated the crisis. As a result, the number of people living below the poverty has doubled and SMEs and the self-employed daily wage earners are among the marginalised vulnerable groups which Bangladesh is struggling to target through social safety net credit programs.

Rahman highlighted the dire situation faced by the garment sector which has been hit by demand and supply-side disruptions and commented that perhaps the ICC should intervene as apparel buyers are asking for discounts and deferred payments. Rahman also emphasised that pressure on the labour market has increased as migrant workers have returned from the Middle East. Labour absorption into the IT sector will be difficult as Bangladesh lacks the digital infrastructure, therefore highlighting the need to build capacity and provide access to digital education in order to reduce inequality and the digital divide.

Rahman emphasised that digitisation is important but "the risk of causing a digital divide is very strong so we should be cautious that it does not leave people behind". Rahman further commented on the need for the agriculture industry to be prioritised. He expressed confidence in South Asia's ability to overcome the crisis provided that the region uses this 'opportunity' to recalibrate its supply chains and encourages inter-regional FDI.


Toshan Tamhane

McKinsey India Senior Partner Toshan Tamhane emphasised the rapid pace of change brought about by the pandemic and commented from a private sector standpoint that "it is not an issue of capability right now but rather an issue of the ability to cope with the pace of change and uncertainty".

On a positive note, Tamhane is encouraged by the "tremendous innovation" and the fact that the COVID-19 pandemic has pushed many companies to accelerate the pace of digitisation, particularly evident in the finance, and education sectors.

On the question of whether supply chain challenges will ease and the challenges ahead for trade and growth in the South Asia region, Tamhane pointed out that pre-COVID-19, supply chains were all allocated towards Just-In-Time (JIT), but the crisis has proven that JIT is only one part of the solution; Just-In-Case should also be considered.

There is a pressing need to broaden supply chains by cultivating alternative sources to mitigate the risks of future supply chain disruptions. Striking a balance between outsourcing/offshoring and having a local supplier base is critical.


Dr. Jayesh Rajan

University of Technology Telangana VC Dr. Jayesh Rajan on behalf of Minister of IT of Telangana State of India K.T. Rama Rao broadly agreed with Professor Rahman's view that resolving the issues surrounding the digital divide need to be addressed before digitisation can progress and also emphasised the need for reforms to attract new companies and prevent others from moving out of the region.

On the question of the education sector and what kind of innovation one can expect to see in the next two to three years, Ranjan commented that education will move to a blended learning model, a mix of face-to-face teaching with online learning but stressed that it may not be more 'inclusive' unless the digital divide issues are resolved.

To wrap up the session, a final question was posed to all panellists: "What will South Asia look like in five years' time?" Interestingly, most panellists were optimistic and saw this crisis as an opportunity for greater collaboration within the region, but emphasised that change would take time. South Asia is at the crossroads; it should seize the moment.

"We can do it," asserted Wickremesinghe.


(The writer is a former Standard Chartered Bank Economist and lives in Canada.)