By Nisthar Cassim

IFS, a leading global enterprise applications company, is committed to further expand investments in Sri Lanka, which plays a critical role in its growing international success.

"Sri Lanka operations and the staff play an important role in IFS's global success. The Sri Lanka team is pretty good. For the past 20 years we have made significant investments and this will

continue," IFS CEO Darren Roos told the Daily FT.

IFS has its Customer Support Centre in Sri Lanka, an important Research and Development (R&D) Lab

as well as a Corporate IT office.

"We will definitely be expanding and the intention is for us to be growing the investments across all of those areas," said Roos in an interview on the sidelines of IFS 2018 World Conference

held recently in Atlanta, US. According to him, IFS also plans to step up the marketing of its suite of ERP and other solutions to Sri Lankan companies and those in South Asia region.

"We have an incredible team (see box story and pix) of over 1,000 employees. What is amazing about the team is the average age is around 30 years and 44% of them are women. This is an incredible, young, dynamic and diverse team, which is critical to the success of IFS business moving forward. I anticipate we will be doing a lot more in Sri Lanka in the years to come," emphasised Roos, who joined IFS in April and has over 20 years' experience in the global software business with stints in SAP and SoftwareAG.

Soon after his appointment Roos visited Sri Lanka and said highly-qualified and talented pool of human resources had helped IFS over the years, apart from improved macroeconomic fundamentals, infrastructure and socially and politically stable environment.

The IFS World Conference 2018 drew a large number of existing and prospective customers. Roos endeavoured to spend time with most of them to find out their progress and expectations of IFS. "I have told customers, when you're choosing a solution or a new technology for your business, you need to think of it as a long-term partnership because you're not in this technology for one year or two years or three years, you're going to have this for a generation," said Roos, who likened it to a good marriage and quipped IFS made a good life partner.

IFS applications or solutions are used by over 1 million people in over 3,000 customers.

"The reality is that in today's world there are a lot of software vendors who are selling globally because of globalisation, but are not financially sustainable. They are dependent on their next round of fundraising and if they don't get it they are gone. We don't have that concern. We believe we are robust in size but small enough to still provide that interpersonal connection to our customers," he added. Following are excerpts of the interview with Roos in Atlanta. IFS Director Sales and Marketing South Asia Shiraz Lye of Sri Lanka was associated with the interview.
Q: You are just over a month at IFS. What made you to shift from a fairly dominant company (SAP) to IFS?

A: I would call it from 'a leader versus a contender' in the market. When you're in a large company as I was, even though I had a big job, what happens is that you are executing on somebody else's strategy. That's the reality. Here at IFS I get to define the strategy and that's a great opportunity for me for somebody who's had been doing this for 20 years. It's a great opportunity for me to be able to exercise my skill set.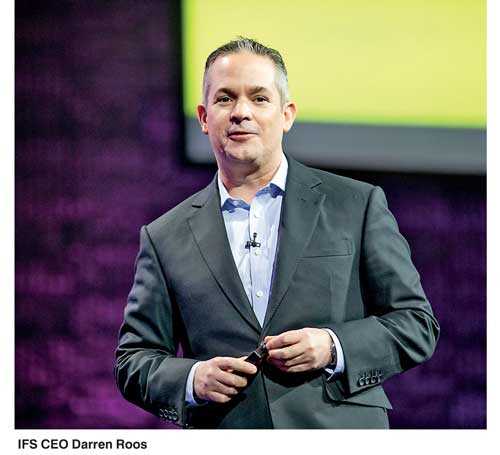 So there are a couple of ways of answering that question. One is, why would you leave (SAP) and be CEO and then why would you choose IFS? Why I felt IFS was the right choice for me because when you go somewhere you want a good foundation, good tools, etc. At IFS we have great technology, super engaged and happy customers. We are in a market of what I would call "operational IoT" where we're moving from ERP and field service management and devices and enterprise asset management into a world where they're all super connected.

IFS has a unique ability to link these things together in order to give visibility into what I would call "operational IoT" where we ensure there is awareness of the assets, they are all connected and how we draw insights and can take action, all in our own technology. That capability is really unique. So it's the combination of a super-cool company, great technology, super-engaged customers and this emerging trend of operational IoT that makes IFS really a great choice for me.


Q:Were you looking at leaving SAP, did IFS approach you, or was it a case of meeting halfway?

A:That's the million dollar question. Well I would say we met halfway. I was at SAP for four years and I like to think I made a positive impact there. I was close to the leadership team at SAP and we parted as friends.


Q: What are you bringing to IFS or what do you plan to bring?

A: There are two aspects of my career that I think are really relevant. One is that I spent nine years at SoftwareAG, which had a very similar position in the middleware markets to what IFS has in the ERP and FSM markets. SoftwareAG was not the market leader in the time that I was there. You had Oracle and IBM which were really the integration market leaders because Oracle bought BEA and IBM had Websphere and we (SoftwareAG) were like the underdog, the competitor.

In the nine years I was there the business went from being $ 380 million to over a billion dollars in revenue. So I really learnt a lot about what it takes to be a contender in that market. That experience is very important because if you've only ever been at SAP or Oracle or IBM you don't know how to compete. They don't compete in the same way because as one of the Big 4 you get access in a way that lots of contenders don't. So I learnt to be a contender and that was nine years of my career and a fantastic learning experience.

Thereafter, having had the opportunity to spend four years at SAP, you get great insights into how to operate at scale, what a large, robust, well-oiled machine looked like. My experience of seeing both sides of it and being able to come to IFS and be able to plot journey from being a contender to being a well-oiled machine is, I think, very relevant.


Q:What kind of plans do you have to scale up? Because some of the key acquisitions by IFS were done prior to your arrival. Will the acquisition route continue to be explored?

A: In today's IT market there is a lot of consolidation happening and it is very simple – you are either a consolidator or you are being consolidated. There's no middle ground. We are in a position where because of our parent company – EQT – we are a consolidator and I see us playing a very strong role in being able to do that in this operational IoT space.

So in terms of the plans? Focus is on operational IoT and making sure that we're focused on the industries that we will execute in. We're not going to be everything to everybody. It's going to be very much ERP operational IoT in our core industries. We're focused on a specific segment of customers which is going to be upper mid-market into large enterprise. Bigger customers than what we've historically targeted. We're going to do it in the geographies where we have critical mass, where we have scale. And certainly Sri Lanka is one of those markets where we have scale.

The fourth piece to that is that where we don't have scale we're going to embrace a distributed model with partners to then drive the business in those markets. I think those four pieces are really the cornerstones of the plan for the next six months.
Q: Is the distributor model new to IFS?

A: We've done it in some places like Brazil. We have a very strong partnership or are on the brink of a distributor model in Japan. I think that this is something that we will pursue and industrialise it. The way it works at the moment is that it's quite fragmented – a region at the moment looks at a distributor in a specific market and they kind of manage it, we'll be globalising it and formalising it so that we have a robust program to drive the distributors. There are lots of countries where we don't actively sell IFS at the moment but where we really should be in. South Korea would be an example of a market which is very exciting but we are not there. And then there are lots of businesses where we are very small and it makes more sense for us to be leveraging partners or a distributor to grow the business there and perhaps India is an example of that where we are very small but there is a significant opportunity. China will be another example of that.


Q: Would this mean that you would re-engineer some of the segments of the IFS business?

A: My buzz word is focus. It's focus through everything that we do, focus from the industry perspective, focus on the market segments and the size of customer, and focus on the geographies that it makes sense for us to be in.


Q: At present Asia Pacific accounts for just 10% of IFS business. Any plans to expand? Are you happy with the geographical mix of IFS business or there's more business to be gained in certain geographies?

A:Yes, I think there is more business to be gained. Being one month into the job I'm not sure I have a specific target percentage in mind because the reality is that we're very undersized in North America also. So I see us having significant room for growth in North America but I also see opportunity for us to grow in Asia too. Realistically given the size of the geography I think it's a great opportunity for us to embrace partners and leverage partners to grow in Asia. Australia and Sri Lanka are probably two examples of where because we have such a significant investment in Sri Lanka and because we have critical mass in Australia – two markets where we are likely to drive it ourselves. When we look around the rest of the region I think we need to think a bit more about how we leverage partners like we do with NEC in Japan.


Q: IFS revenues is around Euro 500 million. Do you think IFS has performed to its full potential?

A: I think that half a billion euros is a very credible company. The business has grown steadily. We've shown solid double-digit growth through the last few years. The IFS team should be incredibly proud of what we've done. What I'm looking for is how we really make a 'step change' and take the business to the next level. Mergers and acquisitions play such a big role in this so it's difficult to say I want to get to a billion in three years. The reality is we should be able to get to a billion in three years without any M&A. The question is, what can we do beyond that? If we get to a billion in three years organically, then potentially with some M&As we have a good uptake on that.


Q: As a person are you hungry for growth?

A: Yes, you can't tell? Perhaps I need to up the ante if you think you can't tell.


Q: Is the IFS staff and the culture aligned to your appetite, goals set and the new focus?

A:In any business you get different types of people. For example, IFS Director Sales and Marketing South Asia Shiraz Lye of Sri Lanka is a great example of somebody who in my experiences is hungry for the opportunity the way I am, and there are a lot of women and men in IFS who share that vision who are hungry for the growth, who want it to grow. As an organisation, is it ready for change? I think it's ready. The responsibility is on me to lead the business in the direction that I want it to go. I don't underestimate that effort. It will require effort but I need to rely on people like Shiraz and the rest of the IFS team, the leaders in this business, to help me get it there. I can't do it on my own.


Q:The senior management at IFS has been longstanding. Is that an advantage whereas technology keeps changing very fast?

A:Yes it's a huge advantage. I always chuckle when people say technology keeps changing. The reality is that if I hired other people into IFS, they would come from somewhere else. A change of company doesn't miraculously change you or your education level. You either have people who are hungry and want to learn and are inquiring or you don't. A lot of that is about personal development. A responsibility that we have as a company is to make sure that our leaders remain current on what's happening and they have the opportunities to develop themselves. I think there's some opportunity for us to do more in our personal development. But there is a huge advantage in that tenure of staff. So our average IFS employee has been with us for nine years. When you have an average employee tenure of nine years in the ERP space, it's a massive advantage.

The reason is that to be successful in this business, to make our customers happy, for us to be able to sell to new customers, you have to understand the industry, you have to understand the technology. You can't get deep understanding in an industry or in technology if you've been doing it for two years. It just does not work that way. What we need to do is we have to balance that experience with young people who have loads of energy and passion. If you look at Sri Lanka as an example, we have a thousand people in Sri Lanka, 46% are women and the average age is I think 30. So it's a fantastic example of how we can supplement age and experience with youth and energy.


Q: IFS appears to have given greater emphasis on the services sector. Given your aggressive strategy, will we see more innovation on that space?

A: What we found is that as field service management becomes a stronger play in our business, we're finding a natural home in the services industry. That's something certainly we will continue to focus on. So our core focus industries are 1) aviation and defence, 2) services, 3) engineering, construction and infrastructure, 4) manufacturing and 5) energy resources and utilities. In the Nordics we have a great market penetration and our biggest market share and as a result we have retail customers, professional services customers and financial services. I am fine with us selling our horizontal solutions to those industries but where we focus, where we go deep, where we're world class, is in those five industries mentioned earlier.


Q: You feel that some of the other recent acquisitions are in line with this focus?

A: Mostly I think. There wasn't a very clear understanding as a group of exactly what we were targeted at. I mentioned earlier that I think about this from a geographic, industry, market and from a technology perspective. If you plotted it on a Venn diagram, if we make acquisitions, they have to be in that overlap. I think that some of our acquisitions have not been in that overlap. And they also have not necessarily been where we want to take the business because they might not be an overlap but you might see that that's the direction you want to move in. But that's okay. We just need to make sure that as we make acquisitions in the future, they are firmly in that target area.


Q: Of the five sectors that you mentioned, which are the high growth ones?

A: All those five are and will be equally focused but aviation and defence is one that we've spent a tremendous amount of money on and it is one that will remain a big focus for us. My intention is for us to assert ourselves as the dominant ERP operational IoT player in these five industries. There's no number two or three but we're going to be number one in those industries.


Q:Does this mean that you have plans to grab a bit of share from some of the dominant players?

A: Sure, absolutely. What we see in the market today is that customers are moving very aggressively to the cloud and the cloud ERP lends itself much better as opposed to administrative ERP – just financial services, professional services or HR or procurement. That's not the space in which we play. We do the difficult stuff for customers. As they move to the cloud and they move closer to administrative ERP, it leaves a vacuum for us to move in and pick up where they've left off.


Q: At the 2018 World Conference opening you said IFS would not go for its own brand of cloud. Can

you explain?

A: Let's be clear. When I think of cloud, there are three things to remember – the data centres, the management layer, and the applications. We will not build our own data centres. I have yet to decide what we're going to do from a management layer perspective. At the moment we outsource it. And from an application perspective we will support the cloud. So we will build cloud applications and our customers will be able to deploy everything that we do 'on-premise' or in the cloud. For now we are leveraging the Microsoft infrastructure layer. The partnership with Microsoft is one that we're very positive and excited about. We certainly intend to continue to build on that. The big thing for me is, how do we evolve around the management layer which we currently outsource?


Q: As a mid-market player do you think that's an unnecessary investment?

A:If you look at it, today Microsoft, Google and Amazon are spending billions literally billions on data centre infrastructure. I can't possibly spend enough to get the economies of scale that they have or the experience and knowledge. Anybody that is building their own cloud, when they have those options, is out of their minds. It makes no sense at all.


Q: What plans for Sri Lanka where you have significant operations with a Support Centre, R&D, etc.?

A:We will definitely be expanding it. We know we have corporate IT, we have R&D, and we have the Support Centre. The intention certainly is for us to be growing the investments in Sri Lanka across all of those areas as well as making sure that we play a dominant role from an ERP sales perspective in that region.


Q: Given your experience and knowledge, what is your checklist for countries which want to develop the IT sector?

A: We have to build a second support centre. At the moment we are very exposed in Sri Lanka and there is a risk element which is a consideration for us but also because of the time zone issue it is difficult for us to support all our global clients from Sri Lanka. So the primary reason for building a second support centre will be the time zone of being able to offer 24x7 support. In considering where we want to go, what we're looking for is the characteristics that Sri Lanka has which include a good labour environment where you produce highly-qualified resources and there is a good supply of highly-qualified resources, a good education system. We're looking for a politically and socially stable environment and we're looking for an environment which has manageable inflation and good infrastructure. So if you could tick off those things, all of which we have in Sri Lanka, then that provides a good foundation for us in our second centre.