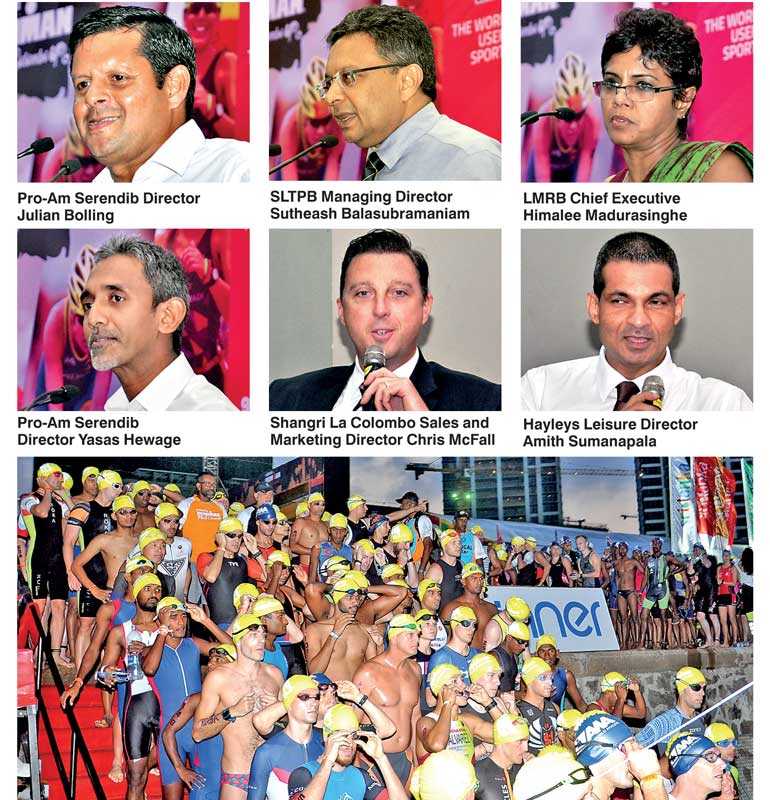 By Charumini de Silva

Following the success of hosing the first-ever Ironman 70.3 in Colombo, the event organisers recently announced the second edition of the triathlon, which will be held on 24 February 2019, while highlighting that this world-class race has paved the way for Sri Lanka to become an attractive destination for sports tourism.

The organisers of Ironman 70.3 Colombo, Pro-Am Serendib Ltd. recently held a media briefing on 'The Sports Tourism Opportunity' to share insights from the first-ever research conducted by Kantar LMRB and Ironman Global to make the most out of an emerging business opportunity.

Providing an outlook of the first-ever triathlon conducted in Sri Lanka, Pro-Am Serendib Director Julian Bolling said that sports tourism is going to stay in the country and the Ironman 70.3 Colombo was just the beginning of that journey.

"Ironman 70.3 was just the beginning, and there is immense potential for everybody who gets involved in bringing in tourists to the country to make Sri Lanka a sports destination. Sports tourism is here to stay," he added.

Bolling, who is an Olympian swimmer, also stressed that the success story of Ironman 70.3 Colombo was not just about the foreign athletes and visitors who came to Sri Lanka to participate and witness the triathlon, but partaking of the grass-root level local athletes as well.

"We had around 200 home-grown athletes. We went to the extent by getting down Punchi Banda, who belongs to the indigenous Vedda group, who successfully completed the triathlon. We also had two visually impaired athletes who took part among the total 880 participants. This was a great opening and a tremendous success," he pointed out.

He also said that the firm has already opened up entries for the 2019 edition of the Ironman 70.3 Colombo and the numbers were coming in at a healthy rate.

"While 2018 Ironman 70.3 was the first-ever South Asian Ironman 70.3 triathlon to take place, we have a competition in the region with India also opening it up next year. In addition, Thailand is also having their triathlon on the same day as we are, so the competition is getting fierce. Over 200 races are held within a year, so it is a lot of hard work to attract the most number of international athletes to Colombo. However, I think that if we work together like last time, this will be a great opening for sports tourism in Sri Lanka," Bolling expressed his confidence.


Ironman 70.3 Colombo:

A case study for PPPs

Describing the Ironman 70.3 Colombo as a huge success which paved the way to attracting world-class sports tourism events, the Sri Lanka Tourism Promotion Bureau (SLTPB) Managing Director Sutheash Balasubramaniam also said that it was a great case study on how a private-public partnership (PPP) could pull off a massive international event on a high note.

He said the effort that went into organising this locally obscure sport in Sri Lanka worked out brilliantly and that Sri Lanka Tourism was overwhelmed by the outcome of the event, the reputation it gained and by the economic benefits it generated.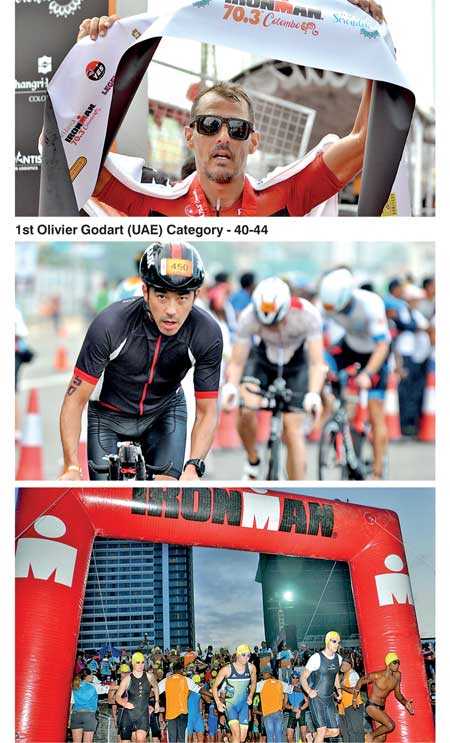 "I think events of this magnitude cannot take place if the public sector doesn't give enough support. It's not just about funds. I thank the Sri Lanka Navy, Colombo Municipal Council (CMC), Road Development Authority (RDA), Sri Lanka Ports Authority (SLPA), Sports Ministry, and all other stakeholders that came together to organise this race," he added.

Noting that Sri Lanka Tourism took the initial risk with a substantial contribution as many of the industry players were not willing to take the risk in sponsoring the event, he called on the private sector to come forward to organise more events of this nature. "We believed Ironman can be an opportunity that can be worked out and be useful for the tourism industry. Having these types of events not only put Sri Lanka on the world tourism map, but also opens up and inspires local entrepreneurs to take risks to hold events of this magnitude. World-class events such as this are setting standards, quality and professionalism. Our industry people don't feel the risk in putting up rooms, but they feel the risk in organising activities like this. We want to encourage more people to organise such events, not only to bring tourists," Balasubramaniam said.

Highlighting that having events throughout the year is important to bolster tourism in Sri Lanka, he noted that destination promotion alone will not attract travellers. "We want to fill up the calendar with world-class events, not just promotions," he added.

He said sports tourism is taking off much faster than other areas because of Sri Lanka's wonderful climate conditions and geography ideal for such sports events. "There are couple of other sports events that have piqued interest, and one of them is Raid Amazones, which is scheduled to be held in October in Pasikudah. We are also having the kite surfing event. These are the kind of world-class sports that the country needs. It's really opening up for sports tourism," he stated.

Emphasising on what the SLTPB is looking for at the next edition of Ironman 70.3, Balasubramaniam asserted that, while the main event is happening in Colombo, there should be a lot of other entertainment activities and events for family and friends who are participating along with the athletes.


Healthy economic gains

Kantar LMRB Chief Executive Officer Himalee Madurasinghe, sharing insights from a survey conducted among athletes who participated in Ironman 70.3 Colombo via 63 computer-aided web interviews, pointed out that the inaugural triathlon attracted over 70% new foreign visitors, and around $ 3 million in foreign exchange, and 92% of visitors stayed over for at least three days, while 40% of the athletes decided to extend their visit to Sri Lanka to explore the island more.

"A majority of the athletes are between the ages 31 to 50 years, while the majority of them were males.

Most of the athletes were in Sri Lanka for a maximum of seven days and 73% of them stayed back for a few days after the race. Around 60% of the athletes have stayed at five-star and four-star hotels, while spending an average amount of $ 400 per day, thus bringing in foreign exchange as well," she said.

She also said that, among the total participants, 78% were male and 22% were female athletes. Nevertheless, the triathlon also garnered immense interest from 68% of female supporters who turned up to witness the event unfold. A majority of the athletes were between the ages of 25 and 50, though there were some participants who also covered the age groups of below 25 and over 50.

"The majority of the participants were from Europe with 40%, while others hailed from countries such as the US, Canada, Australia, and the Middle East and from Asia and the Pacific," Madurasinghe pointed out.

Referring to the Ironman participants' spending patterns, over Rs. 100,000 has been spent on accommodation compared to other expenses such as travel, food and leisure activities. However, some participants have spent over Rs. 1 million for their stay in Sri Lanka.

"The first time travellers like to explore the country more and their main attraction in Sri Lanka was the people and the culture, while noting that hospitality was beyond expectations. Other attractions include food, tuk tuk rides, train rides, wildlife, tea plantations, beaches, hikes, historical attractions and adventure activities like water rafting as well," she said.

She noted that the most influential touch point for source of information was Facebook, while the other platforms, like Instagram and YouTube, also played a role to some extent. In addition, word of mouth has also been a source of information.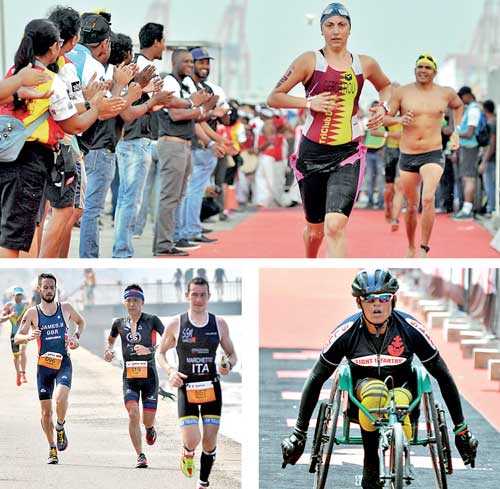 Outlining the implications, Madurasinghe said communications for Ironman 2019 need to be able to retain the male athletes, while encouraging more female athletes to participate. With athletes staying for a maximum of seven days, she pointed out that these opportunities should be used to cross-sell as well.

"More than 50% of the athletes have stayed at either four or five-star hotels. Therefore, partner up with hotels to offer attractive packages to Ironman participants. Data also shows that they are most likely to travel with one other person, so encourage couple or duo packages. In addition, for the 73% who stayed back after the race, tour operators can use this as an opportunity to encourage round tours with package deals," she added.

She also said, as a majority of athletes travel with family and friends, it would be ideal to drive more family-oriented promotional packages for Ironman 70.3 Colombo 2019.

In terms of communication for Ironman 70.3 Colombo 2019, Madurasinghe said it can be centred on self-motivation, challenging one's self, and self-achievement to strike an emotional connection with participants, while incorporating Sri Lanka's culture and hospitality to build a sense of belonging.

With identifying the top 10 brands used among cyclists, runners and swimmers, she suggested that it would be attractive if all these brands were available for purchase at the pre-registration venue.

Sports tourism and emerging business opportunity for SL

Elaborating on the sports tourism and marketing opportunity, Pro-Am Serendib Director Yasas Hewage said Sri Lanka should capitalise on active sports tourism, which has a global market worth of $ 91 billion.

Calling Ironman as a way of life, a challenge to stay fit and healthy, he asserted that a triathlon participant's average household income is $ 175,000 per annum, where 92% of them are corporate decision-makers and influencers, while 77% travel internationally with family and friends to do Ironman races.

"The sports tourism tsunami in Sri Lanka just took off and it is going to be unstoppable. The Ironman 70.3 Colombo event was sold out two months before the race day on 25 February, where 886 registered, out of which 219 were Sri Lankan participants in the first-ever triathlon. It also achieved 91.5% overall athlete satisfaction in the 2018 post-event survey and was four points above the global average," he added.

Excluding Sri Lankan participants, he said 1,482 friends and family travelled with athletes for the event, totalling to 2,368 who attended the race from 63 countries. Accordingly, the over 2,300 visitors were from Europe (742), US (146), Middle East (168), Africa (151), and Asia and the Pacific (161). The highest number of participants came from India, totalling to 133 followed by the UK (76), France (47), Australia (34) and the US (30).

Insisting that a nation branding is built on six key dimensions, including exports, governance, investment and immigration, culture and heritage, people and tourism, Hewage said Sri Lanka needs to capitalise on active sports tourism.

He said the "feel good" factors drove Sri Lanka's reputation significantly during the Ironman 70.3 Colombo race, where many of the athletes also praised the world-class volunteer service.

"Being welcoming, safe, beautiful and highly principled drives a country's reputation. The size of the country doesn't guarantee reputation," he added.

He also pointed out that the event helped corporate reputation, branding and sales.

"If you are a sports brand, this is serious money. When I opened up a cycle workshop, people laughed at me, but it became the official cycle workshop for Ironman Colombo. In the next edition of Ironman Colombo in 2019, we want more lifestyle events and activities for the participants and we are ready to partner with great ideas, products and even holiday packages," Hewage pointed out.

In addition, he said that Ironman 70.3 Colombo garnered significant media and social media coverage over the span of six months prior to the initial triathlon date, which helped many brands and companies in their sales.

The press conference was followed by a panel discussion, including Hayleys Leisure Director and General Manager Amit Sumanapala, Shangri-La Colombo Director Sales and Marketing Chris McFall, Pro-Am Serendib Director Yasas Hewage, Kantar LMRB Chief Executive Officer Himalee Madurasinghe, SLTPB Managing Director Sutheash Balasubramaniam, and Pro-Am Serendib Director Julian Bolling. The Panel discussion was moderated by Sharon Mascarenhas.


Q: It was the first-ever Ironman event in Sri Lanka. How did you all ensure the safety aspect of the participants?

Bolling: It was indeed an immense challenge to us to ensure safety in water and on land to all athletes that took part in the race, especially with a majority of them being first time travellers to Sri Lanka. We got great support from the Sri Lanka Navy in terms of the swimming event and also from our hospital partner Asiri in providing necessary assistance to injured athletes. With great private and public partnerships (PPPs) like this, I think it was not all that difficult to ensure safety and I am sure next year, we will do better with the experience we gained from the first one.


Q: Considering the survey findings, what are the key impacts you see for the tourism industry?

Madurasinghe: I think it is very encouraging for the industry. As 70% of them were first time travellers and high spenders, the fact that they stayed in star-class hotels for nearly a week is very promising in economic terms. These kinds of events are great opportunities for the tourism industry and they should capitalise on it.


Q: How was it for Shangri-La Colombo to be the host hotel for this international event? And in what manner did you all manage to make a lasting impression with Sri Lankan hospitality?

McFall: Supervision of such a great crowd was challenging, but I think that is also our forte, being a top hospitality brand in the trade. It was very much how we deliver the best service to our guests and in this case, to different Ironman athletes from various parts of the world. Being the host hotel for the event was an enormous responsibility, but we were lucky to host full registration. We went to the extent of allowing the bikes inside their rooms and our staff had been very helpful, assisting them. I think the location of the hotel also augured well for the event. Reflecting on the feedback of these participants, it was just overwhelming and we are very excited for the second edition.


Q: Arranging logistics for an international event with over 2,300 people is not an easy task. What were the secrets behind pulling off such a massive event successfully?

Sumanapala: We interacted with all parties involved in the implementation of this complex operation. Hence, it helped us to successfully execute the procedure. We also managed all the inquiries from the inception, which helped us a lot for smooth operation. In addition to the logistics, I think Ironman was a great stepping stone to promote Colombo for more international events.


Q: We see that the tourist arrival numbers are growing every month, but what sort of tourists are we really looking at?

Balasubramaniam: Continuous, long stay, high-spending travellers are who we wish to attract and need to create market for. However, we need more events and entertainment to spread the message about Sri Lanka as a 365-day destination, and leverage on existing tractions and build new networks.


Q: What are the sports tourism and marketing opportunities we have and how do you see the local trend?

Hewage: Health and wellness has become a standard of living, and it is also an indication of growth in the gross domestic product (GDP). Sponsors and partners benefitted from associating with the inaugural Ironman event. The event is now at the heart of creating an active and sporty lifestyle in Colombo, leading towards a growing trend in health and wellness. The market is very vibrant. The trend is on and there are ample opportunities to capitalise on. When we announced the Ironman 70.3 Colombo, a significant number of the tickets were bought by Sri Lankans. Therefore, Colombo might even consume all of it, going forward.


Q: What can we expect in the second edition of Ironman 70.3 Colombo?

Hewage: We want to have more events in the next year's edition as there are two races happening in this region in India and Thailand. The competition is getting fierce and therefore, it is important we have the best events and activities to attract international athletes to Colombo. The inaugural event paved the way for a four-day international expo and the Iron Kids event, coupled with Ironman 70.3 for the family and friends of participants, as well as for spectators, in hope of creating the perfect branding opportunity along with authentic engagements of this kind to keep everyone engrossed.


Q: It's a known fact that getting approval from public institutions is not easy. How challenging was that?

Balasubramaniam: It would have been a horrendous task if it was left out to the private sector to get it done alone. Then it might have been the first and the last Ironman in Colombo. But, because we worked in partnership with the private and public sector, it blended out so well and the outcome of it brought in a lot of confidence for more PPPs. In the future, we think this is the best way to carry out massive events of this nature.