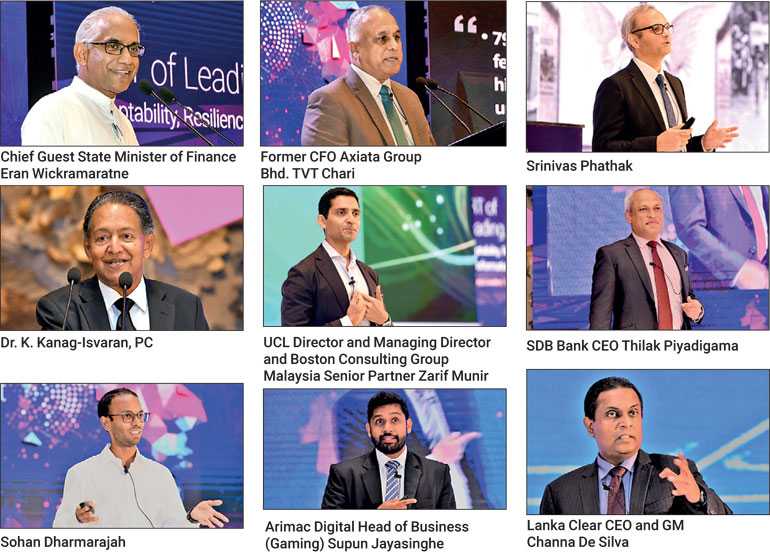 ---
The CIMA Business Leaders' Summit 2019 got underway at the Shangri-La Hotel in Colombo on 4 and 5 September before an unprecedented number of top ranking professionals from a multitude of industries in the country.

Chief Guest State Minister of Finance Eran Wickramaratne delivering his address at the inauguration on 4 September mentioned that public sector employees must be rewarded and punished based on KPIs, similar to the private sector in order for the public sector to make a change. He further added that there was a need for serious reforms and also emphasised there were many road blocks as well. He asserted that society needs to demand these fundamental changes.



The Guest of Honour was British High Commissioner to Sri Lanka Sarah Hulton OBE.

The welcome speech was delivered by Business Leaders' Summit 2019 Chairperson Rifka Ziyard FCMA CGMA, who in her speech revealed why she choose the theme 'Art of Leading the Shift – Adaptability, Resilience and Transformation' for the event.

Country Network Panel Chairperson Manohari Abeysekara, FCMA CGMA, spoke of her aspirations for CIMA in this centenary year. Ui Path, India and SAARC Managing Director Rajiv Mittal also addressed the gathering.

The keynote for the event was delivered by Chari TVT, a Board Member, Consultant, and retired Group CFO of Axiata. He focused on the importance of technology transformation and how businesses need to initiate such change. Chari in his speech revealed that the transformation journey requires focus on key areas such as business model, profit pools and pricing innovation, radical simplification and digitalisation. He emphasised that unless one has an understanding of the eco system, no business can lead a digital transformation in their respective organisation.

The year 2019 also marks the 100th year anniversary for CIMA globally and the organisers had blended in the centennial milestone appropriately in to the program, with the opening session on 5 September focusing on companies that have been in existence for over 100 years.

The thought leadership sessions commenced with the Welcome note by the CIMA Country Head Zahara Ansary, ACMA, CGMA, who spoke of the changes taking place at CIMA in moving the profession forward such as the new syllabus launch as well as how CIMA in an industry first move, removed exemptions for undergraduate students.

Hindustan Unilever CFO and Executive Director Finance and IT Srinivas Phatak got the technical sessions underway and spoke of how his company had adapted over the years to remain resilient for more than 100 years. The 4G growth model of Unilever; competitive, consistent, profitable and responsible business practices processes have been the principal reasons for success.

He spoke of the importance of being futuristic and stated how Unilever has a segment known as 'Categories of the Future', where they foresee a product that will have a huge demand in the future, start kindling it at an early stage and nurture it for a period until it becomes very popular.

His speech was followed by a panel discussion under the moderation of KPMG Managing Partner Reyaz Mihular. The panel comprised John Keells Holdings PLC Deputy Chairman/Group Finance Director Gihan Cooray, HNB and International Chamber of Commerce Chairman Dinesh Weerakkody, AIA Insurance Lanka PLC CEO Nikhil Advani, Haycarb PLC Managing Director Rajitha Kariyawasam and Srinivas Phatak himself.

The entire panel represented organisations that have not merely existed but thrived for a century. Reyaz Mihular opened discussions with the panel on the mantra for success and each learnedly spoke of their experiences, with Gihan Cooray opening the floor by discussing how people empowerment and reinventing or realigning portfolios to suit needs have worked well for them.

Dinesh Weerakkody drew from his experiences at GlaxoSmithKline, which he feels has been the most emphatic mantra in his years where grooming leaders, good governance, a sound culture and a long term view on ROI have played a key role. Rajitha Kariyawasam emphasised on the development of an entrepreneurial spirit and Nikhil Advani drawing examples from his local and regional experience supported the view of people centricity.

The key presentation on 'Modern Era of Leadership' was delivered by UCL Director and Managing Director and Boston Consulting Group Malaysia Senior Partner Zarif Munir. In delivering his speech Munir emphasised that leadership challenges had changed. While traditional companies are built to withstand disruptions, in the new era companies need to ride disruption waves.

J Walter Thompson CEO Alyna Haji Omar in her speech spoke of women leaders in male dominated industries. Being a successful CEO, a wife and a mother she drew from her experience on how to handle matters that give basic concerns to many women in today's competitive world. She emphasised on the importance of change in thinking and that many areas that are traditionally barriers to women are being removed due to shift in thinking.

"Inclusive leadership is focused on the team and the inherent value of each member," stated iProbono Director – Equality Law, Finance Ministry's National Agency for Public Private Partnerships Head of Legal Aritha Wickramasinghe in delivering his speech on Inclusive Leadership for the 21st Century. He described in practice the discriminations that happen in work places and highlighted focus areas that corporate leaders should take cognisance of to avoid workplace discrimination.

The panel discussion on the 'Era of Modern Leadership' was moderated by The Capital Maharaja Organization Executive Group Director Chevaan Daniel, who mentioned that a shift was required in leadership styles since the environment was changing rapidly.

South Asia Gateway Terminals (SAGT) Commercial and Marketing Manager Dashma Karunaratne and Creative Loops Integrated General Manager Shanuki De Alwis joined the panel along with the speakers. Dashma Karunaratne spoke of her experience in SAGT and the features one needs to embrace in working in tough industries. Shanuki De Alwis referred to the fact that there should be equality in practicing inclusive leadership and there has to be a shift in attitude to ensure all people working in an organisation are treated the same.

The power session presentations on 'Transformation of the Economic, Finance and Business Landscape of Sri Lanka' was delivered by

SDB Bank PLC Chief Executive Officer Thilak Piyadigama and Lanka Clear Ltd. CEO/General Manager Channa De Silva. Piyadigama drew statistics to prove how the finance sector has transformed in recent years. He referred to the fact that mobile phone banking volume wise had increased by 145% when comparing Q1 in 2018 vs. 2019. Internet users in Sri Lanka are 7.13 million while active social media users are 6.2 million. Channa De Silva pointed out the changes in the payment landscape in Sri Lanka.

Dr. K. Kanag Isvaran, President's Counsel delivering his speech on 'Professional Negligence and the Accountancy Profession,' stated: "A negligent misstatement of a professional is unlawful only if occurs in circumstances that the laws regard as sufficient to give use of a legal duty to avoid negligently causing harm."

He added: "Where a legal duty is recognised by the law, a misstatement will attract liability only if the misstatement was also culpable accordingly to the separate level of whether a reasonable person in the position of the defendant would not only have foreseen the harm but would also have acted to avail it."

The session on 'Transformation – the path to achieving extraordinary' saw five distinct presentations.

UiPath India and SAARC Managing Director Rajeev Mittal delivered his presentation on 'The Automation First Era'. UI Path was the Platinum Sponsor for the event. Mittal referred to how advancement of innovative business has relied upon previous eras of technological disruption.

Under the title 'Accessing Frontier Technologies for Business Transformation,' JRC Corporate Consulting Managing Partner and Chief Restructuring Officer Jaufre Rouanet delivered his speech on how Artificial Intelligence, crypto currencies, blockchain and data management were transforming business at a rapid speed. Rouanet also made reference to the 4th Industrial Revolution and the importance of the six D's – Digitised, Deceptive, Disruptive, Demonetised, Dematerialised and Democratised.

The presentation on 'Enchantment of Customer Ergonomics through Trending Digital Technology' was delivered by Arimac Digital Head of Business – Gaming Supun Jayasinghe. He referred to statistics to prove that transformation was a must since many spend time on social network sites and messaging. He showcased how gaming has been and can be used to transform user experiencing thus monetizing business opportunities.

Summing up the session on 'Technology Transformation – the path to achieving extraordinary' was John Keells IT Chief Technology Officer Sohan Dharmarajah. He referred to transformations that were visible such as car sales slumping but ride sharing peaking, shops being empty but e commerce sites were breaking records, stable jobs were declining and start up jobs were expanding, etc.

The event also featured an interview with Chief Executive Andrew Harding conducted by CIMA Regional Vice President Venkkat Ramanan on 'Go Beyond with CIMA: Future of Finance/Digital Skills'.

The closing session was 'Art of Leading the Shift – A panorama view' moderated by Hemas Pharmaceuticals Ltd. Managing Director Kasturi Wilson. The panellists who provided the success formulas were Spa Ceylon Director Shalin Balasuriya, McLarens Group of Companies Joint Managing Director Shehara Jayawardena, Dilmah Tea CEO Dilhan Fernando, YAMU Co-Founder Indi Samarajiva and Hi Magazine Editor Shyamalee Tudawe.

Shalin Balasuriya discussed the journey of transferring a 60-year-old business and brand name of "Janet" to "Spa Ceylon". Shehara Jayawardena, a women leading a male-dominated industry, shared her thoughts on taking charge of a 70-year-old business and the shift in thinking that was required to ensure the growth is sustainable. Dilhan Fernando also added on the thought process behind branding and the importance of each activity in the supply chain. Indi Samarajiva shared among other things how he has evolved in handling people and importance of people management in leading change. Shyamalee Tudawe discussed extensively on understanding customers and market requirements drawing parallels to evolution of reader mentality. The discussion touched upon many important factors such as strategy, management styles, culture, people and process and how to drive change in each element.