From left: Sri Lanka Institute of Directors (SLID) CEO Chaminda de Silva, SLID Vice Chairman Faizal Salieh, Chief Guest Prime Minister Ranil Wickremesinghe, SLID Chairman Preethi Jayawardena, British High Commissioner James Dauris and SLID Immediate Past Chairperson Shiromal Cooray – Pix by Ruwan Walpola
By Uditha Jayasinghe

Sri Lanka's private sector has a stronger role to play in increasing competitiveness, improving corporate governance and supporting the Government to implement economic structural reforms, a top official said this week.

British High Commissioner James Dauris speaking at the Sri Lanka Institute of Directors (SLID) Annual General Meeting (AGM) on Tuesday was frank in his assertion that the private sector has a wider role to play in fostering growth and ensuring more vibrant engagement both with the public as well as the Government. Dauris borrowing from a quirk at local weddings where guests take the name of the bride and say something positive from each letter used the word "access" in his speech to detail what he feels as the most important points for private sector involvement.


Access for trade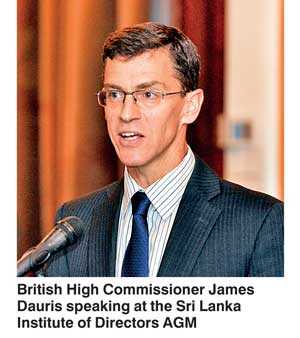 "Access, seems appropriate because it is so much what business seems to be about. Access for products and services to come to market, for companies to invest. "A" is for holding to account. Holding Government to account and representing the interests of the business community are critical functions of business leaders in any country. Your voices as captains of industry matter and the Government will listen to them. My first "C" is for corporate governance; among your objectives is to promote professionalism and enhance the level of integrity and ethical business conduct among directors," he said.

"It requires a lot of determination and firm principles to play by honest rules when people around you aren't doing the same. Your institute has 500 members and acting together you can be a formidable force for good practices. You can and should be setting examples for other companies, Sri Lankan and foreign, for the Government, public and private bodies. I am confident your stakeholders will respect you for it."

The High Commissioner pointed out the importance of competition and the need for Sri Lankan companies to become more open to allowing different players to enter their sectors and drive forward growth. Competition, he argued, is also positive for the businesses themselves as they can become global companies rather than limiting themselves to one market.

"My second "C" is for competition. If I may say so during my time here I have also seen an apparent dislike of competition in several industries and entrepreneurs. Freer trade and lower barriers, fewer State owned businesses and less protectionism are key to making Sri Lanka prosperous and helps its companies thrive not just in domestic markets but around the world. Competition stimulates innovation and businesses, it feeds ideas, and it encourages product innovation and higher standards of service."

"In short it helps push benchmarks up to international levels. International competition and openness will bring exposure and you would be right in seeking this. In business as in sports a lack of competition brings down standards. Tell your teams we can be and are going to be the best in the world. They will like you for it and set them and hold them to global standards. There is no need to fear competition."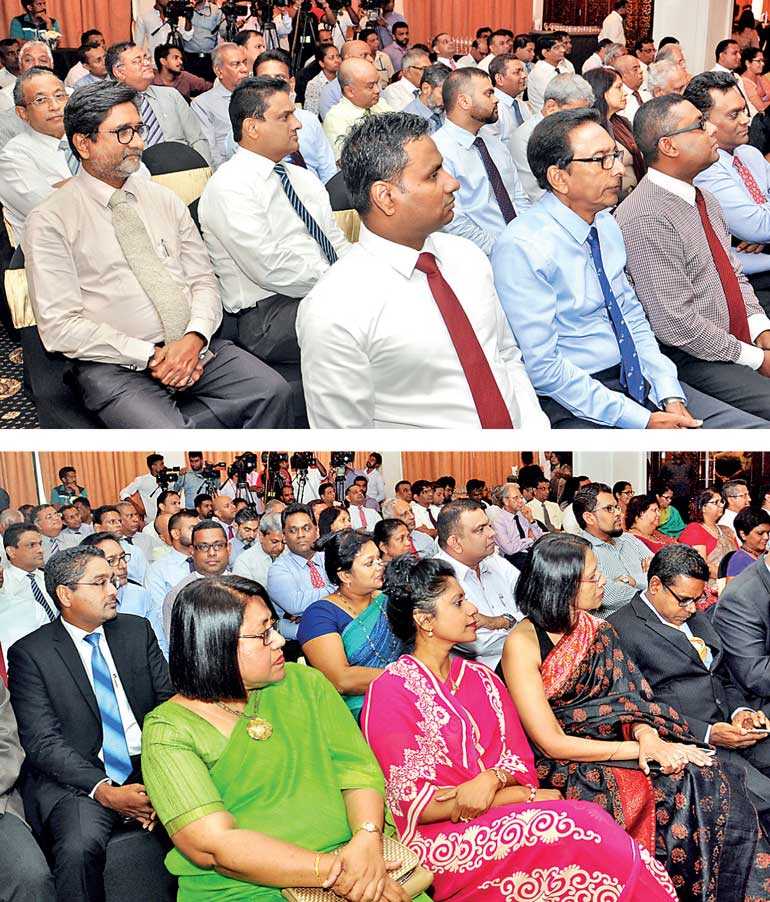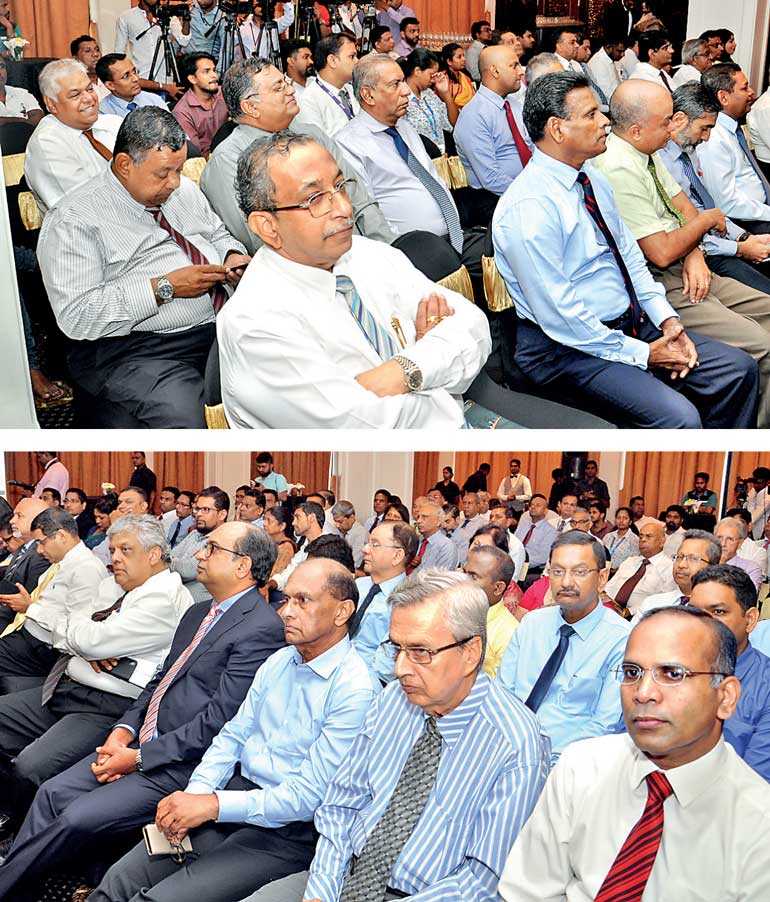 Mutual support

Dauris also spoke warmly of English education efforts partly championed in Sri Lanka by the British Council using it as "E" in the speech and insisting that possessing stronger command of a global language would improve personal as well as economic growth. He called on local businesses to pursue joint ventures and use global achievements to seek intellectual property transfers, and to think how to use international business models in new ways, tap into scientific and technical research and expertise for the benefit of their businesses.

"The second "S" is for support. As much as the Government must support businesses the Government must also be supported. You must share the wealth of knowledge and expertise that you are qualified and able to give, to promote good decision making and standing with the Government when it wants to take sensible steps but is meeting opposition. Your website states you are committed to restoring investor confidence in Sri Lanka's public and private sectors and you have a part to play. Moving Sri Lanka up the World Bank's Ease of Doing Business index, for example, needs to involve partnership. It needs business and government encouraging and supporting each other, it needs to be open and critical of each other."

"I don't always get the feeling that the business community is doing as much as it can and needs to be doing to help. The business community in Sri Lanka is hesitant to get involved in issues that might be considered to be political. Better to keep one's head down because governments change, I've been told, it's simpler to be non-aligned. I disagree. Of course as business leaders you do not need to wade into every public debate but my sense is that there are more opportunities for you to speak up as a group than you do and use your public authority and your influence with the Government to help public understanding to make it easier to set up businesses, and liberalise labour laws. The voice of business and your collective voice as leaders matter."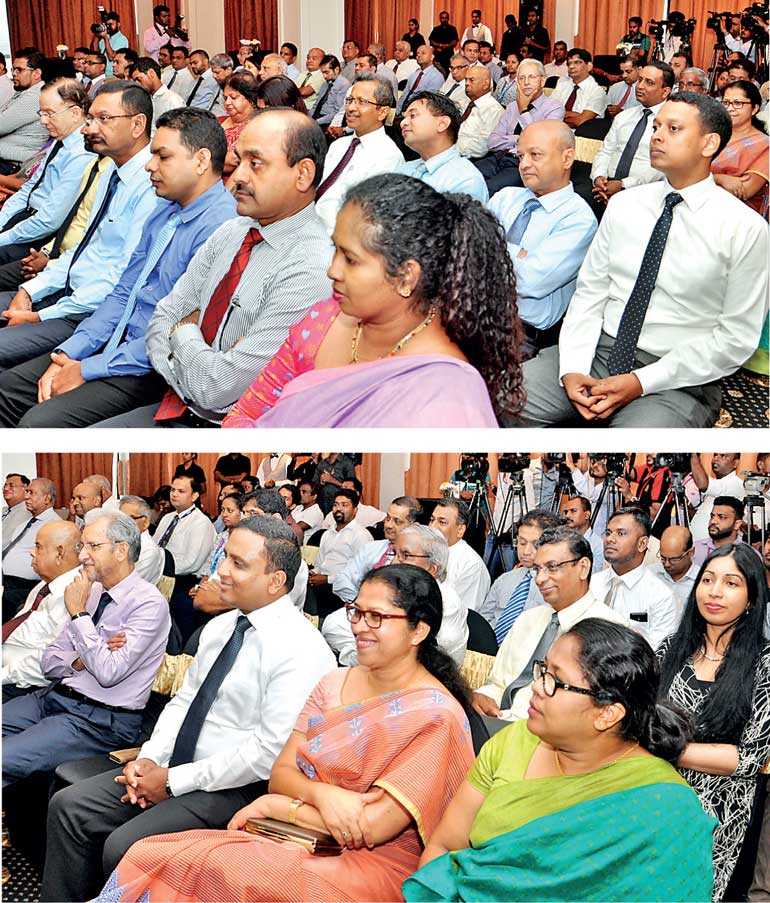 ---
Private sector has large role to play in development


Strengthening Small and Medium Enterprises (SMEs), increasing women's participation and improving professionalism in the public sector are critical aspects of spurring growth, a top professional said this week.

Sri Lanka Institute of Directors (SLID) Chairman Preethi Jayawardena speaking at the SLID AGM on Tuesday backed additional steps to increase the inclusivity of the private sector by suggesting that gender quotas could be considered to increase the number of female directors on the boards of private companies.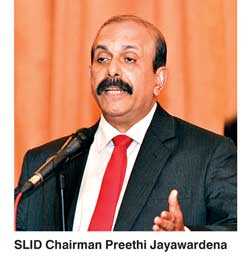 "As a person who has worked in many organisations and institutions, I know first-hand it is very difficult to break these old boys' clubs but it is important to allow equal space for women at the top levels of our companies. Some people have suggested gender quotas to promote female appointments and I think this is an option to consider," he told the gathering.

The newly re-elected Chairman also outlined steps to share a training program devised by SLID for their members with the public service as part of an effort to inculcate greater professionalism and accountability within the public sector. SLID has also made efforts to be inclusive in its operations and decision making process, Jayawardena insisted.

As a banker Jayawardena also expressed the need to support Sri Lanka's SMEs, pointing out that these companies make up the backbone of the Sri Lankan economy and therefore needed support in order for the economy to expand. SMEs also have direct impact on the quality of jobs, income, housing and other essential aspects of living standards in a country and as such as central to sustainable development.

"We need to find ways to reach out to the SMEs and assist them to find better business models and improve profits. We need to give them ideas and teach them better bookkeeping and other functions. As bankers we have to provide the knowhow and the expertise that their perseverance needs so that they can be successful," he said.

Sri Lanka's private sector needs to collectively come together to tackle a myriad of challenges and find solutions so the entire country could experience sustained growth, he added.