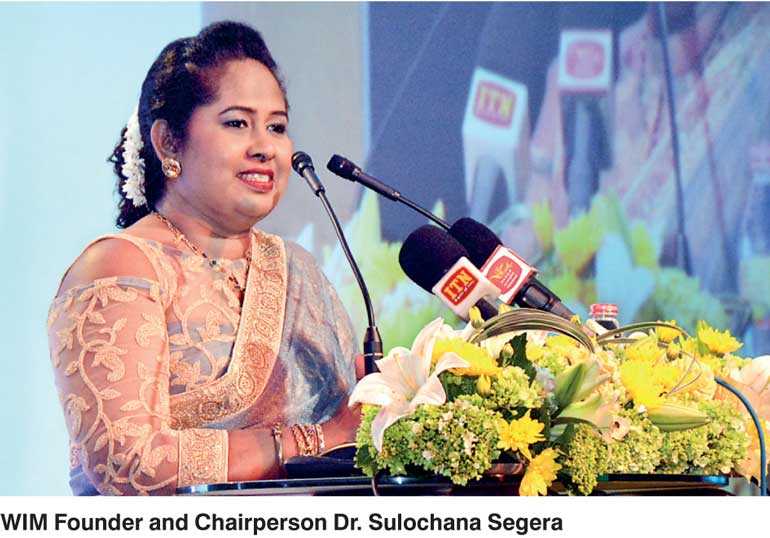 WIM Founder and Chairperson Dr. Sulochana Segera said lack of women leadership in economic, political, social and religious fronts has been a major cause for the downturn the country has experienced.

"In Sri Lanka, if you look, everyone is talking about economic and social issues. The reason for all these is women. If you look at Parliament there are fewer women, so that is a problem. If you look at the corporates, you have fewer women, so that is a problem. If you look at the religious leaders, there are no women, so we have a problem. As you can see, when there is no women representation or women leaders, you have a problem. Therefore, the only solution is women," she added.

She emphasised that, unless women are well-represented at the Parliament level, corporate level, as well as social and religious levels, there was no point in having forums on gender equality.

"If men have been running our country so well, we wouldn't be facing so many problems," she quipped.

Noting that there is a social myth that women need charity, she pointed out why WIM was never registered as a NGO or funded organisation, adding that WIM is the only organisation which has been registered as a service provider.

"If you look at our corporates, 80% of our consumers are females, where men make decisions on what females should buy. Then they come up with this idea of promoting women to give a quota of one or two women to be seated at the Board level. They don't need charity chairs, they should be there," she stated.

Dr. Segera also pointed out that although the top Colombo events are sponsored by leading local companies in Sri Lanka, this affluent consumer segment is only buying the brands that are not made in Sri Lanka, while noting that the people who are living outside of Colombo are the ones who buy locally manufactured products.

"None of the big corporates go out of Colombo and sponsor them. Unfortunately, the consumer base which is out of Colombo is being taken for granted. It is not fair when your salaries and profit is being made by people out of Colombo and they are not being benefitted," she pointed out.

She insisted that women should take leadership and empower other women for a better tomorrow. "Don't ever forget to be a woman. When you represent Parliament, a Board, you're not just representing yourself but all the women in this country," she added.

Dr. Segera also highlighted the fact that in Sri Lanka, there is very limited action being taken to prevent situations. "We have to learn to find a solution rather than finding the issues. We are talking about child abuse and death penalty, but I don't think we took enough measures to prevent them," she said.

She called on the women leaders who were recognised for their significant contribution to play a pivotal role in the society to make Sri Lanka a better place for everyone. "Be the change for Sri Lanka because so many women in this country are looking up to you. There are many women who are struggling and many children who don't have a role model. Just keep demonstrating that you deserve this award. Prove to people why you got this award. Use this award to empower another woman," she emphasised.

Pointing out that women are the majority of voters, she asserted that it was time the female voters make that change. "Please don't ignore this because politicians cannot do anything in this country unless we do something. As the majority, it is time we make that change in the system," she added.

Dr. Segera said that from the Awards' humble beginnings with just five awards eight years ago, it has grown today to 50 awards, and it is now a difficult task to give just 50 awards as there are so many courageous and talented women who need recognition.

"I hope you will support the WIM objective. This award will make a difference in Sri Lanka, particularly for women who don't have the opportunity or resources and for the children who are looking for mentors," she stated.