From left: Ambeon Capital PLC/AMBEON Holdings PLC Group Managing Director/CEO Murali Prakash, University of Kelaniya Senior Professor of Parasitology Prof. Nilanthi de Silva, Institute for Health Policy Executive Director Dr. Ravindra P Rannan-Eliya, moderator and Ceylon Chamber of Commerce Chief Economist Shiran Fernando, Vidullanka PLC Director Rizvi Zaheed, South Asia Gateway Terminals CEO Romesh David, and Jetwing Hotels Chairman Shiromal Cooray
---
By Charumini de Silva

With Sri Lanka seeing a marked slowdown in the recent few years, industry leaders yesterday urged support for key sectors to kick-start growth.

The CCC Economic Summit, in its second session yesterday, titled 'Sri Lanka's Next Growth Drivers', examined what the required strategies for key sectors are, and how policymakers help growth to be inclusive.

The expert panel included Jetwing Hotels Chairperson Shiromal Cooray from the tourism industry, South Asia Gateway Terminals (SAGT) Ltd., CEO Romesh David representing the connectivity sector, Vidullanka PLC Director Rizvi Zaheed from the agriculture industry, Ambeon Holdings PLC Group Managing Director Murali Prakash representing the retail sector, Institute for Health Policy Executive Director Dr. Ravindra P. Rannan-Eliya from the healthcare sector, and University of Kelaniya Senior Professor Prof. Nilanthi de Silva representing the higher education sector. The session was moderated by Ceylon Chamber of Commerce Chief Economist Shiran Fernando.
Tourism nowhere close to recovery
Jetwing Hotels Chairperson Shiromal Cooray said that it would take at least another six to eight months for the industry to bounce back to normalcy, while emphasising it was necessary to have consistent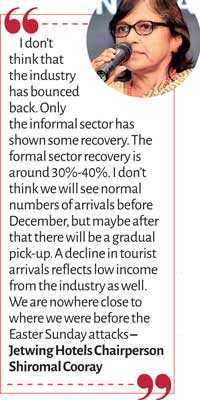 policies in place, to kick off a comprehensive promotion campaign and fast-track the recovery process.

"I don't think that the industry has bounced back. Only the informal sector has shown some recovery. The formal sector recovery is around 30% to 40%. I don't think we will see the normal numbers of arrivals before December, but maybe after that, there would be a gradual pick up. Decline in tourist arrivals reflects low income from the industry as well. We are nowhere close to what it was before the Easter Sunday attacks," she stressed.

Going forward, Cooray suggested it was critical to execute a comprehensive global marketing plan, and focus on the USPs of the diverse tourism offerings to be competitive.

"Right now, there are multiple Ministries and agencies to go through to get one single project approved and implemented. If we are to leapfrog, I think it is imperative for all of these line Ministries and institutions to have a single coherent policy in place. We have a diverse product, and we need to focus on the key potentials that can be promoted in a competitive manner," she added.

Noting that the industry underwent a complete blow post-Easter Sunday terror attacks, she pointed out that there was not even a public relations agency through which the tourism authorities could send out accurate information to counter the adverse publicity.

However, Cooray acknowledged that the Bohra Global Convention helped the formal sector of the hospitality industry during the past two weeks, with over 80% occupancy particularly in Colombo city hotels, while generating an income of around $900 million.
Logistics: SL failed to earn hub status
South Asia Gateway Terminals (SAGT) Ltd., CEO Romesh David said despite being lucky enough to be in the most strategic location, and having recognised the potential, Sri Lanka has failed to earn hub status, due to the non-existence of consistent policies.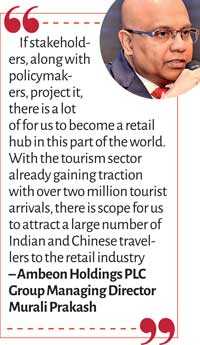 He however was hopeful that with policy consistency, and less institutional integration, Sri Lanka still has an opportunity to earn hub status. "We don't have to reinvent the wheel, but get our act together with the right policies in place, and couple them with other potential hubs such as tourism and energy. All we need is to line up the policies, and then support and execute them prudently," David said.

The abundant connectivity of the Expressways and Outer Circular Roads, he noted, has enabled the container terminals to be established away from the metropolitan city. David also suggested that plug and play facilities are a must in going forward to accelerate growth, particularly in the logistic sector.

To reach the next level of connectivity in Sri Lanka, David recommended the proposed East Container Terminal (ECT) and the West Container Terminal (WCT) be operational within the next three years, to be a competent logistic hub in this part of the world, moving away from mere transhipment hub status to a fully-fledged logistic hub. He also asserted the importance of attracting as many people as possible into public transportation, with upgraded railway and road transportation facilities, which he believes would have a major impetus in the growth of the economy.
Infusion of technology to boost agriculture industry
Vidullanka PLC Director Rizvi Zaheed believes the right policy intermediation with technology would make a paradigm shift in the agriculture sector, to look at the industry beyond food security.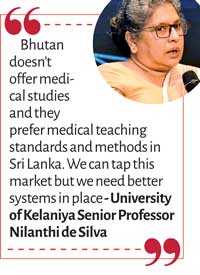 "Around 30% of the population are stuck in the agriculture sector, and if we don't give them the opportunity to contribute to the economy, it is going to be a major burden for the economy moving forward. Therefore, the real opportunity is in us adopting the technology for agriculture to serve global markets in a value-added, consistent production structure, facilitated by strong policy," he added.

He said it is very easy to tweak $6 million to 8% GDP contribution from the agriculture sector. "Even though the GDP contribution percentage is very small, the impact of it is very huge, because it reflects a quantum increase in the quality of life of two million farmers in the country, and their purchasing power increase," he pointed out.

Zaheed also claimed that the Rs. 40 billion spent on the fertiliser subsidy is a 'waste', as it could have been invested in adopting useful technologies to encourage commercial agriculture.

In terms of the dairy and fisheries sectors, he said the Government needs to refocus on policies to meet demand, while adopting technological advancements to uplift the sectors.

He said land ownership and the five-year political cycle in the country were outlined as major constraints in improving the agriculture sector. Therefore, Zaheed suggested establishing a one-stop-shop for a land bank, and developing models that can be replicated among a large base of crops.

"We need to have a land bank and agriculture modernisation project, with the use of technology," he added.

The absence of right policies, economies of scale, and facilities to ensure quality has made private sector companies take their investments out to countries like Bangladesh, Rwanda, and Uganda to cater to growing international demands.
On becoming a retail paradise
Ambeon Holdings PLC Group Managing Director Murali Prakash said Sri Lanka has scope to become a retail hub in the region, but it requires dramatic policies across the board, including digital payment platforms.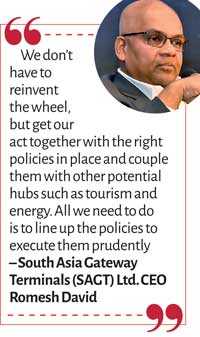 "If the stakeholders along with policymakers project it, there is a lot of scope for us to become a retail hub in this part of the world. With the tourism sector already gaining traction with over two million tourist arrivals, there is scope for us to attract a large number of Indian and Chinese travellers to the retail industry," he stressed.

He said Sri Lanka has recognition in the retail sector, and it is an opportunity that can be optimised by tagging along with the tourism industry, which has shown a sharp growth over the past few years.

"We need to promote Sri Lanka as a destination for shopping," he added.

Prakash also highlighted the fact that the retail sector isn't confined to only Colombo like many other sectors, and therefore has great potential to dispense growth among all provinces of the country.

To become a retail hub, however he said it was imperative to have digital payment platforms in place, as new age travellers in other parts of the world no longer carry hard cash for shopping. In addition, he pointed out the need to have necessary regulations set up, especially in tax and investment policies, to attract global brands and companies.

Prakash recommended that it was best that the retail sector is looked at alongside the tourism sector, to promote Sri Lanka as a shopping destination. "All we need is the right set of policies. Get on and execute fast to reap the low-hanging fruits," he added.
Broad-based tax structure for better healthcare services
Institute for Health Policy Executive Director Dr. Ravindra P. Rannan-Eliya said Sri Lanka's health sector is constrained due to political issues and very low tax income.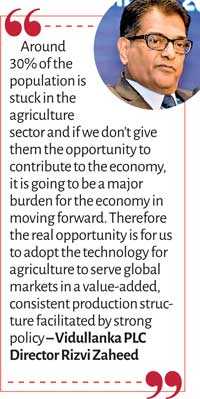 "Despite the many achievements seen in the welfare-based health system in the country, it is difficult to improve the highly politicised healthcare sector with a very low tax income. These are the two major constraints in uplifting the sector," he added.

Dr. Rannan-Eliya stressed that unless the people are willing to spend more tax money, there is no way that the sector can be uplifted to offer services like in other countries, particularly Singapore, for medical tourism.

"We don't have enough taxes to offer the same level of services that private sector hospitals are offering. People are often asked to get MRI scans, bypass surgeries, and stent placements from private hospitals, because the public hospitals don't have the hard cash to invest in the equipment," he added.

"We have an unusual system, and we are stuck with it. Sri Lanka cannot have economic growth unless we have a broad-based tax system, and that is something that the private sector needs to understand. We have to deal with the tax problems," he said.

Dr. Rannan-Eliya said unless the tax income increases from 12% to 18%, welfare services like healthcare and education will not reach the next level of development.
Redefined higher education system
University of Kelaniya Senior Professor Prof. Nilanthi de Silva suggested that Sri Lanka needs to synchronise with industries as well as quality accreditation, to enable a properly regulated higher education sector to produce graduates who can contribute significantly to the economic growth of the country.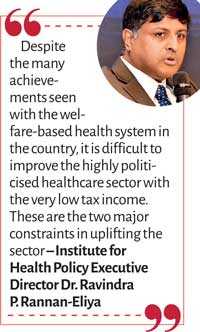 Although Sri Lanka has graduated to an upper-middle income level, she pointed out that the gross enrolment rate to universities still remains very low at 21%, while lower-middle income level countries have a gross enrolment rate of 23%, and high-middle income level countries have a gross enrolment rate of 44%. Therefore, she recommended that Sri Lanka look beyond a traditional strategy, to develop the higher education system to achieve a 40% gross enrolment rate within 10 years.

Pointing out the need to switch students from selecting art subjects to STEM, Prof. de Silva also suggested the need to shift from offering free education to a system where a coupon is issued per student, and based on his/her liking of subjects at a particular university, the student is granted funds via the coupon. However, on the flip side, she said, implementing drastic changes of this nature also results in a dramatic drop in the quality of education in the system, and therefore it is necessary to have a proper system in place before implementing.

Acknowledging brain drain is universal, Prof. de Silva said there are ways in which Sri Lanka can attract foreign students, especially from the region. "Bhutan doesn't offer medical studies, and they prefer medical teaching standards and methods in Sri Lanka. We can tap this market, but we need better systems in place," she added.

Pix by Upul Abayasekera and

Ruwan Walpola