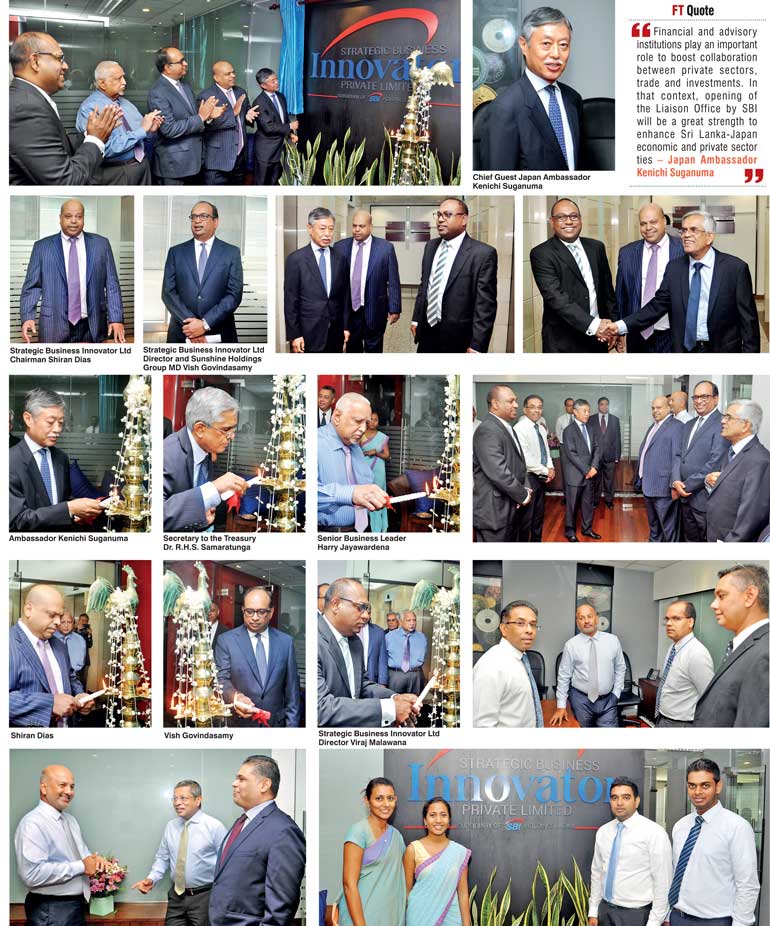 In a development that is set to boost bilateral private sector collaboration, Japan's financial giant SBI Holdings Inc. yesterday opened a Liaison Office in Colombo to tap growing interest and prospects in Sri Lanka.

The Sri Lankan office, Strategic Business Innovator Ltd., is a joint venture between SBI Holdings subsidiary SBI Ven Holdings Ltd., Sunshine Holdings Plc and veteran investment banker and Japan market specialist Viraj Malawana.

The opening of the Liaison Office reinforces SBI's confidence in Sri Lanka and its improving attractiveness for international investors and companies, especially from Japan, and also a strategic location as a hub for South Asia.

The SBI Group is a key player in the Japanese securities industry and has keen interests in the financial services sector in Japan. With over 5,000 employees, SBI Group has offices in over 15 countries.

SBI's office will encourage Japanese investors to enter Sri Lanka and will provide such investors with a one-stop advisory covering the entire gamut of the investment process. Ranging from corporate advisory to administration and operational facets of business in Sri Lanka, the company is well-equipped to advise any investor on all areas of investment opportunities and process in Sri Lanka. With SBI's presence in Sri Lanka, Japanese investors will feel secure in bringing their investments to the country.

The opening of the Liaison Office yesterday also coincided with the 100-strong Japanese delegation currently visiting Sri Lanka.

Given the importance of SBI establishing physical presence in Colombo, Japanese Ambassador Kenichi Suganuma officiated at the opening. It also had the presence of Secretary to the Treasury Dr. R.H.S. Samaratunga and senior business leader Harry Jayawardena among others.

In his remarks, the Ambassador congratulated SBI and its joint venture partners in Sri Lanka for opening the Liaison Office and expressed his pleasure that several months of planning had come to fruition.

"The opening of the office is also very timely as longstanding strong Sri Lanka-Japan relations have gathered more momentum," the Ambassador said.

"Financial and advisory institutions play an important role to boost collaboration between private sectors, trade and investments. In that context, opening of the Liaison Office by SBI will be a great strength to enhance Sri Lanka-Japan economic and private sector ties," Ambassador Suganuma pointed out.

He said that Japan was extending support and working very closely with Sri Lanka on a number of official development projects whilst there had been growing interest from the Japanese private sector as well.

This, the Ambassador said, was manifested by the ongoing visit by a 100-member strong business delegation in Sri Lanka organised by the Japan Chamber of Commerce and Industry (JCCI), whilst when Prime Minister Ranil Wickremesinghe visited Japan in April last year, there were over 200 participants at a JETRO-organised business seminar. In that context he said that the visit by the JCCI delegation would help further boost bilateral ties.

He also recognised and commended the role played by Shiran Dias, the Executive Officer of SBI Securities Japan as well as Chairman of SBI's Sri Lankan venture, in promoting greater collaboration between Sri Lankan and Japanese companies.

Speaking at the Liaison Office opening, Dias said Sri Lanka was now presenting multiple opportunities, hence there was growing interest among Japanese companies and investors. He also said the visit by 100-member strong Japanese business delegation was "historic".

Dias said the SBI Liaison Office would facilitate Japanese companies and investors keen on tapping business opportunities in Sri Lanka as well as help Sri Lankan companies interested in entering the Japanese market or finding technological or investment partners.

He revealed that several Japanese companies had already approached the SBI Liaison Office for advisory services.

"The opening of the SBI office will certainly help further enhance Sri Lanka-Japan private sector ties and businesses," Dias added.

Under the stewardship of Dias, a Harvard graduate and Japanese expert who currently serves the parent company as Head of its Global Advisory Department, the Lankan office will possess unparalleled leverage to the Japanese market.

Dias has held senior positions at UBS, Barclays, JP Morgan and Jefferies in a 25-year career in investment banking.

Even prior to the opening of the Office, SBI Group on its own has made several investments in listed and unlisted companies. Among them are Sunshine Holdings Plc, Wealth Trust Securities and First Guardian Equities.

Backing the Lankan venture as shareholder partners are Sunshine Holdings Plc, one of Sri Lanka's premier listed conglomerates with interests in healthcare, FMCG and strategic investments and Viraj Malawana, who is experienced in securing Japanese investments to Sri Lanka.

The company has an eminent Board consisting of Sunshine Holdings Group Managing Director Vish Govindasamy and Viraj Malawana, both of whom hold several directorships in listed and unlisted companies, along with Shiran Dias and Makoto Miyazaki of SBI Group Japan.
Pix by Ruwan Walpola