In one of the most exciting and nail biting finals, the Asia Pacific Predator League 2018 DOTA 2 championships was concluded in Jakarta, Indonesia, on 28 January. After four days of playoffs between teams from eight countries, the finale was a hard-fought best-of-three competition between favourites Geek Fam (Malaysia) and BOOM.ID (Indonesia), with Geek Fam lifting the much coveted Acer Predator Shield 2018 and $ 50,000. The total prize pool was $ 150,000.

Geek Fam's victory marks their excellence of skills and strategies in gameplay by defeating all rivals from eight countries, namely Thailand, Philippines, Hong Kong, India, Singapore, Indonesia and Sri Lanka.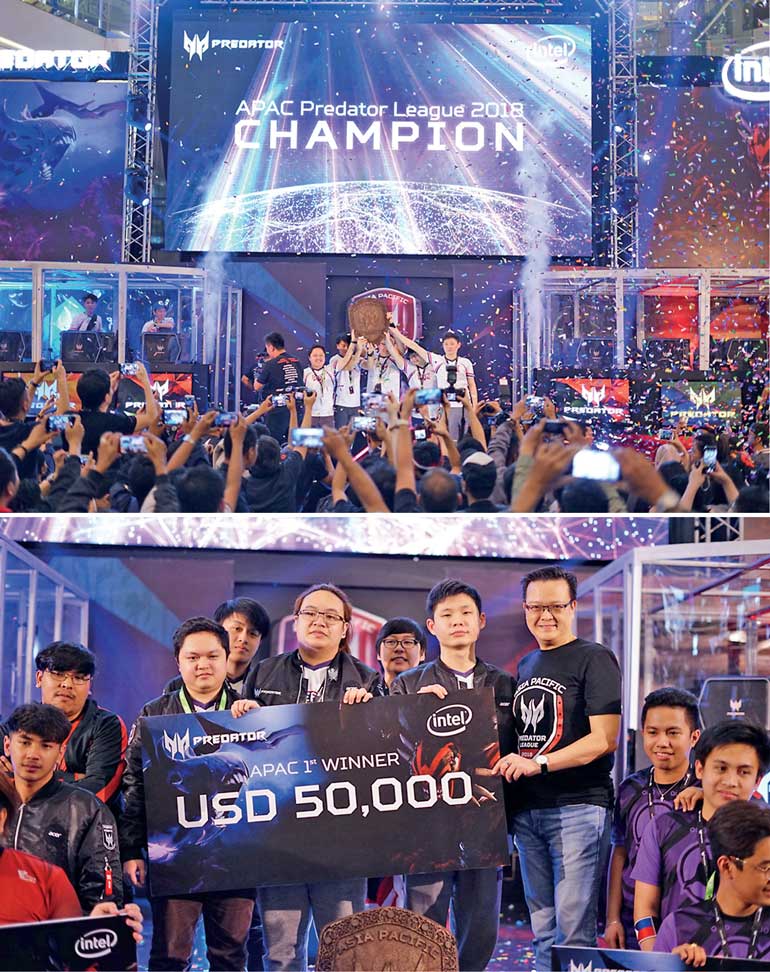 Speaking after the event, President of Acer Pan Asia Pacific Andrew Hou said: "It is with great pleasure and gratitude that we have been able to successfully hold the Asia Pacific Predator League, our world-class biggest eSports tournament here in Jakarta. This is not the end of the journey, but a kick-off for next challenge. In 2019, we will extend the tournament reach to 14 APAC countries, and the grand final of Predator League 2019 will be in Bangkok, Thailand."

This is the first time Sri Lanka has been invited to participate in an international eSports competition and the team "We Say NO!" comprised of Sathan, AB, Beaver, Nightblade and Spades. Individually, these members have achieved gold in various local tournaments throughout the years.

"We came in as underdogs but fought a good fight before being knocked out by Signify," said We Say NO! Captain Shenal "AB" Daniels. "But this was a good chance for us to prove to the rest of the region that we are serious about gaming."

The other teams were Signify (India), Azure (Hong Kong), TenTwenty (Singapore), Alpha Red (Thailand), and Quid Pro Quo (Philippines).

Taking place across three days, this event featured interactive games for visitors through the latest technologies from Acer such as the Windows Mixed Reality (MR) Headset as well as the latest Predator gaming product line-up. In addition, this DOTA 2 tournament made history even before it commenced by being recognised by the Indonesian Record Museum (MURI) as the 'Live Online Game on the Largest LED Screen in Southeast Asia.' The grand finale had the largest online streaming audience every recorded in any eSports event in Southeast Asia.

According to research by Newzoo, the leading provider of market intelligence covering the global games, eSports, and mobile markets, Indonesia is the country with the highest number of gamers playing on PCs and mobile devices. In 2017, Indonesia earned $ 879.7 million in revenue from the industry with 43.7 million gamers, making the country no. 16 worldwide in terms of game revenues.

In 2017, there were 29.9 million gamers in Philippines making it no. 29 worldwide. Thailand, with 18.3 million gamers comes in as no. 20 worldwide. Singapore comes in at no. 36 with 2.9 million gamers, and Malaysia has 14 million gamers and is listed as no. 21. In the same year, with 263.6 million gamers, India comes in at no. 17, forging ahead of Hong Kong who comes in at no. 37. Finally, Sri Lanka's gaming revenue reached $ 44 million, makes it no. 77 worldwide in terms of game revenues.