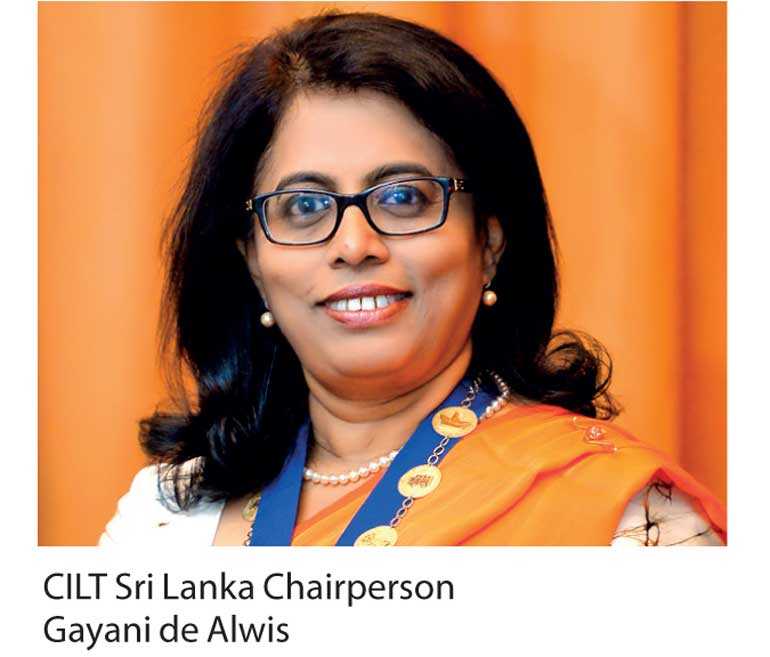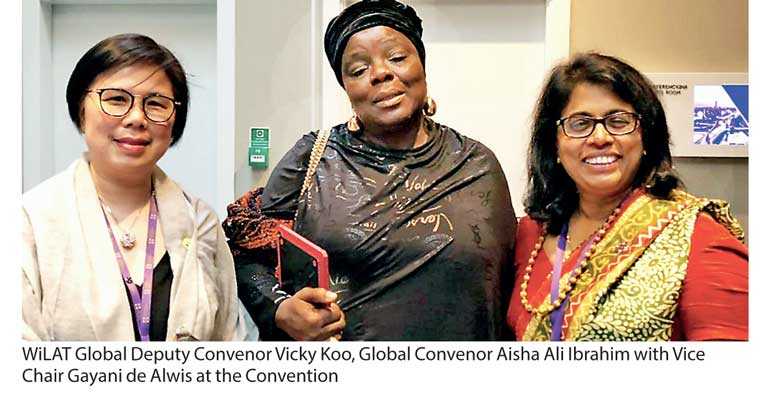 CILT Sri Lanka Chairperson Gayani de Alwis was recently appointed as the Vice Chairperson and member of the Global Women in Logistics and Transport (WiLAT) Steering Committee. Her appointment was formally announced at the CILT international convention held in Wroclaw, Poland in June.

The new WiLAT global operational guideline was adopted for governance with the new operating structure at the convention. De Alwis will be responsible for South Asia. WiLAT global vice Chairs will facilitate regional collaboration, by working with individual countries in the respective regions to expand the footprint of WiLAT, actively drive the four strategic thrusts of WiLAT, membership growth and share best practices.

Gayani was the former Director, Customer Service and Management Committee member of Unilever Sri Lanka Limited, responsible for Supply Chain. During her 19.5 year tenure with Unilever locally and overseas, she has worked in Supply Chain, R&D and Quality Assurance prior to her early retirement to start her own consulting and lecturing career. She was the first female Director for Supply Chain and the first Global Lead Auditor appointed from South Asia in Unilever.

Gayani holds a MBA from the Postgraduate Institute of Management (PIM) of University of Sri Jayewardenepura, Sri Lanka and MSc in Food Process Engineering from University of Reading, UK. She did her undergraduate studies in Chemical Engineering from University of Moratuwa before moving to UK to complete her Masters. She is also a Certified Supply Chain Manager (CSCM) from the International Supply Chain Education Alliance (ISCEA), USA.

Gayani is the Chairperson and Chartered member of The Chartered Institute of Logistics and Transport (CILT) Sri Lanka. She is the second female to be appointed as Chairperson after 27 years. She was the Founding Chairperson of WiLAT Sri Lanka. She is the global lead for promoting the mentorship strategic thrust for WiLAT globally. She is a Fellow of Institute of Supply and Materials Management (ISMM). She is a member of The Sri Lanka Institute of Directors (SLID), Organisation of Professional Associations of Sri Lanka (OPA) and Women's Chamber of Industry and Commerce (WCIC).

She was also a Board Advisor for AIESEC SL, the international student body. She was recently awarded the "Women at the Helm Award for Most Outstanding Female Business Leader of the Year" at PIMA National Management Awards and "Distinguished Mentor and Role Model" award from WiLAT Nigeria for her efforts in promoting mentoring globally. She is a strong advocate of women's empowerment and actively engages in mentoring and coaching.

WiLAT is the women's forum of The Chartered Institute of Logistics and Transport (CILT), which is the leading global professional body associated with the Logistics and Transport industry. WiLAT was formed in Sri Lanka in 2013. CILT was established in 1919 in the UK and having received the Royal Charter in 1926, the Institute has an exciting history but is always adapting to stay consistent with current Logistics and Transport issues. The Institute's Patron is the Princess Royal.

The Institute holds unparalleled international recognition and works towards achieving its objective of promoting, encouraging and co-ordinating the study of the science and art of Logistics and Transport through its membership and educational qualifications. With a global membership of over 34,000 from 34 countries across the globe, CILT provides a professional identity to those in the ever-expanding Logistics and Transport industry. CILT Sri Lanka was established in 1984 and incorporated by the parliamentary Act No. 08 of 2000.

In 2012, The Council of Trustees of CILT upgraded the status of CILT Sri Lanka from a Branch to a Territory. Presently, CILT Sri Lanka has over 1000 members who are highly qualified in the Logistics and Transport fields. CILT Sri Lanka is governed by a Council consisting of professionals representing all segments of the Logistics and Transport industry and consists of two fora namely, WiLAT Sri Lanka and Young Professionals' Forum (YPF) Sri Lanka dedicated to promoting women and young professionals in the Logistics and Transport industry respectively. For more details on CILT, visit their web page – www.ciltsl.com.